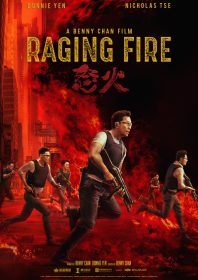 Benny Chan's final film before his death from cancer at the age of 58 is not only one of his best, it's also one of the best Hong Kong action films for decades. Hong Kong has always been the perfect setting for an edgy, neo-noir cop thriller, and although there is much to commend this marvellous film, Edmond Fung's cinematography certainly deserves special praise. He captures a tone which turns the urban metropolis into a menacing, neon-lit cipher for Gotham City – bolstered by Nicolas Errèra's foreboding score – complete with masked gangs, embittered police, kidnappings and violence. The premise is brave, too, arriving at a time when the Hong Kong police face continuing scrutiny over excessive force in response to political protests across the territory. Benny Chan's prescient story depicts an organisation riddled by corruption, investigating one of their own and questioning the morality of its behaviour.
The film is essentially a double-header built around top Hong Kong stars Donnie Yen and Nicholas Tse (who last worked together on 2006's Dragon Tiger Gate), playing former cop buddies now on opposite sides of the law. Donnie Yen's Cheung is a long-serving, respected detective who is shown near the start of the film refusing a bribe from top brass in exchange for a cover-up. This sets the tone for Cheung's continuing battle between his commitment to uphold justice and his defiance of a system which appears to be rigged. Nicholas Tse's Ngo is the blighted consequences of this rigged system; a former cop who has done time with his colleagues for killing a suspect – despite following orders from his superiors – who is now free to carry out his vengeful vendetta against the cops who put him behind bars. Supported by his own rogue unit, Ngo has gone full crazy, working with drug dealers, planting bombs and killing police officers.
Donnie Yen – a seemingly ageless, agile, and always engaging performer – is on blistering form once again. Even at this late stage in his career, he is seemingly an action star without equal; still eager to work on demanding, creative projects despite approaching his sixth decade. Benny Chan knows exactly when to push the right buttons to deliver a crowd-pleasing performance, with Donnie gradually showing his muscle via a breathless pursuit through a Hong Kong slum, to a car chase and machine gun battle on the streets, before culminating in an almighty throw-down with his co-lead. In response, Nicholas Tse is a vibrant, seething presence; the type of menacing, scene-stealing villain that deserves some kind of award. Yu Kang and Kenji Tanigaki round off the film's 'perfect storm' of talent: their fight choreography is a forceful, unconventional mix of grappling and street-fighting, complete with eye-gouging, biting and arm-locks which makes for punishing viewing.
Despite being a genre which has been thoroughly explored for decades, only a director as skilled and experienced as Benny Chan could create a contemporary Hong Kong cop thriller which still somehow feels new and exciting. Despite dying during its making, the film more than supports his legacy as one of Hong Kong's greatest action film directors, and it stands as an exhilarating tribute to his talents.
Raging Fire is released in selected cinemas in the USA on 13 August 2021 courtesy of Well Go USA.