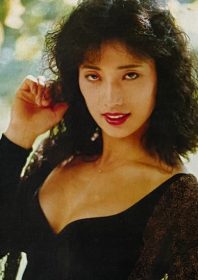 Date of birth: 21 November, 1957 (Funabashi, Chiba, Japan)
Other names: Nishiwaki Michiko; Michiko Nishikawa
Occupation: Actor, stunt performer, bodybuilder.
Style: Gōjū-ryū karate, Shotokan karate, wushu, taekwondo.
Biography: In her adolescence, Michiko Nishiwaki was passionate about sports and fitness. She became a gymnast at high-school; a dancer with a background in classical ballet and traditional Japanese dance; and a martial artist. She has a black belt in Gōjū-ryū karate and has trained in Shotokan karate. When living in Hong Kong, she learned wushu, and taekwondo when she relocated to the USA.
After high-school, she worked in the human resources department of a Mitsubishi bank. When her father died suddenly of a heart attack when she was 21, she decided to leave the bank to pursue her passion for fitness. Encouraged by her brother, Kiyoaki – who later became a Japanese powerlifting champion – they invested in two gyms, which they called 'The Unicorn Fitness Gym'. She trained to become 'Miss Fitness' three years in a row, during the years 1980, 1981 and 1982. She also became a powerlifting champion and held the woman's record for deadlifting 330.75 lbs (150 kg).
Her success sparked a boom in women's bodybuilding across the country, and she became a celebrity in Japan, appearing regularly on television. Her look was compared to the singer and actor, Momoe Yamaguchi, who had retired in 1980. Michiko became the figurehead of a new kind of femininity in Japanese culture, and inspired more women to take up weight training. During this time, she continued to manage two gyms and worked as a personal trainer.
Michiko received a phone call from the Hong Kong film producer, Chua Lam, after he saw a photo of her in a magazine. She was called into a meeting at Golden Harvest where she met Sammo Hung, who cast her in the action comedy, My Lucky Stars (1985). She played a karate expert and adversary in the film, which was filmed in Japan and Hong Kong without a script. She had a fight scene with the actor, Sibelle Hu, and was also required to perform stunts. She was told to add more muscle to her arms and shoulders, and she learned fight choreography from her co-stars Yuen Biao, Jackie Chan and Sammo Hung.
The film was a huge success, but despite being offered a contract with Golden Harvest, she decided to return to Japan. It was the My Lucky Stars cinematographer, Arthur Wong, who called Michiko back to Hong Kong to work on his co-directorial debut, In the Line of Duty 3 (1988), co-directing with Brandy Yuen for D&B Films. The film was a vehicle to launch the career of Taiwanese star, Cynthia Khan (real name Yang Li-tsing), and Michiko played the villain. The film was supposed to be completed in 30 days, but because of changes to the crew and other issues, it ended up taking six months.
During this time, she learned Cantonese and decided to stay in Hong Kong, launching her career in Hong Kong action cinema. She became synonymous with the so-called 'girls with guns' sub-genre of Hong Kong action films, often playing the villain. She was popular in Hong Kong, and was even awarded 'Best Bad Girl' on a HK TV show. She made appearances in Lau Kar-wing's City Cops (1989), starring Cynthia Rothrock; Frankie Chan's Outlaw Brothers (1990), a great vehicle for Yukari Oshima, however a shoulder injury meant Michiko couldn't perform the final fight; Princess Madam (1989), with Moon Lee and Sharon Yeung; Angel Terminators (1992), with Sharon Yeung, Carrie Ng and Kara Wai; and The Avenging Quartet (1993), her final Hong Kong film, which featured an all-star 'girls with guns' line-up including Michiko Nishiwaki, Yukari Oshima, Moon Lee and Cynthia Khan.
After her small but memorable role in Wong Jing's smash hit, God of Gamblers (1989) – starring Chow Yun-fat – Michiko also appeared in a number of other gambling-related films, including The Mighty Gambler (1992), in which she played the protagonist opposite Sibelle Hu. She also appeared in supernatural films, including Stephen Tung Wei's Magic Cop (1990), starring Mr. Vampire star, Lam Ching-ying, and Witchcraft vs. Curse (1991). Her favourite of her own films is Passionate Killing in the Dream (1992), co-starring Gordon Liu, because of her strong acting performance.
She moved to Los Angeles in 1997 at the behest of Oliver Stone, who she was planning to work with on the eventually cancelled project, Panama. Although she initially wanted to work in acting roles, she eventually fell into stunt work – one of her first stunt roles being on the film, Blade (1998). In 1999, she doubled Lucy Liu for the sports comedy, Play It to the Bone. She would continue to double Liu for both the Charlie's Angels and Kill Bill films, working with the Hong Kong stunt teams, including Yuen brothers Yuen Cheung-yan (Charlie's Angels) and Yuen Woo-ping (Kill Bill). She worked again with Sammo Hung as a stunt performer on the TV show, Martial Law (1999), directed by Stanley Tong, and Jackie Chan on Rush Hour 2 (2001), doubling Zhang Ziyi. Her other stunt work includes Lethal Weapon 4 (1998), doubling Kelly Hu in The Scorpion King (2002), plus work on Collateral (2004), Memoirs of a Geisha (2005), and Mission: Impossible III (2006).
After a long break from the industry, she returned to stunts in 2015 for an episode of True Detective; and in 2022, she worked on Daniels' action fantasy, Everything Everywhere All at Once, starring another 'girls with guns' alumni, Michelle Yeoh.
Michiko has been married twice. In 1996, her son, Kazuki "Kaz" DeBear, was born, and she later married her son's father, Jordan DeBear, her second husband. The couple separated in 2021. She lives in California.
Speech! "I will keep on promoting bodybuilding to friends, and especially I would recommend people go to the gym if they are over 50… Weight-training basically started for rehabilitation, so if you are not fit, you can rehabilitate yourself to be stronger and healthier. If you want to look better and feel stronger… anyone can do it, at all different levels." In conversation with Kung Fu Movie Guide, 2022.
Click here to listen to KFMG Podcast S07 Episode 81 with Michiko Nishiwaki.
Filmography (as actor/stunts): 1985 My Lucky Stars; 1988 In the Line of Duty 3; 1989 City Cops; Princess Madam; God of Gamblers; 1990 The Dragon Fighter; Widow Warriors; Outlaw Brothers; Magic Cop; King of Gambler; 1991 Witchcraft vs. Curse; The Real Me; 1992 Raiders of Loesing Treasure; Big Circle Blues; The Mighty Gambler; Hero Dream; Angel Terminators; Passionate Killing in the Dream; 1993 City on Fire; Whore and Policewoman; Fatal Seduction; The Avenging Quartet; 1997 Red Corner (stunts); Buffy the Vampire Slayer (TV) (stunts); 1998 Brave New World (stunts); Blade (stunts); Fantasy Island (TV); 1999 Mortal Kombat: Conquest (TV) (stunts); Man on the Moon (stunts); Play It to the Bone (stunts); 2000 Chain of Command (stunts); Charlie's Angels (stunts); 2001 Rush Hour 2 (stunts); 2002 The Practice (TV) (stunts); Clockstoppers (stunts); The Scorpion King (stunts); 2003 Ghost Rock; Kill Bill: Vol. 1 (stunts); 2004 Kill Bill: Vol. 2 (stunts); Collateral (stunts); 2005 Forbidden Warrior (stunts); Memoirs of a Geisha (stunts); 2006 Mission: Impossible III (stunts); 2007 Resident Evil: Extinction (stunts); 2009 Afro Ninja; 2015 True Detective (TV) (stunts); 2022 Everything Everywhere All at Once.