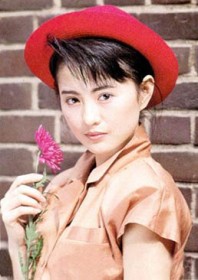 Date of birth: February 14, 1965 (Hong Kong)
Other names: Lee Choi-fong
Occupation: Actor, dance teacher
Style: Ballet
Biography: Moon Lee is a retired television and film actor known for her dominant role in the so-called 'girls with guns' sub-genre of female-led Hong Kong action films, produced during the 1980s and 90s. Lee Choi-fung was born in Hong Kong. At the age of six, the Lee family moved to Taiwan where her father owned a business. The family returned to Hong Kong when Lee was 12 years old. She continued her keen interest in ballet, piano, modern dance and acting at middle school. Following a school performance at the age of 15, she was approached by a director at RTV. In 1980, she made her acting debut in the popular TV series Fatherland, in which she played the role of young country girl Mun. The series focused on rural life towards the end of the Ching dynasty and the early years of the Chinese Republic. Her scenes were filmed during breaks from school.
She made her film debut at the age of 16 in the comedy To Sir with Troubles (1981). At 18, Lee signed contracts with Asia Television (the new owners of RTV) and Golden Harvest. She adopted the Anglicised name 'Moon' during the filming of a Mitsubishi commercial made on behalf of Golden Harvest. She took the name from her Cantonese character in Fatherland. She appeared in some of Golden Harvest's most successful films of the 1980s, including Tsui Hark's seminal Zu: Warriors from the Magic Mountain (1983) alongside Meng Hoi, Yuen Biao and Sammo Hung. Sammo used Moon Lee again in many of his action comedies, including cameos in his 'Lucky Stars' films Winners and Sinners (1983) and Twinkle Twinkle Lucky Stars (1985), plus larger roles in Those Merry Souls (1985) and his Mr. Vampire (1985) series. She also had a role in Jackie Chan's dogged US production The Protector (1985).
Her first kung fu scenes were filmed for television in the serial Drunken Fist (1984). Her breakthrough action role was in Teresa Woo's 1987 smash hit Angel, inspired by the Charlie's Angels TV show. The film is regarded as the definitive 'Girls with Guns' film and helped to turn Moon Lee (and her co-star, Yukari Oshima) into one of Hong Kong's most popular action heroes. Over the next six years, Moon Lee would appear in around 25 action films.
The Girls with Guns sub-genre was famous for strong female casts, explosive stunt work and fast-paced fight choreography. Many of the films had very small budgets and Lee would often perform her own stunts. In 1989, she was hospitalised with third-degree burns when a stunt went badly wrong on the set of Devil Hunters. An explosion was set off early and Lee was engulfed in flames, burning her hands and face.
She continued to appear in action films – including an appearance in New Kids in Town (1990) – but as the market became saturated and budgets dried up, Lee would eventually decide to turn away from the film industry altogether. She officially retired following the release of Little Heroes Lost in China in 1995. Moon Lee has since concentrated on teaching traditional Chinese dance. She runs her own dance school and, in 2001, she relocated to Denver, Colorado, with her husband. Lee returned to film in 2008 with a straight dramatic role in the touching Buddhist film Only the Way.
Speech! "It is an honour to be part of an era mostly dominated by men and without using any CGI effects… it [was] a semi-new thing for the audience, and we capitalised on that… we tried different things for people to be amazed. It is unfortunate that everything has to end, but I think the legacy we left will be remembered and appreciated for generations to come." FilmFanDojo.com, 2015
Filmography (as actor): 1980 Fatherland (TV); 1981 I Have to Fly (TV); To Sir with Troubles; 1982 Ah Sir Ah Sir (TV); 1983 Onion Flower (TV); Winners and Sinners; The Champions; Zu: Warriors from the Magic Mountain; 1984 Drunken Fist (TV); I Love Mermaid (TV); Drunken Fist 2 (TV); 1985 Ji Gong (TV); Passionate Fairy (TV); Bravo! Kowloon Tong (TV); The Protector; Mr. Vampire; 1986 The Supersword Lady (TV); Twinkle Twinkle Lucky Stars; Cascading Feeling; Mr. Vampire 2; The Story of Dr. Sun Yat Sen; 1987 Angel; 1988 Angel II; 1989 Angel Enforcers; Devil Hunters; Angel III; Killer Angels; Princess Madam; 1990 Demon Intruder; Fatal Termination; New Kids in Town; Revenge of an Angel; 1991 Bury Me High; Angel Force; Mission Kill; Dreaming of the Reality; Mission of Condor; Angel Terminators 2; 1992 The Big Deal; Inspector Wears Skirts 4; Kickboxer's Tears; Enter the Lady Kickboxer; A Serious Shock!; Beauty Investigator; Mission of Justice; 1993 The Avenging Quartet; Ba Wang Hua (TV); Angel's Project; 1994 Secret Police; 1995 Fist of Power (TV); Little Heroes Lost in China; 1998 Putonghua Children Drama (TV); Fist of Hero (TV); 2008 Only the Way.