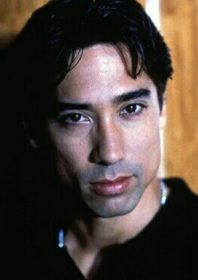 Date of birth: 17 September, 1959 (Seattle, Washington, USA)
Full name: Keith Cooke Hirabayashi
Other names: Keith H. Cooke
Occupation: Martial arts instructor, actor, stunt performer.
Style: Karate, wushu, taekwondo, boxing.
Biography: Keith Cooke is a martial arts instructor and actor. He has a fifth degree black belt in karate and is a five-time World Martial Arts Grand Champion. He was named 'Competitor of the Year' in 1983, 1985 and 1986. He has also been named as one of the top 100 'most influential martial artists of the last century' by Black Belt magazine, and inducted into their 'hall of fame'.
Keith Cooke Hirabayashi was born in Seattle, Washington, to a Japanese American father, Richard Hirabayashi, and an American mother. As a child, he was bullied at school, which caused him to learn self-defence, initially through books. In 1973, he discovered the films of Bruce Lee, and was inspired to learn kung fu. From the age of 12, he learned kung fu, tai chi, and taekwondo from Roger Tung in Seattle, eventually gaining a black belt in taekwondo. In 1974, he saw a young Jet Li perform wushu as part of the Beijing wushu team while on tour in the USA.
Keith trained in wushu with Roger Tung, and in 1980, he had the opportunity to train in China (joined by a young Donnie Yen while on the same trip). While studying at the University of Washington, he developed a passion for boxing, becoming president of the boxing club. During this time he travelled the world, training with the likes of Bill 'Superfoot' Wallace. He competed in martial arts from 1973 to 1988, including full-contact taekwondo, the national karate circuit, and forms.
In 1985, Keith followed his instructor to Los Angeles, where he also began to train with some of the greatest martial artists of the era, including karate expert, Steve Fisher, and Billy Blanks, Kevin Thompson, and the Olympic gold medallist, Arlene Limas. While in LA, Keith began to pursue his passion for acting. He took acting classes while also teaching martial arts. His first acting role was in a Gatorade commercial with the martial artist, co-founder and head instructor of West Coast World Martial Arts, Ernie Reyes Sr. In 1988, he made his acting debut in the action film, Picasso Trigger, filmed in Hawaii.
After being inducted into Inside Kung Fu magazine's 'Hall of fame' – who placed him at number seven in their list of 'Top 30 masters of the last 30 years' – Cooke received a phone call from Enter the Dragon producer, Fred Weintraub, who wanted him for the role of Dakota – a Native American biker – in Cynthia Rothrock's breakout English-language film, China O'Brien (1990), produced by Golden Harvest in Hong Kong. The film was made simultaneously with its sequel, directed by Enter the Dragon's Robert Clouse, and using a stunt team from Hong Kong.
As a fan of the singer Sam Cooke, it was Weintraub who suggested Keith should change his name to 'Cooke', which was also the maiden name of Keith Cooke's mother. Weintraub also helped to get him a meeting with Raymond Chow at Golden Harvest who offered him a three-picture deal. Due to legal concerns, the contract eventually fell through. Weintraub also secured a TV pilot for Keith called Noble Quest, which was filmed but never picked up. He also filmed a pilot for Fox with the director, John Landis, which was also not picked up.
In 1991, Keith played the role of the Thai kickboxing instructor, Prang, in the cult classic, The King of the Kickboxers, produced by Seasonal Films in Hong Kong. Martial arts stars Don 'The Dragon' Wilson and Benny 'The Jet' Urquidez were also considered for the role. His introductory fight sequence in the film was choreographed by the Hong Kong action legend, Corey Yuen.
In 1995, Keith Cooke made his starring-role debut in Albert Pyun's sci-fi actioner, Heatseeker, co-starring Gary Daniels. The film was shot in 10 days. The same year, he appeared as Reptile in a live-action adaptation of the hit video game, Mortal Kombat. He had initially auditioned for the role of Liu Kang, which was offered to his friend and training buddy, Robin Shou. Robin was also taught by Roger Tung and trained with Keith during a trip to China in 1982. The role of Reptile was only introduced for the reshoots after producers felt the film needed more action. The fight scene between Reptile and Liu Kang took six days to shoot and was choreographed with the help of Jeff Imada.
In 1997, Keith returned to the Mortal Kombat franchise to play Sub-Zero in the sequel, Mortal Kombat: Annihilation. He had an extended fight scene with the character, Scorpion, played by J.J. Perry. The same year, he worked with Robin Shou for the Chris Farley action comedy, Beverly Hills Ninja, playing a villain in the movie.
Keith Cooke opened his own martial arts school, Champions Martial Arts and Fitness in Brentwood, California, in 1994. He remained the owner and head instructor of the school for 27 years, until finally closing its doors at the height of the Covid-19 pandemic in 2021. He has also trained many actors for film and television roles, including Rosa Salazar (for Alita: Battle Angel), Zoe Saldana (for Avatar), Djimon Hounsou, Shannon Lee, Michael Biehn, Chris Farley, James Cameron and Amanda Peete. He has also taught karate to the families of many notable people, including Steven Spielberg, Norman Lear and Barry Levinson. He taught Ernesto Matamoros, who won three Olympic gold medals at the Beijing Olympics in 2008.
In 2023, Keith Cooke launched The Ring Workout, a training programme built around a product he designed himself. Keith Cooke lives in Los Angeles, California, with his wife, Suzanne. Together they have a son, Jake.
Speech! "I don't think it matters what style you do – it's about discipline, focus, and dedication… the main thing is to show up, and try hard. And that's not just physical effort – it's focusing your mind, and then being willing to practice and do things over and over again to acquire skill. You have to be willing to practice on your own, so that can get your creativity going as an individual." In conversation with Kung Fu Movie Guide, 2023.
Click here to listen to KFMG Podcast S07 Episode 88 with Keith Cooke.
Filmography (as actor): 1988 Picasso Trigger; 1990 China O'Brien; 1991 China O'Brien II; The King of the Kickboxers; 1991 Born to Ride; 1995 Heatseeker; Mortal Kombat; 1997 Beverly Hills Ninja; Mortal Kombat: Annihilation; The New Adventures of Robin Hood (TV); 2003 National Security; Lost Time: The Movie (short); 2012 Champions of the Deep; 2022 The Book of Boba Fett (TV).