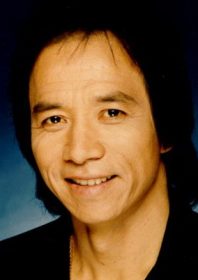 Date of birth: 30 July 1946 (Zhongshan, China)
Full name: Lee Wing Chow
Other names: Daniel Eric Lee, Eric W.C. Lee
Nickname: The King of Kata
Style: Kung fu, Aikido, Tai Chi, Judo, taekwondo, weapons.
Biography: Born in Zhongshan, China, Eric Lee was first introduced to the martial arts by his father, who taught him the Choy Li Fut style. Every evening after dinner, they would hit a gong to signal the time to train. At the age of seven, the Lee family moved to Hong Kong. During his youth, Lee also became inspired in his training by the black and white martial arts serials being produced at the time.
As a teenager, he was sent to study in Nicaragua – the largest country in central America – where he lived with his grandparents, before his family relocated to Oakland, California, when Lee was 15 years old.
Lee was bullied at high school, and he enrolled in a martial arts school where he learned the southern kung fu styles, Hung Gar and Wing Chun. In 1968, he began studying with Al Dacascos, founder of 'Wun Hop Kuen Do Kung Fu', which means 'combination fist art' in Cantonese – a hybrid style which incorporates Chinese and Filipino martial arts styles. He trained with Al for five years, before opening his own martial arts club in college. The club exposed Lee to many different martial arts styles, including Praying Mantis, Aikido, Tai Chi, Judo and Taekwondo. He also developed his skills with weapons.
Eric started competing in 1970, appearing at karate tournaments in the 1970s at a time when very few people had seen kung fu. He dominated the forms, weapons and kata divisions, and travelled throughout the USA, appearing on the front pages of magazines such as Inside Kung Fu and Black Belt, and becoming known as the 'King of Kata'. He added music, strobe lighting and comedy to his routines, designed to entertain audiences and introduce people to kung fu.
From the late 1960s and into the 1970s, Eric started to appear in movies, initially in small roles and as a stunt performer, like on Sam Peckinpah's The Killer Elite (1975) – starring James Caan and Robert Duvall – and the Chuck Norris film, Good Guys Wear Black (1978). His first big role was 1981's Weapons of Death, in which Lee also worked as fight choreographer and exhibited his skills with weapons, featuring one of his first on-screen duels with the veteran Asian heavy, Gerald Okamura.
Throughout the 1980s and 90s, Eric continued to appear in action movies, including John Carpenter's Big Trouble in Little China (1986) for 20th Century Fox, which featured many familiar faces from the Asian American acting community, including Jeff Imada, Al Leong, James Lew, James Hong, Carter Wong, Victor Wong, Peter Kwong, Gerald Okamura, James Pax, Dennis Dun, and Conan Lee. He was a stunt performer on Rambo: First Blood Part II (1985) and Showdown in Little Tokyo (1991), and he produced and starred in the 1991 martial arts horror, The Master Demon.
In the 1990s, Eric Lee worked predominantly with PM Entertainment Group – owned by producers Joseph Merhi and Richard Pepin – on a number of straight-to-video martial arts films. He worked on-screen with Don "The Dragon" Wilson, playing the character of Kwong in both Ring of Fire (1991) and Ring of Fire II: Blood and Steel (1993), also providing fight choreography on Future Kick (1991), Out for Blood (1992), and Bloodfist III: Forced to Fight (1992). For PM Entertainment Group, he worked as fight choreographer on Final Impact (1992), starring Lorenzo Lomas and Michael Worth, and Deadly Bet (1992), starring Jeff Wincott.
Eric Lee has also worked alongside Cynthia Rothrock in the films Tiger Claws II (1996), Sworn to Justice (1996), and Sci-Fighter (2004) – the latter two films also as fight choreographer. He appeared in Talons of the Eagle (1992), with Billy Blanks and Jalal Merhi; Fists of Iron (1995), starring Michael Worth; and Bloodsport II: The Next Kumite (1996), starring Daniel Bernhardt.
Eric has written many instructional martial arts book, including: Fight Back: Your Guide to Self-defense (1982), Three-Sectional Staff (1985), Advanced Three Sectional Staff: Kung Fu Weapon of Self-Defense (1985), Broadsword: Chinese Weapon of Self-defense (1988), Kung Fu Double Broadsword (1998), and Kung Fu Self-Defense (1999). In 2002, Eric Lee was inducted into the Martial Arts History Museum's Hall of Fame. In 2020, Eric Lee published his autobiography, The Journey of an Artist. He lives in Los Angeles.
Speech! "I don't believe in success of failure. There's no such thing. If you worry about failure, you'll never start. If you think you're going to be successful, you'll fail. So why go there at all? Just do what you love to do and share with the people you love. That's it." Interview with Kung Fu Movie Guide Podcast, 2023.
Click here to listen to KFMG Podcast S07 Episode 90 with Eric Lee.
Filmography (as actor/stunt performer): 1969 Mod Squad (TV); Family Affair (TV); 1975 The Killer Elite; 1976 Death Machines; 1978 Good Guys Wear Black; 1979 Americathon; 1981 The Weapons of Death; Falcon Claw; The Shinobi Ninja; 1983 Cocaine and Blue Eyes; The Greatest American Hero (TV); Bring 'Em Back Alive (TV); Going Berserk; Uncommon Valor; 1984 Airwolf (TV); Ninja Busters; V (TV); 1985 Into the Night; J.O.E. and the Colonel; Rambo: First Blood Part II; 1986 Big Trouble in Little China; The Night Stalker; 1987 Steele Justice; Falcon Crest (TV); Penitentiary III; The Hanoi Hilton; 1988 Vietnam War Story; The Game; 1989 Young Rebels; Cage; 1991 Showdown in Little Tokyo; Future Kick (+ fight chor.); Ring of Fire (+ fight chor.); In Living Color (TV); The Master Demon; 1992 Talons of the Eagle; Bob; 3 Ninjas; 1993 Ring of Fire II: Blood and Steel; 1994 Death Match; Bad Blood; 1995 Fists of Iron; 1996 Bloodsport II: The Next Kumite; Misfit Patrol; Tiger Claws II; For Life or Death; Sworn to Justice; Carjack; 1998 Broken Vessels; Almost Heroes; 2001 Gangland; The Accidental Spy; The Education of a Vampire; 2002 Redemption; 2004 Sci-Fighter; 2016 The Last Dragon Remix (short); Assassin X; 2018 Dragon to Dragon.
Filmography (as fight choreographer): 1992 Bloodfist III: Forced to Fight; Deadly Bet.