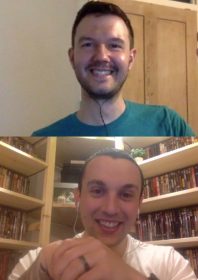 Put on your face-mask, pour yourself a drink and settle into our annual end-of-year podcast from your friends at the Kung Fu Movie Guide. 2020 has been a particularly strange and challenging year for many of us, but the show must go on! Join your host, Ben Johnson, and the author of Life of Action Vol. 1 and Vol. 2, Mike Fury, as they dissect the year's biggest stories from the world of martial arts movies, exchange a few Christmas presents, read out some of your comments, and share their personal top five films from the year. Did we miss one of your faves? If so, let us know in the comments below and via our social media channels on Twitter, Facebook and Instagram. You can also email the show on hello@kungfumovieguide.com. All music on this episode purchased from audiojungle.net, including 'Christmas Road' by Waderman and 'Back to the 70s' by Wavesound. T-shirts provided by 36 Styles. Additional audio support by George Dennis. A huge thank you to all the Fu followers around the world for your support in 2020, and may you all have a very merry Christmas, happy holidays and a happy new year.

Listen back to our previous End of Year Shows

Our not-very-comprehensive list of fight-centric 2020 releases – what was your favourite?
Ava; Baaghi 3; Be Water; Birds of Prey: And the Fantabulous Emancipation of One Harley Quinn; Bloodshot; Bruised; Chick Fight; Combativo; Concubine of Shanghai; Dead Reckoning; Debt Collectors; Deliver Us from Evil; The Doorman; Double World; Duel of Legends; The Enchanting Phantom; English Dogs in Bangkok; Enter the Fat Dragon; Extraction; First Love; The Foggy Mountain; Fox Hunting; The Hunt; I Am Vengeance: Retaliation; Ip Man: Crisis Time; Iron Monkey; Jiang Ziya; Jiu Jitsu; Knockout; The Kung Fu Master; The Intergalactic Adventures of Max Cloud; Money Fight; Monster Hunter; Mortal Kombat Legends: Scorpion's Revenge; Mulan; One Night in Bangkok; Legacy of Lies; Lost Bullet; The Old Guard; Pattas; The Rhythm Section; The Search for Count Dante; Seized; The Serpent; Skylines; Stuntwomen: The Untold Hollywood Story; The Swordsman; Taoist Master; Tribal: Get Out Alive; Vanguard; Welcome to Sudden Death; Wild Swords; Wonder Woman 1984; The Yin Yang Master.