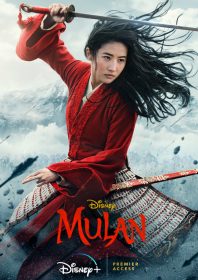 A live-action remake of Disney's 1998 animated, musical adaptation of the popular, fictional Chinese story, The Ballad of Hua Mulan. This was rather unfairly treated as something of a guinea pig to trial the studio's Premier Access add-on to its Disney+ streaming service, bypassing a theatrical release in most major territories. A victim of huge delays caused by the coronavirus pandemic, its discreet online release feels like a massive snub for a film clearly designed for the big screen, with a budget of $200m, lavish sets and costumes, rooftop chases and giant battle scenes. The snub feels doubly compounded given the painstaking ways that Hollywood has tried to position the property to simultaneously win over fans of the original cartoon as well as meeting Chinese censorship rules. The compromise – no songs, no snarky talking dragon, and a far more serious tone – may well alienate the kids who grew up with the 1998 version.
Political machinations haven't helped: the USA-China trade war stoking further division between the two nations; its star, Liu Yifei, speaking out in support of the Hong Kong police crackdown on pro-democracy demonstrators, leading to an online campaign to boycott the film; and then it was revealed how the final credits thank a number of government entities in Xinjiang province, where about a million people – mostly Muslim Uighurs – are thought to be detained. Seen in this context, Disney's decision to slightly bury the film is maybe more understandable, even if – despite all its controversies – this is one of the studio's better modern interpretations of one of its classic animated films, one which possesses an identity all of its own.
Niki Caro takes a stoic, action-heavy and subtlety magical approach to the story, and for those who enjoy epic, wuxia-inspired martial arts cinema, this will be a wholly positive thing. It is more closely aligned to a rousing, 'martial arthouse' genre film like Crouching Tiger, Hidden Dragon and Hero, rather than a straightforward Disney remake, like 2017's Beauty and the Beast or 2019's The Lion King. The film's more magical elements work well and are neatly observed, personified in the form of a conflicted, shape-shifting witch, played effortlessly by Gong Li, who is afforded a typically post-modern existential twist. All of the principle cast members are made up of genre fan favourites and all of them are brilliant: Donnie Yen as an authoritative yet compassionate general; Jason Scott Lee as a maniacal warmonger; Tzi Ma as the archetypical every-dad. Jet Li makes a pleasing if diverting appearance as a (dubbed?) Emperor, ultimately used as a prop to display Mulan's heroism.
Liu Yifei represents the heart and soul of the film. She plays Mulan with great spirit and emotion, torn between loyalty to her family and her nation, while struggling to conform to the societal norms prescribed to her sex. Mulan is Disney's anti-princess; far from entitled but able to defy the odds through sheer will-power and skill. Its an empowerment story which may seem a little staid by modern standards, but its wholesome message is worth repeating, and the film never once compromises on its purpose despite its abundance of spectacle.