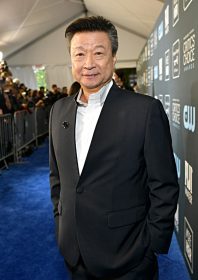 Date of birth: 10 June, 1962 (Hong Kong)
Occupation: Actor
Biography: Tzi Ma (pronounced 'Tai Mah') is a prolific actor working across stage, screen and television. He is a familiar face in mainstream Hollywood productions as well as independent cinema, where he has helped to champion and promote Asian American filmmakers and fight for greater representation in Hollywood.
Hong Kong-born Ma is the youngest of seven children. In the late 1960s – when Ma was five years old – the family moved to the USA following political unrest in Hong Kong. Ma was brought up in New York where his family ran an American-Chinese restaurant, called Ho Wah, located in Staten Island, where he also worked.
His love for acting started in a school production of Annie Get Your Gun in which he played Buffalo Bill. He honed his skills as an actor working in experimental theatre in New York. Ma attended Nassau Community College in Garden City, New York, where he studied acting. His first theatre performance was in 1975 at an outdoor theatre in Roosevelt State Park. He played the 'Monkey King' in an adaptation of the Beijing opera, Monkey King in the Yellow Stone King. He studied with the Oscar and Tony-nominated Japanese-American actor, Mako Iwamatsu. Ma says that he knew he wanted to pursue acting as a profession when he saw Mako in Stephen Sondheim's 1976 Broadway musical, Pacific Overtures, for which Mako was nominated for a Tony Award.
Ma is close friends with the playwright, David Henry Hwang, and has worked with him on several of his plays, including FOB, Yellow Face, Flower Drum Song, and The Dance and the Railroad, which was written specifically with Ma in mind. Ma also starred in the film, Golden Gate (1993), written by Hwang. A role in Eric Overmyer's play, In Perpetuity Throughout the Universe, was also written specifically for Ma. Ma has also worked as a theatre director. In 1994, he was the assistant director on Maxine Hong Kingston's The Woman Warrior by the Berkeley Repertory Theatre.
Ma has also studied martial arts, which helped him secure his first film role in the Andy Warhol-produced Cocaine Cowboys (1979), starring Jack Palance and Andy Warhol. Throughout the 1980s, Tzi continued to work in theatre, making occasional guest appearances in television shows including The Cosby Show, L.A. Law, Star Trek: The Next Generation and MacGuyer. Some of Ma's earliest film roles include the action movies RoboCop 2 (1990) and Rapid Fire (1992), in which he played the main villain opposite Brandon Lee.
Ma's biggest film roles include Dante's Peak (1997), playing a volcano expert; a recurring character as a Chinese ambassador whose daughter is kidnapped in Jackie Chan's breakout Hollywood series, Rush Hour; director Phillip Noyce's adaption of Graham Greene's Vietnam-set novel, The Quiet American (2002), opposite Michael Caine and Brendan Fraser; the remake of The Ladykillers (2004), directed by the Coen Brothers and starring Tom Hanks; Denis Villeneuve's sci-fi film, Arrival (2016), as a Chinese military commander; and the live-action remake of Disney's Mulan (2020), playing Mulan's father.
Ma is a champion of independent cinema. He worked with Vietnamese actor Chi Muoi Lo on his directorial debut, the culture-clash comedy drama, Catfish in Black Bean Sauce (1999); he worked with the writer and director, Georgia Lee, on her autobiographical directorial debut, Red Doors (2005); he appeared in the gangland drama, Baby (2007), for director Juwan Chung; he appeared in Diana Lee Inosanto's directorial debut, The Sensei (2008); he played an adulterous husband in Mina Shum's Meditation Park (2017), opposite kung fu star Cheng Pei-pei and Killing Eve's Sandra Oh; he appeared in The Jade Pendant (2017), a western with a predominantly Asian cast, for the Hong Kong director Leung Po-Chi; he starred in Lulu Wang's critically acclaimed comedy drama, The Farewell (2019), playing the father of Awkwafina's central character; and he played a dispassionate father in Netflix's Tigertail (2020) for writer-director Alan Yang, known for his comedic work on Parks and Recreation and as the co-creator of Master of None.
Ma is also known for recurring roles in popular television shows, including the first season of martial arts series, Martial Law, in which he played a crime boss and Sammo Hung's kung fu rival. Between 2000 and 2009, Ma appeared in 25 TV shows, including roles in NYPD Blue, ER, Law & Order and the fourth season of 24 (2005), in which he played the head of the Chinese consulate. He reprised the role in 24: Live Another Day (2014). He has also provided voice work in the animated series, American Dad!, and for the hit computer game, Sleeping Dogs. Further TV roles include Japanese General Onoda in the second season of the Amazon Prime series, The Man in the High Castle; a war veteran in Netflix's Wu Assassins (2019), opposite Iko Uwais and Lewis Tan; and the father of Olivia Liang's central character in The CW's reboot of the Kung Fu TV series.
Tzi Ma married the actor, Christina Ma, in December 1994.
Speech! "With the internet, you can't get away with anything. People will call you out on it in a heartbeat. And it's easier for [writers] to do research right now – back in the day, you've got to go to the library. Now, it's at your fingertips. There's really no excuse for you not to know. If you write something that's remotely questionable then it's just a comment on you, because you can't get away with this stuff anymore." Interview with Kung Fu Movie Guide Podcast, 2021.
Click here to listen to KFMG Podcast S06 Episode 66 with Tzi Ma.
Filmography (as actor): 1979 Cocaine Cowboys; 1981 They All Laughed; 1982 Joseph Papp Presents: The Dance and the Railroad; 1984 The Cosby Show (TV); 1985 The Equalizer (TV); 1986 The Money Pit; 1989 L.A. Law (TV); The Forgotten; Star Trek: The Next Generation (TV); MacGyver (TV); 1990 Yellowthread Street (TV); Forbidden Nights; RoboCop 2; Midnight Caller (TV); Head of the Class (TV); DMZ; 1992 Rapid Fire; 1993 Street Justice (TV); Golden Gate; 1994 The Adventures of Brisco County, Jr. (TV); 1995 Vanishing Son (TV); Make a Wish, Molly (short); 1996 Chain Reaction; 1997 Dante's Peak; Red Corner; 1998 Rush Hour; Martial Law (TV); 1999 Catfish in Black Bean Sauce; Millennium (TV); The Magnificent Seven (TV); 2000 Chicago Hope (TV); The Pretender (TV); City of Angels (TV); Walker, Texas Ranger (TV); Nash Bridges (TV); Gideon's Crossing (TV); 2001 NYPD Blue (TV); Hawaiian Gardens; 2002 The Bernie Mac Show (TV); The Quiet American; ER (TV); Boomtown (TV); Law & Order (TV); 2003 The Practice (TV); 2004 Jake 2.0 (TV); The Ladykillers; Hawaii (TV); 2005 JAG (TV); Red Doors; 2006 Commander in Chief (TV); Akeelah and the Bee; The Unit (TV); Deadwood (TV); 2007 24 (TV); Baby; Rush Hour 3; Battle in Seattle; Dragon Boys (TV); 2008 The Sensei; Management; All God's Children Can Dance; Grey's Anatomy (TV); Finnegan; 2009 The Beast (TV); Dirty Sexy Money (TV); Formosa Betrayed; Lie to Me Season 1: The Truth About 'Lie to Me' (short); Cold Case (TV); Fringe (TV); Dollhouse (TV); 2010 NCIS: Los Angeles (TV); Lie to Me (TV); The Whole Truth (TV); 2011 Hawaii Five-0 (TV); Chaos (TV); True Justice (TV); 2012 Perception (TV); The Campaign; Sleeping Dogs (video game); Sleeping Dogs: Nightmare in North Point (video game); Vegas (TV); 2013 Made in Chinatown (short); #1 Serial Killer; Saving Hope (TV); Agents of S.H.I.E.L.D. (TV); American Dad! (TV); Bloodline; 2014 Million Dollar Arm; 24: Live Another Day (TV); A Good Man; State of Affairs (TV); Sutures (short); 2015 Baby Steps; Hell on Wheels (TV); Diablo; Satisfaction (TV); Pali Road; 2016 Elementary (TV); Man Seeking Woman (TV); Stitchers (TV); Angie Tribeca (TV); Arrival; Once Upon a Time (TV); The Man in the High Castle (TV); 2017 Ransom (TV); The Catch (TV); An American Girl Story: Ivy & Julie 1976 – A Happy Balance; Criminal Minds: Beyond Borders (TV); Meditation Park; Madam Secretary (TV); The Jade Pendant; 2018 The Resident (TV); Silicon Valley (TV); Skyscraper; Bad Company; 2019 The Farewell; Veep (TV); Wu Assassins (TV); Treadstone (TV); Star Wars Resistance (TV); 2020 Mulan; Tigertail; Bosch (TV); The Kid Detective; A Sugar & Spice Holiday; 2021 A Shot Through the Wall; Kung Fu (TV).