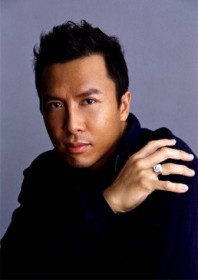 Date of birth: July 27, 1963 (Guangdong, China)
Other names: Yen Ji-dan, Yan Chi-tan, Yen Chi Ten, Yin Sze Dan
Occupation: Actor, director, producer, action director, stuntman
Style: Wushu, tai chi, taekwondo, boxing, kickboxing. MMA, judo, wing chun
Biography: Donnie Yen is one of the most successful and popular kung fu movie stars working in the business today. He has been involved in some of the best kung fu movies of the last 30 years and worked with the biggest names in the industry.
Donnie Yen was born in Guangdong, China – the son of newspaper editor Klyster Yen and martial arts instructor Bow Sim-mark, a master of the 'internal' tai chi system. The family moved to Hong Kong when Donnie was two years old and then relocated to Boston, Massachusetts, when he was 11. Yen did not excel academically and eventually dropped out of school to focus on his martial arts training. His first disciplines were tai chi and wushu, which he initially learnt from his mother, and later taekwondo in which he achieved a 6th Dan. He also trained in boxing, kickboxing and judo. Yen won a gold medal in wushu at the Boston Combat School before being selected to train for three years in China with the Beijing Wushu Team. From the age of 16, Donnie Yen trained under the tutelage of Master Wu Bin – the same master as Jet Li – at the Chinese Wushu Academy.
Donnie Yen's film career began as a teenager following a chance meeting with Yuen Woo-ping in Hong Kong. Following a screen test, Woo-ping – already famous for spotting new kung fu talent, like Jackie Chan with the film Snake in the Eagle's Shadow – offered Yen a contract as part of his stunt team, eventually offering the 20-year-old a starring role in the kung fu comedy Drunken Tai Chi (1984). Donnie Yen proved to be an instant hit with audiences – a young actor who could manage both knockabout comedy and dramatic roles, coupled with a balletic grace and superior kicking ability. In 1985, Donnie Yen sustained a shoulder injury on the set of Mismatched Couples which has continued to dog his career to this day.
Woo-ping cast him in many of his subsequent films whilst under contract for D&B Films during the late 80s, including the Tiger Cage films and In the Line of Duty 4 (1989), and then later in his films Iron Monkey (1993), Hero Among Heroes (1993) and Wing Chun (1994). During his time as a TV actor in the early 1990s, Yuen Woo-ping choreographed Donnie Yen in one of his most famous performances as the corrupt General Nap-lan in Tsui Hark's Once Upon a Time in China II (1992). The film earned Donnie Yen a nomination for Best Supporting Actor at the Hong Kong Film Awards and was the first cinematic duel between Yen and his wushu contemporary Jet Li. Ten years later the two reunited to do battle in the Zhang Yimou film Hero (2002).
In 1997, Donnie Yen made his directorial debut with the film Legend of the Wolf, following the formation of his own production company, Bullet Films. Despite having an eloquent grasp of the English language, Yen has so far had limited success in the west with English-speaking roles. Dimension Films offered him a large part in Highlander: Endgame (2000) which would prove to be his Hollywood debut, although the film flopped. He had a supporting role as a mute vampire in Blade II (2002) and played a villain opposite Jackie Chan in the action sequel Shanghai Knights (2003). In 2001, he was the action choreographer for the Japanese film The Princess Blade and, in 2006, the UK film Stormbreaker.
Donnie Yen has received great acclaim as a fight choreographer known for adapting different martial arts styles for the screen. He incorporated mixed martial arts (MMA) techniques into his films SPL (2005) and Flashpoint (2008), both of which went on to win the Golden Horse Award for Best Action Choreography and Hong Kong Film Awards for the same category.
In 2006, Yen won a Golden Bauhinia Award for his fight choreography for the film Dragon Tiger Gate. In 2011, he won another Golden Horse Award for his bone-breaking choreography in Dragon. He worked Bruce Lee-style choreography into the 2010 film Legend of the Fist, in which he reprised the role of Chen Zhen from his Fist of Fury TV series.
It was his role as the titular Wing Chun master Ip Man (2008) in Wilson Yip's extravagant biopic – and its sequel – which helped to established Donnie Yen as a truly bankable, international star. Donnie Yen reportedly trained with Ip Man's grandson, Ip Chun, for nine months in preparation for the role. The film was Donnie Yen's most commercially successful film to date, grossing HK$25m at the box office, spurring on a number of Ip Man-related spin-offs and earning Donnie Yen the Iron Elephant Award for Best Actor.
Donnie Yen has appeared in big-budget 3D fight films The Monkey King (2014) and Iceman (2014). He continues to be in huge demand in the west. He worked with Netflix and The Weinstein Company on an English-language sequel to Crouching Tiger, Hidden Dragon. In 2015, Yen was cast in a supporting role in the Star Wars spin-off film, Rogue One: A Star Wars Story. In 2016, Yen replaced Jet Li in the action sequel xXx: The Return of Xander Cage, starring Vin Diesel. Speaking at a press conference in Beijing in 2019, Donnie announced that the film, Ip Man 4: The Finale, would be his final kung fu movie.
Yen married his first wife, Leung Zing-ci, in 1993 and the couple divorced two years later. Together they have a son, Jeff. In 2003 he married the model Cecilia Wang and together they have a daughter, Jasmine, born in 2004, and a son, James, born in 2007.
Speech! "I think I'm maybe the only one, or maybe one of a handful – one or two persons – who continue to believe and try to come out with these films… I try to push a little bit. I try to cross the line or push the envelope a little bit, hopefully. I do as much as I can." In conversation with The Lady Miz Diva at the New York Asian Film Festival 2012.
Filmography (as actor): 1983 Shaolin Drunkard (stunts); 1984 Taoism Drunkard (stunts); Drunken Tai Chi; 1985 Mismatched Couples; 1988 Tiger Cage; 1989 In the Line of Duty 4; 1990 Tiger Cage 2; 1991 The Holy Virgin vs. the Evil Dead; Crystal Hunt; 1992 Cheetah on Fire; Once Upon a Time in China II; New Dragon Gate Inn; 1993 Iron Monkey; Butterfly and Sword; Hero Among Heroes; 1994 Wing Chun; Circus Kid; 1995 Iron Monkey 2; The Saint of Gamblers (cameo); 1996 Satan Returns (+ action dir.); 1997 Legend of the Wolf (+ dir, pro, scr, action dir.); High Voltage (+ action dir.); Black Rose 2; 1998 Ballistic Kiss (+ dir, pro, action dir.); Shanghai Affair (+ dir, action dir.); 1999 City of Darkness; 2000 Highlander: Endgame (+ action dir.); 2002 Blade II (+ action dir.); Hero; 2003 Shanghai Knights; 2004 The Twins Effect II; Love on the Rocks; 2005 SPL (+ action dir.); Seven Swords; 2006 Dragon Tiger Gate (+ action dir.); 2007 Flash Point (+ pro, action dir.); 2008 An Empress and the Warriors; Painted Skin; Ip Man; 2009 All's Well, Ends Well 2009; The Founding of a Republic; Bodyguards and Assassins; 2010 14 Blades; Ip Man 2; Legend of the Fist: The Return of Chen Zhen (+ action dir.); 2011 All's Well, Ends Well 2011; The Lost Bladesman (+ action dir.); Dragon (+ action dir.); 2012 All's Well, Ends Well 2012; 2013 Together; Special ID (+ pro, action dir.); 2014 Golden Chicken 3; The Monkey King (+ action dir.); Iceman; Kung Fu Jungle (+ action dir.); 2015 An Inspector Calls; Iceman 2; Ip Man 3; 2016 The Master; Noodle Man; Crouching Tiger, Hidden Dragon: Sword of Destiny; Dragon City; Rogue One: A Star Wars Story; 2017 xXx: The Return of Xander Cage; Chasing the Dragon; 2018 Big Brother; Iceman: The Time Traveler; 2019 Ip Man 4: The Finale; 2020 Enter the Fat Dragon; Mulan; 2021 Raging Fire; 2022 The Monkey King: The Legend Begins; John Wick: Chapter 4.
Filmography (as action director): 2001 The Princess Blade; 2003 The Twins Effect (+ dir.); 2004 Protégé de la Rose Noire (+ dir.); 2006 Stormbreaker.