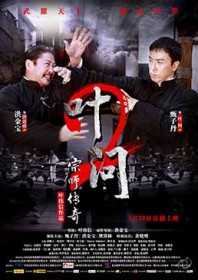 This sequel, which quickly follows on from the 2008 original and reunites much of the same cast and crew, is a seething post-war potboiler which substitutes the original film's Japanese aggressors with that of the colonial British in 1950s Hong Kong.
Ip Man (Donnie Yen, brilliantly understated) leaves war-torn Foshan to set up a Wing Chun school on the terraces of Hong Kong. But the subsequent story (rebel-rousing pupils cause trouble for rival kung fu masters) is the sort of recycled plot device you would expect to find in a Wong Fei-hung film from the 1940s.
There are fragments of Ip Man's past – like his friend Simon Yam, who is now a brain-damaged invalid – but these are mere contrivances. So too is a potentially diverting subplot involving a domestic struggle between Ip Man and his expectant wife (Lynn Xiong), who have their humility tested in the face of abject poverty.
Wilson Yip – a veteran of big-budget crowd-pleasers and Donnie Yen films – focuses most of his energy on promoting a fervently nationalistic agenda. Ip Man is positioned as an alternative to Wong Fei-hung as he unearths corruption between a syndicate of rival kung fu fighters in cahoots with corrupt British officials. Master Hung (Sammo Hung) plays devil's advocate in helping to stage an elaborate set-piece involving a display of western boxing from British fighter Twister (Darren Shahlavi). He flexes his imperialist muscles by pummeling the locals in the ring and denouncing Chinese kung fu as a "pantomime".
The film does precious little to expand on the Ip Man story. Facts are of little concern here. Even the brief appearance of a young Bruce Lee (added as something of an afterthought to the end of the film) is played mostly for comedic effect. Sammo Hung's Wing Chun choreography is absolutely faultless, and the rivalry between the Wing Chun and Hung Ga students (Wong Fei-hung's fighting style) provides a neat little in-joke. The film also secures the global appeal of Donnie Yen, who fits perfectly into the Ip Man persona.