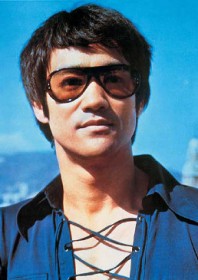 Date of Birth: November 27, 1940 (San Francisco, USA)
Date of Death: July 20, 1973 (aged 32), Hong Kong
Real name: Lee Jun-fan
Other names: Lee Siu Lung, Lee Lung
Occupation: Actor, director, producer, writer, instructor, action director
Style: Tai chi, Wing Chun, Jeet Kune Do
Biography: Bruce Lee is not only the world's most influential and iconic martial artist – both in films and in practice – but he is also a leading figure in modern popular culture.
Lee was born in the Chinatown district of San Francisco, the fourth of five children to parents Grace Lee and Chinese Opera performer Lee Hoi-chuen. According to the Chinese zodiac, Lee was born in both the year and the hour of the Dragon. He was given the name Jun-fan, meaning 'to return again'. The family returned to Hong Kong three months after Lee was born.
Lee followed his father into the Hong Kong film industry making his debut film appearance as a baby in Golden Gate Girl (1941). Bruce Lee would appear in around 20 films throughout his childhood. At the age of 13, Lee's involvement in street fighting and gang culture led his father to enrol him at Master Ip Man's Wing Chun kung fu school. As a youth, Lee did not excel academically and was transferred to the St. Francis Xavier's College, where he learnt boxing. In 1957, Lee won the High School Boxing Championships. A keen dancer, Lee was also crowned the 1958 Crown Colony Cha Cha Champion of Hong Kong. However his reputation as a street brawler continued. In 1959, following a fight with a prominent Hong Kong gang member, Lee was sent by his parents to live in San Francisco with his sister, Agnes Lee.
In 1959, Lee relocated to Seattle to finish his high school education and later enrolled at the University of Washington in 1961 to study drama. While at univeristy, Lee met his future wife Linda Emery, a fellow student. The two were married in 1964 and had two children: Brandon Lee, in 1965, and a daughter, Shannon Lee, in 1969.
Although Lee studied drama (along with lessons in philosophy and psychology), he showed little sign of pursuing a career in film. Instead, Lee dedicated himself to the practice and teaching of martial arts. He opened his first Jun Fan Gung Fu school in Seattle and opened a second in Oakland, California, in 1964. Lee would continue to develop his practical understanding of the martial arts to eventually create his own system, Jeet Kune Do (meaning 'the way of the intercepting fist'), in 1967. The system is now seen as a forerunner to modern day mixed martial arts (MMA) systems utilising techniques from a variety of different combat styles.
Lee's appearance at the 1964 Long Beach International Karate Championships caught the attention of TV producer William Dozier, who asked Lee to take part in a screen test. Dozier would later cast Lee as Kato in the TV adventure series The Green Hornet for ABC, a camp superhero series from the same producers of Batman. The series ran for one season including three crossover episodes with Batman.
Throughout the 1960s, Lee would continue to teach the martial arts to many high profile names in show business, including script writer Stirling Silliphant, actors James Coburn and Steve McQueen, and basketball star Kareem Abdul-Jabbar.
Lee's other television work included appearances in Ironside (1967), Here Come the Brides (1969), and four episodes of Longstreet (1971), written by Stirling Silliphant. In 1969, Lee made inroads into the movie industry with a cameo appearance as a villain in detective film Marlowe, starring James Garner, and as a fight choreographer on The Wrecking Crew, starring Dean Martin, and A Walk in the Rain (1970) with Ingrid Bergman. In 1972, Lee pitched a concept for his own TV show set in the wild west to both Paramount and Warner Brothers, but was allegedly denied the lead role due to his ethnicity. The show would later resurface as Kung Fu starring David Carradine.
In 1971, Lee returned to Hong Kong to concentrate on his film career. He refused the standard actor's contract assigned to him by the Shaw Brothers studio in favour of fledgling new company Golden Harvest, created by former Shaw employee Raymond Chow. His first starring role feature film, The Big Boss (1971), became the highest grossing Hong Kong film of all time. This record was beaten by Lee's second film for Golden Harvest, Fist of Fury (1972). In 1972, Lee formed his own production company, Concord Productions, alongside Raymond Chow, and he set to work directing, producing, writing, choreographing and starring in his third feature film, The Way of the Dragon (1972). Parts of the film were shot on location in Rome and featured an extended final duel with US Karate champion Chuck Norris, who Lee had first met at Long Beach in 1964.
Production on his fourth film for Golden Harvest, Game of Death (1978), was suspended when Lee was offered the starring role in a joint production between Golden Harvest and Warner Brothers. Filmed in Hong Kong, production on Enter the Dragon started in February 1973. Six days before the release of the film, Bruce Lee died aged 32 following an allergic reaction to a painkiller. Enter the Dragon has gone on to earn a gross worldwide revenue of US $200,000,000, and in 2004, the film was added to the US National Film Registry due to its "cultural significance".
Lee's death and the subsequent success of Enter the Dragon caused a worldwide craze in kung fu, further spurred on by the Kung Fu TV show in America. In Asia, producers tried desperately to find a "new Bruce Lee" by casting lookalikes and using vaguely similar names, starring the likes of Bruce Li, Bruce Le and Dragon Lee. This new subgenre of films is now known collectively as 'Bruceploitation'. In 1978, Enter the Dragon director Robert Clouse was recruited to revive Lee's unfinished Game of Death using new actors, lookalikes and Lee's original footage.
Bruce Lee's body was laid to rest at Lakeview Cemetary in Seattle. His pallbearers included George Lazenby, Steve McQueen, James Coburn and Chuck Norris. An open casket ceremony held in Hong Kong on July 25, 1973, attracted 30,000 visitors. In 1999, Bruce Lee was named by Time magazine as one of 100 Most Influential People of the 20th Century. In 2009, Bruce Lee's home in Kowloon, Hong Kong, was transformed into a tourism destination.
Speech! From The Tao of Jeet Kune Do. "If you always put limits on what you can do, physical or anything else, it'll spread over into the rest of your life. It'll spread over into your work, into your mortality, into your entire being. There are no limits. There are plateaus, but you must not stay there, you must go beyond them. If it kills you, it kills you."
Filmography (as actor): 1941 Golden Gate Girl; 1946 The Birth of Mankind; 1948 Wealth is Like a Dream; 1949 Sai See in the Dream; 1950 The Kid; 1951 Infancy; 1953 A Myriad Homes; Blame It on Father; The Guiding Light; A Mother's Tears; In the Face of Demolition; 1955 An Orphan's Tragedy; Orphan's Song; Love; Love Part 2; We Owe It to Our Children; 1956 The Wise Guys Who Fool Around; Too Late For Divorce; 1957 The Thunderstorm; Darling Girl; 1960 The Orphan; 1966 The Green Hornet (TV); Batman (TV); 1967 Ironside (TV); 1969 Blondie (TV); Here Come the Brides (TV); Marlowe; 1971 Longstreet (TV); The Big Boss (+ scr); 1972 Fist of Fury (+ action dir.); The Way of the Dragon (+ dir, pro, scr, action dir.); 1973 Enter the Dragon (+ pro, action dir.); 1978 Game of Death (+ dir, pro, scr, action dir.) 1981 Game of Death II
Filmography (as action director): 1969 The Wrecking Crew; 1970 A Walk in the Spring Rain; 1972 Fist of Unicorn