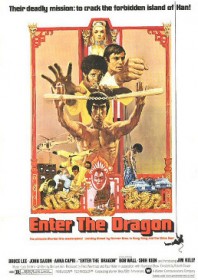 The one that started it all. Robert Clouse's action classic is the kung fu movie that even people who don't like kung fu movies have seen. The now legendary Bruce Lee vehicle turned the 32 year old martial artist into an international superstar, only for him to die six days before its release.
Devised as a formulaic James Bond style spy movie with lashings of martial arts mayhem, the story concerns Shaolin monk Lee (Bruce) who is sent undercover by British intelligence to infiltrate the deadly island of Han (Shek Kin) – a reclusive, one-handed drug trafficking meanie who holds a brutal martial arts tournament on his forbidden island every three years. Lee enrolls and soon discovers the true horrors of Han's skullduggery.
In matters concerning plot and character the film is quite ordinary, and it would be fair to assume that without Lee's presence it would have been forgotten long ago. The supporting cast play it well: Saxon as composed Vietnam vet Roper, debuting Kelly as the superfly Williams, snarling Shek Kin as the creaky villain Han and Bolo Yeung as the meanest thing on the planet. But this is Bruce Lee's movie, and he steals every scene.
Complete with an ice cool death stare, lean physique and cat-like poise, he is enthralling in an iconic finale set within a deceptive hall of mirrors. Following his tragic death, Enter the Dragon's longevity was assured. It still remains the genre's crowning achievement.
AKA: The Deadly Three; Operation Dragon