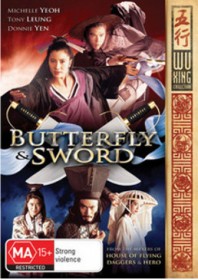 Crazy wuxia wire fu from Michael Mak, loosely based on a Gu Long novel and featuring exploding bodies, flying sword fights and sickly keyboard music. Butterfly (Joey Wang) is the doting wife of Sword (Tony Leung) who are planning a life of domestic bliss among the tree-tops of the Happy Forest clan – a cult of martial warriors led by the stoic Sister Ko (Michelle Yeoh). At the dying wish of her sifu, Ko is told to track down the evil Master Suen (Elvis Tsui), who is masterminding a rebellion alongside His Excellency to kill off all of their rival warriors making them king of the martial world. Sword and Ko grew up together at the same orphanage, and unbeknownst to Butterfly, Sword embarks on a mission to infiltrate Suen's Elite Villa and bring down the baddies from the inside. But that's not quite everything.
Donnie Yen is Happy Forest's drunken sword ace with an unquenchable crush on Sister Ko who may or may not have a thing for Sword. During one brutal attack, Donnie is snagged by the Evil Claw – a detachable hand on a chain which can "kill in a thousand seconds". Sword's special trick involves running at pace through the bodies of his opponents and then, just for good measure, he kicks their head off. This level of fantastical violence is then abruptly replaced by whimsical comedy which carries a tenderness completely at odds with the majority of the film.
To be frank, it's a complete mess. But insane action scenes from Tony Ching and a strong central cast help to improve matters. Tony Leung and Michelle Yeoh are uniformly watchable, while Joey Wang shows once again why she is one of Hong Kong's best comedic actors.
AKA: Comet, Butterfly and Sword