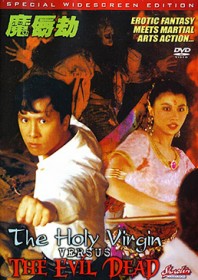 This perverted supernatural thriller is far too hyperactive to ever be suspenseful, despite leanings towards Sam Raimi's schlock horror classic The Evil Dead, most notably in the film's use of handheld camera, wind machines and mood lighting. It works much better as a scatterbrained exploitation flick and is a uniquely Hong Kong experience, shotgunning from grisly scenes of hearts being ripped out to a light Cantopop romance, a comedic tough cop routine, a machine gun battle in a cave, a few fantastical wire-fu fights and a rampant assortment of Cat III sex scenes, all in the same breath.
Sibelle Hu is one of the only female cast members who gets to keep her clothes on, playing a tough Hong Kong cop assigned to an investigation into a nerdy teacher (played by Donnie Yen) who is arrested in connection to a series of spooky killings where the women involved have had their clothes ripped off, their flesh masticated and limbs torn apart in a most undignified manner. The true culprit is Ken Lo's Moon Monster – a swaggering, kinky bloodsucking sex pest in aviator glasses, leather boots and a cape – who is prone to sadistic bonking raids every time the moon turns red. It's all part of some vaguely theological Cambodian folk tale which sees Donnie Yen and his buddy (Robert Mak), his ex-girlfriend (Chui Hai-man) and the cop on his tail (Ben Lam) quickly relocate from Hong Kong to Cambodia, where it was clearly cheaper to film.
Sibelle Hu disappears at this point ("I'll try to be a movie star!") to be replaced by a different dominant female character, Princess White (the enigmatic Pauline Yeung). She's another adolescent male fantasy device sporting a radiant headscarf, chunky 80s accessories and a lightening bolt sword capable of wu xia flying tricks. She heads up a weird tribal alliance with her father and helps the out-of-towners when the Moon Monster arrives, kidnapping the girl in their party to star in some last minute sacrificial nudity before some serious shit goes down.
It's all quite misogynistic with the bulk of the violence – most of it sexual in nature – being dealt to women. The kung fu scenes are quick, stylish and clinical affairs, and all expertly performed. These are some of the stand-out moments in Tony Liu's juvenile film, which he appears to have made behind the fog of an almost permanent erection.