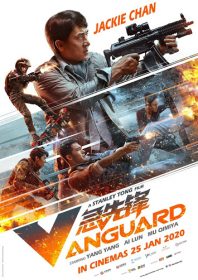 Another globe-trotting outing for the Jackie Chan brand. This is less of a garbled mess than his other completely hollow spectacles of recent years. Stanley Tong has clearly always wanted to direct a James Bond film, and this is one of his closest yet, placing his frequent partner-in-crime, Jackie Chan, at the head of an elite Chinese team of well-tailored special agents called 'Vanguards'. The core members are the babyfaced Yang Yang, who impossibly survives at least three high-falls during the film; the nerdy Ai Lun, nicknamed 'Captain China' by his infant son ("Captain China is mightier than Captain America," says the boy); and Miya Muqi, who has surely landed herself a starring-role vehicle based on her kick-ass performance in this. The film's young guns carry the bulk of the movie, and although Chan is happy to act his age (for example, just as he gears up to jump from the top level of a shopping mall in shades his iconic leap in Police Story, he knowingly stops himself and takes the escalator), he does still get involved in much of the action and, oh boy, what a lot of action.
The film moves from one scene of colourful chaos to the next at such breakneck speeds that if you look away from the screen for a moment you may wonder what on earth is happening. Stanley Tong has always been at ease when working from a large canvas, and he rinses every molecule of spectacle from each of his set-pieces. When a car chase through an African jungle (the film constantly refers to Africa as a country) reaches its climax, the chase then moves into speedboats and jet-skis, before culminating in a river-rapid death-dive over a waterfall in a car which is also a boat. Another chase involves remote-controlled robot pigeons and bees laced with security cameras and microphones, and then, just when a gun-fight breaks out, Ai Lun zooms by on a jetpack. And if you thought the CGI lion routine from Kung Fu Yoga was bad, the lion (and hyena) sequences in this film are even more mind-boggling.
The film makes quite broad cultural references which are too dumb to actually be offensive, and it goes to great lengths to show how the Chinese team are broadly cooperating with local police forces before proceeding to blow up half a city. Designed as a fun Chinese New Year release, the film was delayed by the coronavirus, with Tong determined to wait until cinemas reopened in order to get a theatrical release. It would undoubtedly be worth seeing on the biggest screen possible, but I doubt it would make it any more memorable.