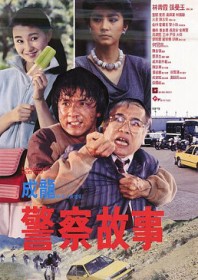 One of the best contemporary martial arts films ever made, this is a triumph for its choreographer, director and star Jackie Chan. The film is a direct riposte to the frustration he felt working in Hollywood on the set of James Glickenhaus' misguided cop film The Protector. The amazing stunt work and action sequences of Police Story would form a defining moment in helping to revolutionise Hong Kong action cinema, from the stale costumed schlock of old to the slick, urban carnage of the modern age.
When police tracking master criminal Chu Yuan bodge up the organised capture, the boss' dame (Lin) is later bailed and watched by the precinct's top official – hotheaded poster-boy Ka Kui (Jackie). The dodgy businessman decides to silence Kui and his informant for good, initially by force, then by framing Kui for the murder of a fellow officer, bringing shame upon his noble profession and turning friends into foes.
Of course, this being a Jackie Chan film, the way he goes about clearing his name is remarkable in its precision and breathtaking in operation, littering the film with stunning set pieces. These include a classic chase in which Chan clings to the side of a speeding double-decker bus by an umbrella, and a delirious, intensely satisfying finale pitting Jackie against Chu Yuan's men in a busy shopping mall. Stuntmen are hurled through panes of glass before a dangerous, electrifying pole stunt.
Police Story also goes beyond the action formula by supplying neat production values and charming comic touches, courtesy mainly of Jackie's long-suffering relationship with girlfriend May, played by Maggie Cheung. This film proved Jackie Chan's capabilities as one of the most exciting filmmakers around.
AKA: Jackie Chan's Police Force; Jackie Chan's Police Story; Police Force