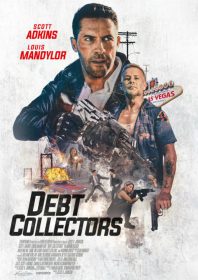 Despite the downbeat ending to 2018's The Debt Collector – a smart indie action riff on Training Day from the brains and brawn of action star Scott Adkins, director Jesse V. Johnson and writer Stu Small – comes a surprise sequel. The ending of the first film is somewhat brushed-off with tongue firmly in cheek by the two leads. "For a zombie, you look pretty good," says French (Adkins) to Sue (Mandylor) during one of the film's many banter-like exchanges, continuing the trait for extended sequences of dialogue which channel both Quentin Tarantino and Guy Ritchie. Once the down-and-out debt collectors hit the road – traveling from LA to Vegas on an errand for their old fixer – you quickly wonder why a sequel wasn't always inevitable. The two make for pleasant company; whether they're discussing old war wounds, staying up late and drinking in motels, arguing over boxing and martial arts, as well as breaking a lot of skulls. Johnson does well to not overburden the film with too much plot, allowing plenty of room to explore the chemistry between Mandylor and Adkins. The duo have strong support – Vernon Wells, Marina Sirtis, and Ski Carr drop by for welcomed appearances – but its the playful bromance between the two leads which makes it such an easy, breezy watch.
AKA: The Debt Collector 2; Payback.
Debt Collectors is available on-demand, digital and DVD from 29 May 2020 in the USA courtesy of Samuel Goldwyn Films. The film is known as Payback in the UK and is available on digital from 8 June and DVD from 6 July courtesy of Dazzler Media.