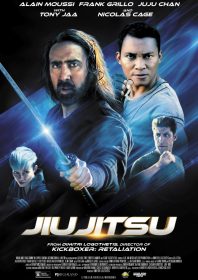 Every six years, an alien travels via a comet through a portal to Earth to fight a bunch of humans for martial supremacy (just go with it). A marauding warrior tribe stand guard, preparing for its arrival. It lands in present-day Myanmar (it's actually Cyprus), where US military intelligence are eager to beat the Chinese in getting hold of weapons-grade plutonium. That subplot gets slightly sidelined as a barrage of fight scenes overwhelm the film, with the alien single-handedly making its way through a star-studded cast of excellent fighting talent.
Producer-writer-director Dimitri Logothetis clearly has a knack for attracting star talent to his low-budget fight films. He grabbed the likes of Gina Carano, Dave Bautista, Van Damme and Mike Tyson for his Kickboxer films. Now, he has gone one step further and invited Academy Award-winning actor Nicolas Cage to the party. He completely nails the film's tongue-in-cheek tone – even if the rest of the movie doesn't quite follow suit – playing a renegade, has-been, spaced-out sensei with a beard, bandana and Samurai sword. He provides exposition at key moments with such amazing conviction despite nearly all of his dialogue being complete nonsense. He is also in it more than you would think, afforded not one but two extended fight scenes, complete with somersaults.
There's precious little need for the stunt doubles when the film's real martial artists get involved: Frank Grillo, Tony Jaa, JuJu Chan, Marrese Crump and Logothetis' main muse, Alain Moussi, who can't escape from Logothetis' roaming, close-up cameras and gruelling, laborious long takes. Jaa's intro sequence, for example, is so long and convoluted that at times it echoes his landmark 'oner' from 2005's Warrior King. Despite being a fantasy film, many of the fight scenes feel grounded, authentic, and largely free from CGI – a stark contrast to Marvel's comic-book adaptations – with only a few odd camera decisions creating a distraction. Nearly all of the violence is cartoonish in its execution and nothing beyond the superficial. Also, despite Moussi being a Brazilian jiu-jitsu instructor in real life, there is actually precious little jiu-jitsu in the film.
Thematically, this feels like the kind of B-movie Van Damme may have made in the late 1980s. There are glimpses of both The Terminator and, most evidently, Predator. The campy costumes, group dynamics and portal-jumping feels like something from Mortal Kombat, or the Power Rangers, whereas the alien itself wouldn't look too out of place in an episode of Doctor Who. None of this is meant as a criticism, as the references seem to be deliberate, and in many ways, its quite comforting to find a fight film which takes such unadulterated and innocent glee in such childish pursuits. One thing is for certain; this won't be anywhere near the top of Nicolas Cage's resume.