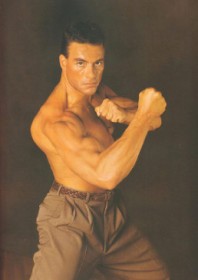 Date of birth: October 18, 1960 (Brussels, Belgium)
Occupation: Actor, martial artist, director, producer, writer
Real name: Jean-Claude Camille François Van Varenberg
Style: Karate, kickboxing, taekwondo, Muay Thai
Biography: At the age of 12, Jean-Claude Van Damme studied at the Centre National De Karate (National Centre of Karate) in Ixelles, Belgium, under the tutelage of Master Claude Goetz. After four years, he earned a place on the Belgium karate team under his birth name, Van Varenberg. Between 1976-82, Van Damme fought competitively in semi and light contact bouts before retiring to pursue a career in the film industry. After a brief stint in Hong Kong, Van Damme relocated to Los Angeles in 1982 with his friend, Michel Qissi, and both were cast as extras in the 1984 film Breakin'.
To make ends meet, Van Damme allegedly worked in a number of undesirable jobs while taking English classes, including work as a carpet layer, waiter, taxi driver and pizza delivery boy. Chuck Norris got him a job at a nightclub, and gave Van Damme a small role in his film Missing in Action (1986). Van Damme's first major role was as the villain in the Corey Yuen film No Retreat, No Surrender (1986). In 1987, Van Damme was cast as the alien in the film Predator, before being replaced by Kevin Peter Hall. Van Damme was spotted by low-budget B movie makers Cannon Group, created by Israeli cousins Menahem Golan and Yoram Globus, to star in the film Bloodsport (1988), based on the competitive career of American martial artist Frank Dux. With a budget of $1.1m, Bloodsport would eventually earn $11.8m in America, quickly followed by the films Cyborg (1989) and Kickboxer (1989), both for Cannon Group, the latter of which cast Michel Qissi as the villain.
Van Damme continued to make inroads into the Hollywood action movie mainstream, earning himself the nickname 'The Muscles from Brussels'. Van Damme achieved his highest salary for a movie role to date ($8m) for the live action adaptation of the video game Street Fighter (1994). Timecop (1994) is his most successful film to date, grossing over $100m worldwide. Van Damme made his directorial debut with The Quest (1996), based on a story by Frank Dux whose lack of accreditation would later become the subject of a legal battle in 1998. Van Damme has worked with a number of leading Hong Kong directors making their first forays into the American market, including John Woo (1993's Hard Target), Ringo Lam (1996's Maximum Risk) and Tsui Hark (1997's Double Team and 1998's Knock Off). Following a series of box office flops, Universal Soldier: The Return (1999) would prove to be Van Damme's last theatrical release until JCVD (2008).
In 2008, Van Damme was nominated for a Toronto Film Critics Association Award for his performance playing himself in the highly acclaimed Belgium film, JCVD. In 2011, Van Damme starred in his own UK reality show, Jean-Claude Van Damme: Behind Closed Doors, for the ITV network. In 2016, Van Damme appeared in Kickboxer: Vengeance, a remake of one of his most popular films in which he played the master to Alain Moussi's kickboxing hero. That same year, he played a comedic version of himself in the Amazon TV show, Jean-Claude Van Johnson.
Van Damme has been married five times. He remarried his third wife, former body builder Gladys Portugues, with whom he has two children – the actors Kristopher van Varenberg and Bianca Bree. He also has a third child, Kristopher van Varenberg, from his marriage to his fourth wife, Darcy LaPier.
Speech!: "I liked the movement, technique and philosophy and I was training to be the best. Karate's a very boring sport, but when you know the technique you can go further and further. You need at least six or seven years to understand the philosophy and concentration of karate to know to clean your spirit of everything and dedicate your mind and body to the sport. I also use it for concentration before acting scenes."
"My dreams came true in America. It's not possible in Belgium. I grew up sadly. Skinny kid. Big, thick glasses. Everything I've done is a miracle."
Filmography (as actor): 1984 Breakin' (cameo); Monaco Forever; Missing in Action (stunts); 1986 No Retreat, No Surrender; 1988 Black Eagle; Bloodsport; 1989 Cyborg; Kickboxer (+ action dir.); 1990 Death Warrant; A.W.O.L. (+ scr, action dir); 1991 Double Impact (+ pro, scr, action dir); 1992 Universal Soldier; 1993 Last Action Hero (cameo); Hard Target; Nowhere to Run; 1994 Street Fighter; Timecop; 1995 Sudden Death; 1996 Maximum Risk; The Quest (+ dir); 1997 Double Team; 1998 Legionnaire (+ pro); Knock Off; 1999 Universal Soldier: The Return (+ pro); Desert Heat (+ pro); 2001 The Order; Replicant; 2002 Derailed; 2003 In Hell; 2004 Wake of Death; Narco; 2006 The Hard Corps; Second in Command; The Exam; 2007 Until Death; 2008 The Shepherd: Border Patrol; JCVD; 2009 Universal Soldier: Regeneration; 2011 Assassination Games; Kung Fu Panda 2; Beur sur la ville; 2012 Universal Soldier: Day of Reckoning; Dragon Eyes; The Expendables 2; 6 Bullets; U.F.O.; 2013 Welcome to the Jungle; Enemies Closer; 2014 Swelter; 2015 Pound of Flesh; Jian Bing Man; 2016 Kung Fu Panda 3; Kickboxer: Vengeance; 2017 Jean-Claude Van Johnson (TV); Kill'em All; 2018 Kickboxer: Retaliation; Black Water; The Bouncer; 2019 We Die Young; 2021 The Last Mercenary; 2022 Minions: The Rise of Gru.