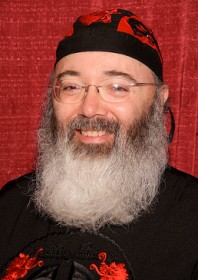 Author, filmmaker and kung fu movie expert Ric Meyers talks exclusively about life as one of the genre's greatest supporters.
Ric Meyers – whose kung fu fandom spans the entire rise and fall and rise again of the martial arts movie genre – has been a reliable and consistent voice on cult film for well over three decades. Not just within his capacity as a regular scribe for Inside Kung Fu, or his expanding list of DVD audio commentaries, or his annual Comic Con Superhero Kung Fu Extravaganza, but any obsessive worth their salt should undoubtedly possess a copy of his book, Martial Arts Movies: From Bruce Lee to the Ninjas, somewhere on their shelves. They may even have a copy of his Encyclopedia of Martial Arts Movies.
His opinions have not always been gracious. He has lambasted the overuse of wires in martial arts films and, in his book Films of Fury: The Kung Fu Movie Book, he doesn't take too kindly to Hollywood's modern interpretation of kung fu principals. Films like The Matrix sequels, Charlie's Angels and the Star Wars prequels are, to use his words, "empty movement kun foo."
"It has as much to do with the real thing as chop suey has to do with Chinese cuisine," he writes. Modern, quick-fire editing and shaky handheld camera techniques don't help matters, according to Meyers. "Since very, very few in Hollywood even know what kung fu is, they don't know how to film it or, for that matter, choreograph it."
Over the years, this dilemma has affected prominent Asian stars working in Hollywood. Meyers uses the 2008 film The Forbidden Kingdom as a case in point. An American production uniting the combined talents of Yuen Woo-ping, Jackie Chan and Jet Li, the film proved to be light and underwhelming. Meyers targets the lack of genuine kung fu. "As soon as they started fighting it was all muscle-driven, hipless, straight punches, kicks and balance-robbing wires, which have as much to do with kung fu as a football has to do with a baseball glove.
"I think the heart of it is that American producers like to portray their heroes as bad asses… When someone does kung fu beautifully they use the adversary's anger and energy against them… One of my kung fu teachers can cause personality-changing, indescribable pain with both hands in his pockets and a smile on his face."
Interestingly, despite dedicating his life to the study of kung fu on celluloid, Meyers has only recently started training in the art. Has this changed his view of the movies he loves?
"I had studied martial arts, but I actually started practicing kung fu in 2002, so I saw the new book as a way to incorporate everything I'd learned about the real deal, not just the flicks."
His latest book was released alongside a documentary, Films of Fury: The Kung Fu Movie Movie, written by Meyers and featuring animated segments alongside archive footage from some of Meyers' favourite kung fu films. The use of animation in the film replaces the more traditional set up of talking heads, something that Meyers said "still tears me up."
"I get a call from Tom (Coleman, the producer). He says, 'I've seen all the other kung fu film documentaries and I decided we shouldn't have any interviews. Instead, we'll do all the intros with animation.' He told me that all the talking-head interviews in the other films were boring and confusing. I explained that was because all the questions had been ignorant… But Tom's mind was made up."
Animation and, more specifically, his beloved comic books, have always remained a mainstay of Meyers' career – from his work as assistant editor of Atlas Comics in the mid-1970s to his formative work as an animation reporter for New York's Millimeter magazine. Although his writing credits include both fiction and non-fiction – from penning a series of official Dirty Harry novels and books on The Incredible Hulk – it is the world of martial arts films that Meyers continues to return.
Meyers lays most of the blame for his lifelong affliction firmly with Marvel Comic's Larry Hama, who took the young writer to a matinee double bill of Lightning Swords of Death and Baby Cart in the Land of Demons in New York's Greenwich Village in the 1970s, followed by a screening of Drunken Master in Chinatown.
"I was flabbergasted. This was a comic book come to life, with the actors actually being Daredevil," he said. "Back then there was six movie theatres in Chinatown, each playing a different double feature of Hong Kong films every week. There were also at least three uptown theatres showing Samurai film fests all the time. So between them, I was seeing at least 10 movies a month for the next seven years."
When it came to compiling his first book on the genre, 1986's Martial Arts Movies: From Bruce Lee to the Ninjas, Meyers was sent to interview the likes of Jackie Chan, Lo Lieh, John Woo, Tsui Hark and Yuen Biao, all at the peak of their action movie careers, and at a time when Hong Kong kung fu films were still a rare and mostly unknown commodity limited only to grindhouse cinemas or substandard videotape.
Meyers doesn't feel too nostalgic about those days. He embraces the internet and the new-found ease of finding those sought-after classics on DVD. But he's still a purist at heart.
"I first saw all these films in movie theatres in all their wide-screened, subtitled glory, so that's how I remember and love them," he says. "I only wish the majority of fans didn't have what I call 'Bruce Litis', which results in bootleggers seemingly going out of their way to produce dubbed, pan-and-scan crap-heaps rather than seek to restore the film to its original, pristine condition," he says.
"It seems that because that's the way most American fans saw the films – in grindhouse movie theatres, on old TVs, or on cheaply done videotapes created by distributors who didn't respect the genre or its audience – that's the way most producers still treat the genre, despite the fact that the most successful kung fu films were created for the discerning adult, and even a family audience: Crouching Tiger, Hidden Dragon, the new Karate Kid, Kung Fu Panda, etc."
Although Meyers has faith in the stars of tomorrow (citing Donnie Yen, Vincent Zhao, Terry Fan and Wu Jing as the best of the current crop), he is still concerned about the future of the genre, and a fearful lack of great choreographers preparing to take over from the likes of Tony Ching, Corey Yuen and Sammo Hung when they eventually retire.
"Although a bunch of Chinese universities are graduating entire classes of possible kung fu film stars every year, the great kung fu filmmakers are disappearing and, with them, great kung fu films."
Modern efforts like Ip Man, Gallants, and even Kung Fu Panda get the Meyers' seal of approval. He is even starting to warm to the recent wire work efforts of choreographers like Stephen Tung and Sammo.
"Just as Ang Lee did in Crouching Tiger, they're making the characters' 'light skills' part of their emotions so they don't seem so jarringly, disappointingly out of place."
But the list of genuine, modern martial arts classics is still dwindling, he says. "Back when I started I could see more than a dozen great kung fu films every month. Now I'm lucky to find two a year. Thankfully, they remain successful (although increasingly harder to make), so there should always be a market for them."
www.ricmeyers.com
This article was originally commissioned for Martial Edge and published in May 2011. Updated by the author November 2013.