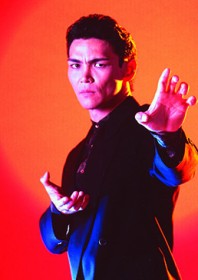 Date of birth: September 10, 1954 (Illinois, US)
Full name: Donald Glen Wilson
Occupation: Actor, producer, martial artist
Style: Kickboxing, Goju-ryu Karate, Pai Lum kung fu
Biography: Donald Glen Wilson is a former 11-time World Kickboxing Champion and an action film star. He is the youngest of two sons born to an American father and a Japanese mother. His older brother, Jim Wilson, was born in Japan. When Don was four years old, the family settled in South Florida where his father worked as an engineer at the Kennedy Space Center. Don attended Saint Andrews School in Boca Raton where he excelled at sports, mostly American football and basketball. Don looked set to follow in his father's footsteps when he decided to join the Coast Guard Academy in New London, Connecticut, in 1972. Upon leaving the military in 1973, he studied for a degree in electrical engineering at Brevard Community College and later enrolled at the Florida Institute of Technology.
However, he would eventually decide to turn away from academia and military aspirations to pursue a career in professional kickboxing. After leaving high school, he learnt the style of Goju-ryu Karate from Sensai Chuck Marriman. He later trained with his brother Jim Wilson in Pai Lum ('dragon style') kung fu. In 1974, Don took part in his first professional kickboxing match in Orlando, Florida, which was the first time he used the nickname "the Dragon". He dropped out of college and turned professional the same year, training at his brother's dojo. By 1979, Don "The Dragon" Wilson became the PKA US Middleweight Champion. In 1980, he won his first world title, becoming WKA Light-Heavyweight World Champion.
His professional kickboxing career spanned over four decades. From 1979 to his final fight in 2002, he won 11 world titles in three separate weight categories and six different sanctioning organisations. He defeated 12 world champions and fought in 82 professional bouts, winning 72 of them – 47 by knockout. In the early 1980s, he enjoyed a brief career as a boxer, and had his final fight in 1986. He retired from all competitions in 1990. In 1996, he was named Greatest Competitor of All Time by Kickside magazine in Europe. In 1999, he came out of retirement to win the IKF Cruiserweight World Championship, followed by the ISKA North American Cruiserweight title in 2000, before retiring again in 2002. A planned comeback in 2013, at the age of 58, was eventually cancelled.
In the 1980s and at the height of his competitive success, Don "The Dragon" Wilson was encouraged by his friend and fellow martial artist Chuck Norris to travel to Hollywood to explore a career in film. He signed with an agent, Ray Cavaleri, and appeared in commercials. He also had a small part in the TV drama General Hospital. In 1988, he auditioned for legendary B-movie producer Roger Corman who was looking for an actor to take the lead role in his new martial arts film, Bloodfist. Corman hired Wilson and they signed a seven-picture deal, although Wilson would eventually go on to make 11 films for Corman. Due to Wilson initially deciding to continue his fighting career and because of the potential for injury, Corman allegedly insured Wilson's face for $10m with Lloyd's of London. After retiring from the ring, Wilson went on to become the leading man in a number of low-budget action films throughout the 1990s and 2000s. His only breakthrough role into mainstream Hollywood was Batman Forever (1996), in which he had a small role as a gang leader.
In 1996, he married the film and TV make-up artist Katherine Karridene and together they have three children: Jonathan, Drayden and Aubrianna.
Speech! "I approach acting the same way I did kickboxing. You have to have a positive attitude. If I began the fight game thinking I couldn't be champion, then there was no way to reach the top. I have to have the same positive attitude towards acting." From donthedragonwilson.com.
Filmography (as actor): 1989 Say Anthing…; Bloodfist; 1990 Bloodfist II; 1991 Ring of Fire; Future Kick; 1992 Bloodfist III: Forced to Fight; Blackbelt (+ action dir.); Out for Blood (+ pro.); Bloodfist IV: Die Trying (+ pro.); 1993 Ring of Fire II: Blood and Steel (+ pro.); Magic Kid; 1994 Bloodfist V: Human Target; Red Sun Rising; CyberTracker; 1995 Bloodfist VI: Ground Zero (+ pro.); Ring of Fire 3: Lion Strike (+ scr.); Batman Forever; Bloodfist VII: Manhunt (+ pro.); CyberTracker 2 (+ pro.); The Power Within; Virtual Combat; Top Fighter; 1996 Bloodfist VIII: Trained to Kill; Night Hunter (+ pro.); 1997 Moesha (TV); Hollywood Safari; Inferno; Papertrail; 1999 Whatever It Takes (+ pro.); Terminal Rush (+ pro.); The Prophet; 2000 Moving Target (+ pro.); 2001 Walker, Texas Ranger (TV); 2002 Redemption (+ pro.); Modern Warriors (TV); Stealing Harvard; Mass Destruction (documentary); 2004 Sci-Fighter; 2006 Crooked (+ pro.); 2007 The Last Sentinel (+ pro.); 2009 Hollywood Lives (TV); 2012 Liberator (+ pro.); 2015 The Martial Arts Kid; The Scorpion King 4: Quest for Power; One More Round; Underdog Kids; 2016 The Horde; Showdown in Manila; Beyond the Game; 2017 Death Fighter; Diamond Cartel; V-Force: New Dawn of V.I.C.T.O.R.Y.; 2018 Paying Mr McGetty; The Hitman Agency; Fury of the Fist and the Golden Fleece.