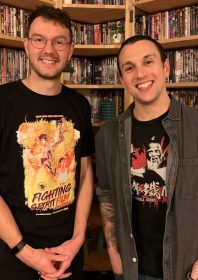 It's the most wonderful time of the year… that's right, the time when we release our special annual two-part End of Year Show, in which we look back over the best and worst that martial arts movies had to offer in 2022. Podcast host Ben Johnson is joined once again by Mike Fury, film expert and author of Life of Action Vol. I-II. In Part One, Ben and Mike discuss the big stories that grabbed the martial arts movie headlines in 2022, play Christmas messages recorded especially for the show by some of the biggest names in martial arts movies – including the likes of Kenji Tanigaki, Philip Ng, Scott Adkins, JuJu Chan, Loren Avedon, Richard Norton and many more – and, because it's Christmas time, they also exchange a few presents. So sit back, relax, make yourself a 'snowball', and enjoy!
In Part Two – landing on Christmas Eve – Ben and Mike will be counting down their personal top five fight-centric action films released this year. Check out a list of potential choices below. Note: this is not a fully comprehensive list of all action films released in 2022, but rather a selected list based on the film's emphasis on martial arts and fight-centric action.
A not-very-comprehensive list of fight-centric action films released in 2022
Accident Man: Hitman's Holiday; Alienoid; As Good As Dead; Baby Assassins; The Big Four; Black Panther: Wakanda Forever; Blade of the 47 Ronin; Blind War; Bring Him Back Dead; Bullet Train; Carter; The Commando; Day Shift; Everything Everywhere All at Once; Fistful of Vengeance; The Gray Man; Hansan – Rising Dragon; Hellfire; Interceptor; Kung Fu Ghost; Kung Fu Zohra; Lou; The Man from Toronto; Minions: The Rise of Cru; The Monkey King: The Legend Begins; New Kung Fu Cult Master; Paws of Fury: The Legend of Hank; Preman – Silent Fury; The Princess; Rise of the Teenage Mutant Ninja Turtles: The Movie; Section 8; Septet; Shadow Master; Song of the Assassins; The System; The 355; Violent Night; Warriors of Future; Wolf Pack; The Woman King.
Listen to our End of Year Shows 2017-2022