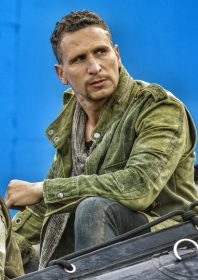 Date of birth: 17 May, 1984 (Beaumont, France)
Full name: Brahim Achabbakhe
Other names: Brahime Achabbakhe; Brahim Achabbakhe; Brahime Achabbkhe; Achabakkhe Brahim; Brahim
Occupation: Stunt performer, actor, stunt coordinator, fight choreographer.
Style: Aikido, karate, Muay Thai kickboxing, Brazilian jiu-jitsu.
Biography: Brahim Chab was born in Beaumont, France, to Moroccan parents. Inspired by the film First Strike, he started studying martial arts at the age of 14, learning aikido and later karate. He also developed skills in 'tricking' with the French stunt group, Cascade. In 2012, the group made it to the semi-finals of Series 6 of Britain's Got Talent. Brahim has also studied Muay Thai kickboxing and Brazilian jiu-jitsu.
Brahim worked as a phone salesman in Paris while trying to make it in the film industry. He also earned money teaching 'tricking' in Paris with a group called X-Swipe. He initially attempted to break into the French stunt industry, making his screen debut in 2007, but he had more success in Asia, where he would go on to work on projects in India, Thailand, South Korea, Japan, Hong Kong and China. His work in India is vast, including the hit action films Ek Tha Tiger (2012) and Sultan (2016), both starring Salman Khan.
He has worked consistently with the Swedish fight choreographer, Tim Man. The two worked together on the film, Street Fighter: The Legend of Chun-Li (2009), in Thailand, which featured some of Brahim's earliest acting work. Tim, as stunt coordinator, used Brahim on the Swedish action film, Skills (2010). In 2011, Brahim made inroads into Hollywood, doubling for Kevin Bacon in the action film, Elephant White (2011), and working on The Hangover Part II (2011), both filmed in Thailand.
Brahim's first credited role as a fight choreographer, according to IMDb, is the 2012 Indian film, Casanovva, filmed in Thailand. He acted and worked alongside Tim Man as an assistant fight choreographer for Kill 'em All (2012), an American martial arts film made in Thailand and featuring Joe Lewis and Gordon Liu. He sparred with Tiger Chen in Keanu Reeves' directorial debut, Man of Tai Chi (2013). He worked as the stunt coordinator on the war drama, The Railway Man (2013), starring Colin Firth and Nicole Kidman, for the scenes filmed in Thailand.
When Scott Adkins was injured during the filming of Ninja: Shadow of a Tear (2013), Brahim doubled for Scott. In 2013, he doubled Jean-Claude Van Damme in his second film as director, Frenchy (also known as The Eagle Path/Soldiers/Full Love), also written by and starring Van Damme, which has so far remained unreleased. He also doubled Van Damme in Pound of Flesh (2015), filmed in China; he also replaced Kris Van Damme for the role of Nardo in the film.
Brahim has sparred with Jason Statham in Mechanic: Resurrection (2016), Jeeja Yanin in Never Back Down: No Surrender (2016), and Donnie Yen in the Hong Kong action drama, Big Brother (2018). He played the main villain, Igor Kazmir, in the fourth Undisputed film, Boyka: Undisputed (2016), against Scott Adkins. Brahim has also worked with Jackie Chan, performing stunts on Dragon Blade (2015), The Foreigner (2017), Bleeding Steel (2017) and The Iron Mask (2019). He was promoted to the main heavy in the globe-trotting adventure, Vanguard (2020). In 2021, Brahim wrapped on Dev Patel's directorial debut, Monkey Man, described as 'John Wick in Mumbai'. He has a small role in the film and is also the film's fight choreographer.
Speech! "When I look back at my career, I always tell myself, 'I don't know who to thank for all the good things that happened', because I have been lucky to do so much in a short amount of time. I always feel like this is a great gift, but it has to cost something. Later on, I realised it did come at a cost, because I really put my whole heart into this career… People always say, 'you're lucky'. Well, no, I'm not lucky, I really put in a lot of hard work. There are no short cuts; it is a lot of hard work, and devotion, and passion." In conversation with Kung Fu Movie Guide Podcast, 2021.
Click here to listen to KFMG Podcast S06 Episode 70 with Brahim Chab.
Filmography (stunt performer/stunt coordinator/fight choreographer): 2007 Les stars se dépassent pour ELA (TV); 2008 Sunny; Hanuman klook foon (+ cast); 2009 Street Fighter: The Legend of Chun-Li (+ cast); Kal Kissne Dekha (+ cast); The Sanctuary (+ cast); Luck; Ek Niranjan; Saleem; 2010 Asal; Sura; Komaram Puli; Skills; Virudhagiri; 2011 United Six (+ cast); Oba: The Last Samurai; Klyuch salamandry (+ cast); Nenu Naa Rakshasi; Elephant White; The Hangover Part II; Dhada; Loot; 2012 The Scorpion King 3: Battle for Redemption; Casanovva; Muppozhudhum Un Karpanaigal; Ra Cha; Housefull 2; Ek Tha Tiger; Kill 'em All (+ cast); 2013 Aadhi Bhagavan; Baadshah; Fireflies (+ cast); Man of Tai Chi (+ cast); The Railway Man; Ninja: Shadow of a Tear; 2014 Secret Sharer; Tekken: Kazuya's Revenge (+ cast); It's Entertainment; On a marché sur Bangkok; Outcast; Bang Bang; Ode to My Father; 2015 Dragon Blade (+ cast); Sandamarutham; Pound of Flesh (+ cast); Trafficker; 2016 Never Back Down: No Surrender (+ cast); Sultan (+ cast); Mechanic: Resurrection (+ cast); Warrior Savitri; Hard Target 2; 2017 The Foreigner; Tiger Zinda Hai; Bleeding Steel (+ cast); 2018 The New Legends of Monkey; Vishwaroopam 2; Thugs of Hindostan; 2019 Abduction (+ cast); The Iron Mask; Zombie Tidal Wave; War; The Driver (+ cast); 2020 Paradise Z; Tremors: Shrieker Island; Finding 'Ohana (+ cast); 2021 Monkey Man (+ cast).
Filmography (as actor): 2011 The Kick; Mein verrücktes Jahr in Bangkok; 2013 The Mark: Redemption; Dragonwolf; 2016 Boyka: Undisputed; 2018 Big Brother; 2019 Strike Back (TV); 2020 Vanguard; 2021 Privateer; Frenchy.