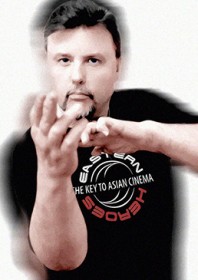 Ricky Baker was instrumental in bringing martial arts movies and Hong Kong cinema to the masses through his UK-based Eastern Heroes company. Along with kung fu movie expert Toby Russell, Ricky introduced the genre to a new, global audience through his company's line of books, videos, DVDs, merchandise, events and documentaries. He provided many of Hong Kong's leading lights with their first appearances outside Asia, hosting events with the likes of Donnie Yen, Jet Li, Chow Yun-fat, Gordon Liu and John Woo. Now, after an absence of ten years, Eastern Heroes is back. We talk to Ricky about what the future holds.
So where have you been Ricky, and what took you so long to come back?
To be honest, I've never been out of it. The industry started to become quite a struggle some years ago. The cost of copyright and the censorship of the movies became too expensive, so I stepped away from the front line of it until Christmas 2013. I joined Facebook and people were posting material and reminiscing over the old days and saying it's a shame it's all gone. It's taken a different course with the internet. It's a different ballgame now.
Did the internet change everything?
When we were out there with our events, there was no internet. With the internet now, it's so easy to Google stuff and get photographs. Among the collectors and the real hardcore fans there is still a demand for the books and I started to think about launching the magazine again. I think there is an audience. In 2014, we tried to raise the fan base again and it reached its peak when we re-launched the magazine at the O2, London, in September 2014 with guest stars Hwang Jang-lee and Scott Adkins.
When did you last publish the Eastern Heroes magazine?
It would have been around 1996-97. That's when we brought Jet Li over. The end of Eastern Heroes was when we did the last week at the Scala and we brought over Chow Yun-fat. We were finding things tough then. There were a lot of financial problems. We were trying to compete in an industry where the larger companies could acquisition you. We started off with the Made in Hong Kong VHS label, and then there was our ultimate label, Hong Kong Legends, which I worked on.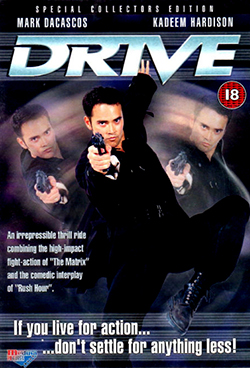 The Hong Kong Legends DVDs were fantastic.
We were very lucky. I knew Steve Wang and Mark Dacascos, and one of the first things we did was go to America and shoot a short called Calm Before the Storm. At that time we also got the original print of Drive and re-marketed it. It ended up becoming one of HMV's all-time top 100 best sellers. That was the start of the DVD market for us. As we did that, Crouching Tiger came onto the market and opened up the kung fu market again. Badly dubbed VHS had lost its way. With DVD you could clean the print up. You could have dual language and put commentary on by Bey Logan. It brought credibility back to the Hong Kong film.
Where did the Eastern Heroes name come from?
I went to Leicester Square and saw a double bill which included Eastern Condors and it blew me away. That's where the 'Eastern' part of Eastern Heroes comes from. That was in 1987 and it got me right back into it. I had this idea of doing screenings for the westerners. We did a great triple bill of Project A Part II, Eastern Condors and Millionaire's Express, and it was packed. That was how Eastern Heroes started, because we were originally called the Jackie Chan Fan Club. We started to do events. After that I met Toby Russell and the rest is history. We have become like Lennon-McCartney. He's the most knowledgable guy about Hong Kong cinema I've ever met.
Do you remember where you first met Toby?
I met him outside The Hippodrome in Leicester Square through a friend of mine. When I met him it was a bit of instant chemistry. I knew with his knowledge we could really make an impact on the UK. It was one of those chance meetings I suppose.
You released some great films in the UK for the first time. What titles stand out for you?
We launched the Eastern Heroes video label around 1994 and bought titles like The Victim, which was an all-time classic. We already had Warriors Two and The Prodigal Son from the Made in Hong Kong label. So we kept it going. We'd go to Tsim Sha Tsui or Temple Street night markets in Hong Kong and buy so many that coming through customs was a bit of problem. We were stripping VHS down and bringing them back as reels with sleeves. We would do an event and people would flock to it. We were getting films that hadn't been seen here before. Drunken Master II was a huge hit for us. We went over and bought 100 copies for about three quid each and they were selling for £25 each. It was a good time!
You brought Donnie Yen over to the UK when he was only 25. What other guests stand out for you?
We brought Donnie over before he was even known here. He'd done Drunken Tai Chi and The Holy Virgin vs. the Evil Dead. I wrote in 1989 that he was the star of the future; he's the one to watch out for. I wrote that about Jet Li too when we brought out The Shaolin Temple. When we approached people like Jet Li, Donnie Yen and Chow Yun-fat, they didn't think they had an audience in the UK. They hadn't been to this country before and didn't perceive they had any value here. Like Hwang Jang-lee, for instance, he couldn't believe the reception he got. They were quite taken aback. We made them feel like royalty. They had a reception with whistles and cheering – they had never quite seen it before.
What was Jet Li like?
Jet Li was quite shy. He didn't speak any English and had a translator with him. We booked him into the hotel and he didn't realise there was a wedding reception going on. Jet Li thought all the food on the table was for him and started fitting it into his pockets and taking it to his room. It was quite funny. We decided to have a lion dance at the show and they thought Jet Li was in the head of the costume, so when Jet walked on stage everyone was facing the lion dance. There was so much noise I couldn't get their attention.
Did you offer them any advice?
When we did the Jet Li event, he was going to do a film with Ringo Lam and Van Damme. He said to me at the time he had this other option to do Lethal Weapon 4, and I said, 'that's the one. You can be the Bruce Lee part in Marlowe. You'll steal the show. It's going to get to number one, it's got a good name'. He took the advice and he did stand out. He did look good.
Didn't you also help to launch Scott Adkins' career?
Scott used to come to the shows with his mum, and he would sit with my mum. At the time we were going to do a video-magazine and we wanted some homemade kung fu films because the video camera was quite popular then. He gave us this tape and it was pretty impressive. It was like Hugh Grant fighting, and I really started to push him. I remember Bey Logan being there and I thought he could have a part in his Lee Evans and Jackie Chan film, The Medallion. I've known a lot of people over the years, like Darren Shahlavi, Gary Daniels and Jude Poyet. All these people used to come to the shows and were so influenced they went and got themselves a part in a film. And that's why Scott came down [to the Eastern Heroes re-launch in 2014]. I hadn't seen him for a few years and it was good to catch up with him. He said to me the sad thing is if he had been around in the 90s he would have been a much bigger success. He has cornered the market in a dying field: the low budget kung fu film. The video market was great for it, but it's dead now.
You were a presenter on the BBC show Stop! Kung Fu with Jonathan Ross. Was this based on your video-magazine concept?
People started sending us homemade kung fu videos, so I showed them to Jonathan and said, 'that's a TV show in its own right'. But it took about 10 years [before it was made]. I had worked with Jonathan before on The Incredibly Strange Film Show. I worked with him on the episode where he met up with Ric Meyers and they filmed Jackie Chan on the set of Miracles. I put the concept of Stop! Kung Fu together. We wanted to do it as an 'idiot's guide' with a guest every week and review a film, like a light-hearted piss-take version just to get a few people in. Jonathan rang me and said the BBC had decided to take it. We developed it and shot the whole thing in a week. We got in Simon Pegg, Richard Blackwood, Joe Cornish, Eddie Izzard; we used a lot of Jonathan's friends and the show did quite well. But at the time, the channel BBC Choice wasn't getting the audiences. BBC Three would do all-new programming and we just missed out. It still did OK. We got good viewers. It was nominated for an award, believe it or not. The reason we couldn't go worldwide with it was because the clips were so expensive. They wanted phenomenal money for the clips and that killed it really.
You continue to sell merchandise on your online shop, Kung Fu Bay. What do you sell, and who's buying it?
We're just about to create a series of 12-inch models. We're going to do The Prodigal Son, Mr. Vampire, Hwang jang-lee and others. We think there's a big market for those lesser-known characters. I've seen the DVD market shrink. The market I have seen grow is posters, books and models. It's all limited edition. Collectors like things that are not in abundance, so they can say there is only ten others in the world.
You're also doing a big event for Bruce Lee's 75th birthday later in 2015. What do you have planned?
We will be at the Prince Charles Cinema with a very rare screening of a colourised 35mm print of The Orphan. Then we'll go up to Chinatown to launch a new book, Bruce Lee: Definitive, which has got many unpublished photos of Bruce Lee. The audience is very big for books, as long as they're bringing something new to the table. It amazes me how much material there is on a guy who had such a short-lived career. Whether it's Elvis or Bruce Lee, what they've brought to the table is quite timeless, and it still works today.
Would you like to do more programming or films of your own in the future?
I would like to rekindle the chance to do another programme, or do some documentaries. The market is so well educated now. My goal would be to direct a film; to take what's in my head and put it on screen. We've all been shaped by this. Sometimes you think, 'I could do better'. Secretly, after meeting people like Quentin Tarantino, you think, really, I could do this. Whether that will happen, I don't know. But it's the last thing I would like to tick off on my bucket list.