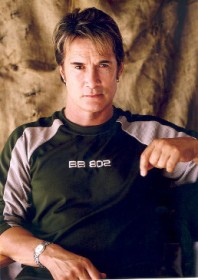 Next year, Australian action star Richard Norton will play a villain in the new Mad Max movie. We talk to the former rock and roll bodyguard about Zen Do Kai, turning 61 and being one of Jackie Chan's favourite gweilos.
There has been a bit of a delay on the set of the new Mad Max movie. An unseasonably wet Australian summer has turned the dry, red sand of outback town Broken Hill into a luscious green landscape. Action star Richard Norton has come to Brisbane while the film's location naturally adopts a more apocalyptic tone. He's playing four parts, which already sounds intriguing, and the great Inception and The Dark Knight Rises actor Tom Hardy has signed up. But he's already said too much. "I can't tell you anything about the story or I'll get shot, but it's very exciting," before adding, quite honestly, "Even if it's a swan song, it's a good one to go out on."
At 61, Norton seems content balancing film work with the occasional guest seminar at events like Brisbane's Supanova Pop Culture Expo (we meet in the signing tent for our interview). He may have clocked up four decades in the entertainment industry – from personal bodyguard to some of the biggest names in popular music (James Taylor, Fleetwood Mac, The Rolling Stones), to sparring onscreen with everyone from Chuck Norris to Jackie Chan – but mention retirement and he recoils. "You should never lose sight of the fact that you're a student," he says. "When you lose sight of that, everything stops. I have a saying, 'if anything stops still long enough then it's probably dead.'"
It was his friendship with Chuck Norris that first transported Norton from his dangerous work as a bodyguard to the glare of the silver screen. It's a friendship that continues to this day. Norris was best man at Norton's wedding. But prior to accepting a supporting role in Chuck Norris's 1980 ninja film The Octagon, Norton was already looking for a way out of his former hazardous occupation, even though he admits to not having any desire to be in movies. "I had a couple of friends who were shot and killed as bodyguards in the States," he says. "I never really thought about my own mortality. I was just prepared to do what I had to do."
With an acclaimed background in judo, karate, Brazilian jiu jitsu, aikido, Muay Thai and Japanese weaponry, Norton's lifelong passion and dedication to the martial arts has not wavered. In fact, he is relocating to his birthplace of Melbourne partly to promote his own Zen Do Kai system, co-created with fellow bodyguard Bob Jones in 1970. It's what the industry now calls mixed martial arts, says Norton, a system designed to take what is useful from other styles and incorporate them into their own. "When you're on the door, you quickly realise what works and what doesn't."
So do martial artists have to put themselves in the firing line in order to become better fighters? "I believe you need to learn it from somebody who has actually been there; otherwise it's theory teaching theory. To be a good martial artist doesn't necessarily mean you have to be street tested. You can be an amazing expert with the katana sword and do iaidō [Japanese sword style], but there is no relation between iaidō and the real world. You can't go around carrying a Japanese sword, so you do it for different reasons, like personal development, meditation, or the physical excellence of it."
But a strong commitment to one discipline is required before considering further supplementary styles, according to Norton. His follow up to the 2007 Black Belt Complexes instructional DVD follows a similar ethos. Called the Mixed Martial Arts Curriculum, the idea is to promote 'modern technique with traditional values' – a far cry from the old fashioned divisions of school, rank and style.
"I'm a little over the martial arts world that [says] it's all about titles and belts. That's the validation of something, rather than what can you do. People would come up to [World Kickboxing Champion] Benny Urquidez and say, 'well, I've studied this', and he would say, 'don't tell me, surprise me'. I always aspire to learn something new."
Norton freely admits that if he had the same passion for acting as he does for the martial arts, he would be a better actor. "To me, acting is a way to fund more time in the dojo." From The Octagon, a supporting role followed in the Joe Lewis vehicle Force: Five (1981), directed by Enter the Dragon director Robert Clouse and co-starring Urquidez. He's appeared in over 70 films since, from a twisted ninja baddie in Gymkata (1985) to anti-heroes like fed up nightclub owner Frank Torrence in Under the Gun (1995). Does he mind, then, that some of them – most of them – are low-budget B movies?
"I'm very realistic as to why I'm in the B grade movie range rather than the A grade, and I'm very comfortable with that. All I wanted to do was be the best martial artist I can be, and everything that has come good in my life has been a result of that – bodyguard work, touring the world with rock and roll bands, sitting there doing movies with some of the greatest people around. It can't get much better than that."
It's not too surprising that perhaps Norton's most notable film work has come through his close associations with some of the biggest names in the industry. Norton practically became Jackie Chan's default western punching bag for a string of Hong Kong movies: Twinkle, Twinkle, Lucky Stars (1985), City Hunter (1993) and Mr. Nice Guy (1997). Norton acknowledges the rare honour of being Jackie Chan's go-to gweilo with modesty. "Jackie always said I had the right timing," he says.
But it was advice given to him by Japanese actor Yasuaki Kurata on the set of Twinkle that has remained with him, particularly during the filming of those arduous HK fight scenes. "He [Kurata] pulled me aside and said, 'you need to realise that the Hong Kong [filmmakers] believe they are god's gift to martial arts. It's their movies, their set. If you want to work here, don't say anything. If it takes a hundred takes, do what they want you to do until they're happy.' And that's what I did."
"As much as anything, Jackie liked the comfort of me knowing how they shoot. I shut my mouth, I did what they told me, and I did the best I could do." Norton also earned the respect of the locals by taking a few bumps and bruises along the way and never once complaining, something that seemingly impressed Twinkle director Sammo Hung, who would go on to cast Norton in another Hong Kong classic, Millionaire's Express, in 1986. Norton says he has never met a more creative actor and director than Sammo Hung. "He could make a fight scene out of anything."
The organised chaos of Hong Kong movie sets in the 1980s is well documented, but Norton still chuckles at the sheer spontaneity involved, recalling one instance on the set of City Hunter. "I would be having make up put on and [writer and director] Wong Jing would be lying on a roll-out chair, almost like a pool lounge, giggling away because he would be writing that day's script." Or when Jackie Chan decided at the last minute to finish his Melbourne-based comedy Mr. Nice Guy with a climactic demolition scene involving giant mining trucks. "We had no idea how that would fit into the story until we were well into shooting. I mean, that's radical."
It was on the set of Millionaire's Express that Norton would first work with fan's favourite Cynthia Rothrock, sparking an onscreen marriage that continues to this day. They have so far appeared in 10 films together, including the Rage and Honor and China O'Brien films. One British magazine endearingly described them as the "Fred Astaire and Ginger Rogers of martial arts films".
"We know each other so well," he says. "It's very cool when you get on set and you can be comfortable. But it's hard fighting someone like Cynthia. With a guy you can beat them a bit and mess around, but you can't really do that [with Cynthia]. When we did Magic Crystal (1986), I had to fight with aluminium sai, and when you punch you have to make a bit of contact. She says, 'can you make sure you hit exactly the right place?' She had cut the padding down to the size of a postage stamp because she didn't want it to make her look big!"
As digitally-enhanced comic book heroes loom large over the multiplex and Hollywood grapples with faster editing, handheld camera techniques and stunt doubles, what can be said for the new breed of martial arts heroes compared to the more authentic kung fu stars of Norton's era? "Nowadays, you don't have to be a really good martial artist to be an action star, [whereas] you wouldn't get hired in those Hong Kong movies unless you had skill. That's the difference."
Tellingly, Norton says he finds the cold, structured, multi-million dollar movie sets uncomfortable, where pecking orders take precedence and extras are treated badly. Instead, he favours the smaller films he has made with Chuck Norris and Cynthia Rothrock for their "simplistic charm". But could Norton's more ethical viewpoint be the reason why his name is not nearly as prominent as his B movie contemporaries, people like Jean-Claude Van Damme and Steven Seagal?
"If you're like a Seagal, and capable of making a lot of money, then they [producers] will put up with you. But they can't wait for you to fall from that pedestal. Whereas if you're the type of actor who is professional, on time, knows their lines and supportive, then they stick with you even through the tough times. People like Chuck and Jackie have so much time for their fans because they know that without them they don't have a career, and this serves them well in their longevity."
This moralistic approach might also explain why he has so far refrained from the 'kiss and tell' biography, favoured by so many in his profession, particularly given his close proximity to the rock and roll lifestyle and its most iconic stars. He is actually planning a book, but it's not what you think. "It's based on the lessons I have learnt from people at the top of their game. You don't get a long career like Mick Jaggar, David Bowie or James Taylor without being a very smart operator and having something about you."
Now entering his sixth decade, Norton may be pragmatic about his options, but that's not to say his drive and ambition has eased. "It ain't over 'til it's over," he tells me. "Look at Jacki Weaver [Australian actor nominated for a 2011 Academy Award]… She was out of it for so long. That's very inspiring. You've just got to hang in there. Who knows what's in store."
Originally commissioned for Martial Edge. Interview conducted in 2011.