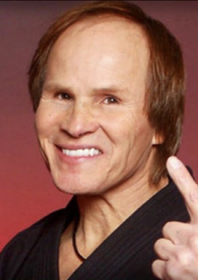 Date of birth: 20 June, 1952 (Tarzana, California, USA)
Full name: Benjamin Gilbert Urquidez
Nickname: The Jet
Style: Kenpo Karate, boxing, Shotokan, taekwondo, judo, aikido, jiu-jitsu, Muay Thai, Savate.
Biography: Benjamin Urquidez was born into an athletic family. He is the second youngest of nine siblings. His mother was a professional wrestler and his father was a professional boxer, and all of his siblings either took up boxing or have black belts in various martial arts. Benny, his sister Lily, and four of his brothers went on to become champion fighters. By the age of five, Benny was competing in pee-wee boxing, and at the age seven, he began studying judo and Kenpo Karate.
At 14 – four years earlier than was generally permitted – Benny received the first of what would become nine black belts across various different styles. He began to compete in the adult black belt division, winning a number of major international tournaments. He started to formulate his own free-form martial arts style, which eventually became the genesis of full-contact karate. In 1974, Benny decided to forgo a career as a professional boxer and instead helped to introduce full-contact karate to the USA; or, as it was later known, 'American kickboxing'. Benny is credited for coining the term 'kickboxing'.
By 1977, Benny had won the PKA and WKA world kickboxing championships. He would go on to achieve a record of over 200 wins and no losses, with 63 title defenses and 57 knock-outs. He remained undefeated throughout his 27-year professional career, and is the only fighter to have retained six world titles in five weight divisions. He is credited for being the longest-reigning world champion of all professional sports in modern history. He received his nickname, 'the Jet', by one his peers in reaction to his lethal jumping spinning back-kick.
During his competitive career, Benny began to dabble in film work, initially helping out as a stunt performer. His first break-out role on-screen was alongside fellow martial artists Joe Lewis, Bong Soo-han and Richard Norton in Robert Clouse's Force: Five (1981). It was while competing on the international circuit that the Hong Kong superstar Jackie Chan first connected with Benny, who would eventually cast him as the main villain in the 1984 action comedy, Wheels on Meals, filmed in Barcelona. The hard-hitting final duel between Jackie and Benny is often regarded as one of the greatest martial arts fight scenes of all time. The scene was so iconic that Jackie Chan designed a rematch in 1988 for the hit Hong Kong action film, Dragons Forever.
Benny retired from competitive fighting in 1993 at the age 42, when he beat the 25-year-old defending champion, Yoshihisa Tagami, for the world light middle weight championship. Benny has created his own martial arts style by combining nine different styles. It is called 'Ukidokan' karate, which means 'way of life'. It is also referred to as 'internal training'. Ukidokan bears the distinction of being the only new-age system which has been recognised by the governing bodies of Japan as an official martial art.
Since his retirement for competition, Benny has dedicated his time to acting, training actors, and teaching martial arts. He used to teach out of his own school, The Jet Center, in North Hollywood, and has a number of famous students, including Dave Mustaine from the rock band, Megadeath, and Duff McKagen from Guns N' Roses. One of the actors he has worked with the most is John Cusack. The two have so far worked together on six films: Grosse Point Blank (1997) (in which Benny and Cusack had a fight scene together), Con Air (1997), The Contract (2006), 1408 (2007), War, Inc. (2008) and Dragon Blade (2015) with Jackie Chan.
He has written four instructional books and released eight instructional videos. In 2019, Benny was inducted into the International Sports Hall of Fame by Arnold Schwarzenegger in recognition of his achievements as an athlete, humanitarian, and contributions to the world of sports. He married Saraha Leonides Morteo on 24 August 1974. Together they have a daughter, Monique Genevieve Urquidez, who was born 27 February 1978 in Los Angeles. He lives in Los Angeles.
Speech! "Back then, I didn't believe I could be beaten. Right now, I don't believe I can be beaten. And I don't care about age… because as far as I'm concerned, what I was doing at 20 I can do right now. Nothing has changed… the art is a way of life to me. We're still training. It's what we do." Interview with Kung Fu Movie Guide Podcast, 2020.
Click here to listen to KFMG Podcast S05 Episode 63 with Benny "The Jet" Urquidez.
Filmography (as stunt coordinator/fight coordinator/fight trainer/stunt performer): 1987 Battling Amazons; 1989 Road House (+ cast); The Fighter (+ cast); Tango & Cash (+ cast); 1991 Kickboxer 2: The Road Back; Bloodmatch (+ cast); 1992 Gladiator (+ cast); Diggstown (+ cast); 1993 Blood In, Blood Out; Good Cop/Bad Cop; 1994 Hellbound; Death Match; Natural Born Killers; Street Fighter (+ cast); 1997 Grosse Pointe Blank (+ cast); Con Air; 1998 The Big Hit; Safe House; And Now You're Dead (+ cast); Soldier; 2000 Price of Glory; Ali: An American Hero; 2001 Pearl Harbor; 2002 Spider-Man (+ cast); 2003 The Medallion; 2006 The Contract; 2007 1408 (+ cast); 2008 War, Inc.; 2010 Shanghai; The Genesis Files (TV); 2011 Criminal Minds (TV); 2013 Ambushed; 2017 The Exchange (short) (+ cast).
Filmography (as actor): 1981 Force: Five; 1984 Wheels on Meals; 1987 Fights to the Finish; 1988 Dragons Forever; 1990 Down the Drain; Ragin' Cajun; Martial Law; 1991 Lucky Dragon; 1995 Chicago Hope (TV); 1996 For Life or Death; 2001 Pianoforte (short); 2002 Alias (TV); 2005 Shackles; 2013 A Day with a Star (TV); 2015 Awaken; Underdog Kids.