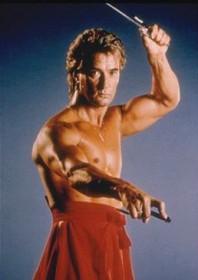 Date of birth: January 6, 1950 (Melbourne, Australia)
Occupation: Actor, producer, action director, stuntman, instructor
Style: Zen Do Kai, Brazilian jiu jitsu, aikido, karate, taekwondo, Muay Thai, Japanese weapons systems
Biography: Before making his acting debut in the Chuck Norris film The Octagon (1980), Richard Norton worked as a bouncer and personal bodyguard to some of the biggest names in rock music, including The Rolling Stones, Fleetwood Mac and David Bowie. During this time, Norton collaborated with fellow security guard Bob Jones to help create the hybrid system Zen Do Kai. Norton has trained with some of the biggest names in the martial arts industry, including Benny Urquidez, Pete Cunningham, Tino Ceberano, Bill Wallace and the Machado brothers. Norton's first starring role was in the Robert Clouse film Force: Five (1981). His talents were spotted by Sammo Hung who cast Norton as a villain in his Hong Kong kung fu comedy Twinkle Twinkle Lucky Stars (1985), co-starring Jackie Chan. Norton's ease with Hong Kong filming techniques led to many more roles, including Sammo's Millionaire's Express (1986), Magic Crystal (1986), and two more Jackie Chan films, City Hunter (1993) and Mr. Nice Guy (1997). While in Hong Kong, Norton met Cynthia Rothrock, sparking a working relationship that would result in many action films together, including the China O'Brien and Rage and Honor films. Norton has also made many TV appearances, including roles in the Chuck Norris series Walker, Texas Ranger. He has also worked as fight coordinator on TV and film, with credits including The Condemned (2007) starring Steve Austin and Vinnie Jones. In 2007, Norton released his first instructional DVD set, Black Belt Training Complexes. In 2015, Norton was involved in George Miller's rebooted Mad Max film, Mad Max: Fury Road, in which he worked as a stunt and fight coordinator and had a small role as 'The Prime Imperator'.
Speech! In conversation with Kung Fu Movie Guide: "I'm very realistic as to why I'm in the B grade movie range rather than the A grade, and I'm very comfortable with that. All I wanted to do was be the best martial artist I can be, and everything that has come good in my life has been a result of that – bodyguard work, touring the world with rock and roll bands, sitting there doing movies with some of the greatest people around. It can't get much better than that."
Click here to read our interview with Richard Norton.
Filmography (as actor): 1980 The Octagon; 1981 Force: Five; 1982 Forced Vengeance; 1985 Gymkata (+ action dir.); Twinkle Twinkle Lucky Stars; American Ninja; 1986 Future Hunters; Millionaire's Express; Magic Crystal; 1987 Return of the Kickfighter; Dangerous Passengers; 1988 Not Another Mistake; License to Kill; Jungle Heat; Equalizer 2000; 1989 Hyper Space; The Salute of the Jugger; 1990 The Fighter; The Sword of Bushido; Blood Street; China O'Brien; 1991 China O'Brien II; 1992 Raiders of the Sun; Kung Fu: The Legend Continues (TV); Good Vibrations (TV); Rage and Honor; Lady Dragon; Iron Heart; Rage and Honor II: Hostile Takeover; 1993 City Hunter; 1994 Walker, Texas Ranger (TV) (+ action dir.); Deathfight; Direct Hit; CyberTracker; 1995 Tough and Deadly; Under the Gun (+ pro); 1996 For Life or Death; Fugitive X: Innocent Target (TV); 1997 Soul of the Avenger; Strategic Command; Mr. Nice Guy; 1998 The Path of the Dragon; Black Thunder; 2000 Nautilus; 2001 The Rage Within; Amazons and Gladiators (+ action dir.); 2002 Inside the Britannic (TV); 2002 Redemption; Modern Warriors (TV); 2003 Dream Warrior (+ action dir.); Mind Games; 2005 Road House 2: Last Call; 2008 Under a Red Moon; Man of Blood (+ action dir.); 2009 Dead in Love; 2013 Spartacus: War of the Damned (TV); 2015 Mad Max: Fury Road (+ action dir.); Underdog Kids; 2017 Tiger Cops (TV); 2020 Earthrise (short).
Filmography (as stunt coordinator/fight choreographer/fight trainer): 1993 Rage; 2003 Devil's Pond; 2005 Nomad: The Warrior; 2006 The Virgin of Juarez; 2007 Legend of King Naresuan: Hostage of Hongsawadi; The Legend of Naresuan: Part 2; The Condemned; 2015 Mad Max: Fury Road; 2016 Suicide Squad; Dancer; 2019 Triple Frontier; Dark Phoenix; 2021 The Suicide Squad.