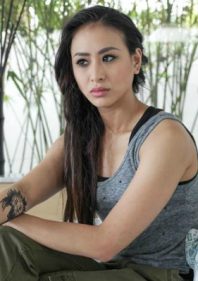 Date of birth: 30 January, 1985 (Brisbane, Queensland, Australia)
Occupation: Actor, writer, producer, director, martial artist, fight choreographer.
Style: Taekwondo, Hapkido, kung fu, Vovinam.
Biography: Maria Tran is an Australian-Vietnamese actor and filmmaker. Her parents were refugees who settled in Australia following the war in Vietnam. She grew up watching a mix of classic sitcoms and Hong Kong action films, particularly those featuring Jackie Chan, Cynthia Rothrock, Michelle Yeoh and Cynthia Khan. She has a bachelor's degree in Psychology from Western Sydney University.
Her journey in the martial arts started in 1998 following a fight at school. Her parents enrolled her in taekwondo classes in Cabramatta and she earned a black belt. She also learned Shaolin kung fu and Hapkido. In 1999, she became a WTF sparring champion.
Her first acting work was on a kung fu comedy called Maximum Choppage in 2007, filmed at the weekends during her studies in Sydney. She also produced the film, which was completed over a four-year period. In 2007, her first script, A Little Dream, was commissioned by Metro Screen. She received a grant to also direct the film. In 2008, she traveled to Vietnam to direct the short documentary, Happy Dent. The short led her to a meeting at ABC in Australia, who commissioned Maria to produce her own action mini-series, called Downtown Rumble.
She has worked on a number of short films, including Enter The Dojo and its sequel, and the action comedy Gaffa. In 2008, she appeared in the kung fu series, Downtown Rumble, for JTV-ABC TV in Australia. In 2009, she hosted Vietlish TV and, in 2014, she hosted Foodielious, an online food programme commissioned by Fairfield City Council, Australia.
In 2013, she wrote, produced and starred alongside JuJu Chan in the short action comedy, Hit Girls. She was awarded a Breakout Action Actress award for her work in Hit Girls at the 2013 Action on Film International Festival. She co-directed the short with her long-time collaborator, Adrian Castro, and produced it as part of her own production company, Phoenix Eye Film Productions. In the same year, she won the Dreamgirl multicultural beauty and talent pageant in Australia.
In 2014, she played an assassin opposite MMA fighter, Josh Thomson, in the martial arts film, Fist of the Dragon, produced by Roger Corman. In 2014, she worked in China on the film, Death Mist, starring Bruce Leung.
Maria reunited with director, Adrian Castro, for Tiger Cop – an homage to 1980s Hong Kong action films. Tiger Cop started life as a trailer in 2015, which saw Maria reunite with Hit Girls and Fist of the Dragon fight choreographer, Trung Ly. In 2017, Maria worked with the director Adrian Castro on a three-episode Tiger Cop series, produced by Castro's Fideo Films production company. The episodes were picked up by Australia's public broadcaster, ABC, and shown on its iView platform. In 2020, Maria and Adrian reunited for the short film, Tiger Cop: Toilet Paper Hero, as a reaction to panic-buyers in Australia following the coronavirus pandemic.
Started in 1988, Maria ran Dong Thanh Martial Arts, Australia's largest Vietnamese not-for-profit martial arts association, based in Western Sydney. She is proficient in Shaolin kung fu and Vovinam. She has also worked on children's television, playing a character in the ABC TV series, My Place. She has also worked as a stunt performer for films including Bleeding Steel (2017), starring Jackie Chan, filmed in Sydney, and The Meg (2018) with Jason Statham, filmed in New Zealand. Maria also runs acting and filmmaking programmes for at-risk and culturally diverse communities in Western Sydney. She lives in Sydney, Australia.
Speech! "Whatever it is you want to do, you have to put yourself out there… if you're able to cultivate an optimistic and open mind, you will be surprised how many ideas go through your headspace that could give you an opportunity." Interview with Kung Fu Movie Guide, 2020.
Click here to listen to KFMG Podcast S05 Episode 52 with Maria Tran.
Filmography (as actor): 2008 Downtown Rumble (TV); 2009 My Place (TV); 2010 Maximum Choppage: Round 2 (+ pro.); 2012 Chatterbox (TV); Team 11; The Saphires; Enter the Dojo (short) (+ pro.); 2013 Whoopa-chow! (TV); The Checkout (TV); Atomic Kingdom (TV); Zero to Hero (short); Hit Girls (short) (+ dir, pro, scr.); Seeing the Elephant; Change of Our Lives (+ dir, pro.); 2014 Fist of the Dragon; 2015 The Challenge Letter; How Not to Behave (TV); Cyber Squad (short); Australia: The Story of Us (TV); 2016 Tracer; Love Child (TV); Uppercut (short); Hong Kong Shogun (short) (+ dir.); 2017 Event Zero; Tiger Cop (TV) (+ pro.); 2018 Dave Eastgate & Boner Contention: Bad Specimen (short); Street Smart (TV); 2019 Mai Bich Planet (TV) (+ dir, scr.); Huli Jing (short); Nightwalkers (TV) (+ pro.); Fat Pizza: Back in Business (TV); 2020 Breathless (TV) (+ dir, pro.); Tiger Cop: Toilet Paper Hero (short) (+ pro.); Echo 8 (+ dir, pro.).
Filmography (as producer): 2007 A Little Dream (short) (+ dir, scr.); 2012 Once Upon a Time in Cabramatta; 2015 Maximum Choppage (TV); 2018 Roses (short) (+ dir.); Hidden Peaks.
Filmography (as director): 2008 Happy Dent (short); 2017 The Subtractor (short) (+ scr.); 2018 A Day in the Life of Lap.