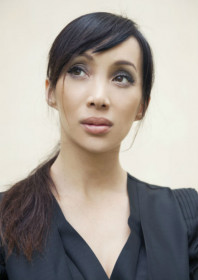 Date of birth: April 9, 1979 (Lyon, France)
Other names: Katsuni
Occupation: Actor, writer, director, DJ.
Style: Silat, Karate, Taekwondo
Biography: Céline Tran was born in Lyon, France, to a Vietnamese father and a French mother. Although she first learnt ballet as a child, she showed an early interest in the martial arts after watching the films of Bruce Lee and Jackie Chan. From the ages of 15 to 18, she studied Shotokan Karate, but gave up on competing on a national level to concentrate on her schooling.
She moved to Grenoble to study political science at the Grenoble Institute of Political Studies, before majoring in literature. She initially wanted to be a teacher, and helped to raise money for her studies by becoming a dancer. She was spotted by a French Penthouse photographer and accepted appearances in adult pictures. In 2001, she became a professional performer in the adult film industry. During her career, she appeared in over 350 films. In 2004, she was voted 'France's favourite porn actress' by readers of the trade journal, Hot Vidéo. She found further work in the United States – signing an exclusive contract with Digital Playground in 2006 – where she worked under the name 'Katsuni'.
In the early 2010s, Céline began to find fame outside of her role as an adult film star in her native France. She increasingly appeared on national television and became a writer commenting on the porn industry. In 2013, she retired from the adult film industry and returned to using her real name professionally. A few months later, she was inducted into the Adult Video News (AVN) Hall of Fame. The same year, she was named as one of the 100 Most Influential Women in France.
When she returned to live in Paris in 2013, she rekindled her passion for martial arts after meeting stunt performer and choreographer, Kefi Abrikh. In 2014, she worked with Kefi on a trailer for a comic book she had co-authored, called Heartbreaker. For the trailer, Céline also worked with Mathieu Lardot, part of France's Cinemaction stunt team, who have worked on major action films including Luc Besson's Lucy (2014), Spectre (2015) and Jason Bourne (2016). She worked again with Mathieu for the brutal short film, Burst (2014), and Kefi Abrikh for 2016's Bladed Minds. She has also worked with the choreographer Gary Gothenet for 2015's Dust Machina.
After watching Gareth Evans' hit film, The Raid (2011), Céline began to study the Indonesian martial art of Silat under the tutelage of Maul Mornie. She also started to train in Taekwondo, eventually achieving a black belt. She is also a skilled dancer, contortionist and aerial performer, and she also performs as a DJ around France.
Her first action feature film was the 2017 Cambodian action comedy, Jailbreak, directed by Italian ex-pat filmmaker Jimmy Henderson, starring Doctor Strange stunt performer and choreographer Jean-Paul Ly, MMA fighter Tharoth Sam, and Hanuman star Dara Our. Céline was hired following a recommendation by Hong Kong film expert and casting agent Mike Leeder, joining the cast as a sword-wielding gang leader. She trained with the film's fight choreographer, Jean-Paul Ly, in Cambodia, and had to learn the Khmer language for the role.
In 2016, Céline launched her website, Ma Vie de Ninja, and in 2017, its associated YouTube channel. The Ma Vie de Ninja channel features Silat self-defence lessons produced and presented by Céline, and featuring the martial arts instructor, Michaël Illouz.
Speech! On learning Karate: "I was very shy. I was not confident at all. And for the first time I felt I had a kind of strength. It has been something that has been very important in my life." In conversation with Kung Fu Movie Guide, 2017.
Click here to listen to KFMG Podcast S02 Episode 17 with Céline Tran.
Filmography (as Céline Tran): 2014 Bladed Minds (short); Metal Hurlant Chronicles (TV); Burst (short); 2015 Le Noël de Camille (short); 2017 Jailbreak.