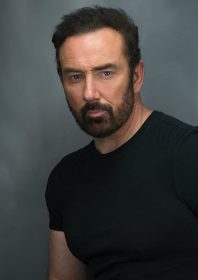 Date of birth: August 7, 1973 (Glasgow, Scotland)
Occupation: Actor, writer, editor, producer, director.
Biography: Bryan Larkin was born in East Kilbride, Glasgow, in 1973 to a midwife mother and a father who was a mechanic and prosthetic engineer for the Royal Air Force Police. His first passion was weight lifting, becoming a junior Scottish champion and winning several competitions as a teenager. He developed a love of acting and enrolled in evening classes, joining a local drama group before training at Langside College (now Glasgow Clyde College). He started his acting career in theatre, with parts in touring productions of Harold Pinter's The Birthday Party, Edward Albee's A Zoo Story, and in the world premiere of The Ringer by Tony Black.
Bryan has also worked in television and film, including guest roles in popular TV shows including Taggart, Rebus and Doctors. In 2015, he appeared in season three of the BBC Scotland TV show, Outlander. His film appearances include lead roles in Running in Traffic (2009), which he also wrote. The film premiered at the Edinburgh International Film Festival and picked up the Trailblazer Award. The film also won a BAFTA Scotland award. He has also played the lead role in many UK and American productions, including the 2012 action film, Battleground; the 2013 British sci-fi horror film, Outpost: Rise of the Spetsnaz; and the American depression-era film, The Red Machine (2009). He has also provided voiceover work and motion capture for video games.
In 2016, he appeared opposite Gerard Butler in the action film, London Has Fallen. In the same year, he was cast as the corrupt British police officer, Ernest Hunt, in Chasing the Dragon, opposite Andy Lau and martial arts movie star Donnie Yen. He has continued his streak of playing tough guy roles with the 2017 UK martial arts film, I Am Vengeance, co-starring Gary Daniels and the former WWE wrestler, Stu Bennett. The film premiered at the Urban Action Showcase in New York and picked up three awards, including Best Feature and Best Action.
Bryan is also a self-taught filmmaker. His first short film as a writer and director was Reflections of a Life (2004), which was screened at the 2004 Sundance Film Festival. In 2006, Bryan won a BAFTA Scotland award in the category of Best First Time Performance for his short film, SCENE, which he produced for his own production company, Dabhand Films. He also wrote, starred in and edited the film. During the filming of Chasing the Dragon, Bryan began shooting the short film, Dead End (2018), which he co-produced, wrote and also starred. Filmed across London, Hong Kong and Los Angeles, the short has picked up numerous awards at film festivals around the world, including recognition at the Actors Awards, Film Fest International and Oniros Film Awards. The Dead End short was followed up by two sequels.
Speech! "I think it's important that actors know their brand and they build on that. Be aware of what your strengths are (and) play to those strengths… I would (also) encourage actors to make their own films and actually direct your own short films, because you will learn so much about your face, your movement, your voice, your behaviour, and what it takes to be an actor. You don't learn these things in drama school. You have to figure it out." With Kung Fu Movie Guide Podcast, 2018.
Click here to listen to KFMG Podcast S03 Episode 31 with Bryan Larkin.
Filmography (as actor): 2002 Just Around the Corner; 2003 Taggart (TV); Room for the Night (short); Solid Air; 2004 Reflections of a Life (short; + dir, pro, scr.); 2005 Miracle of Silence (short; + dir, scr.); 2006 As Far as You've Come (short); Scene (short; + pro, scr.); 2007 Rebus (TV); 2008 Mistaken; 2009 An Act of Terror; Running in Traffic (+ pro, scr.); Miles Away; The Red Machine; 2011 A Portentous Death (short); River City (TV); Fast Romance; Young James Herriot (TV); 2012 Lip Service (TV); Battleground; 2013 Outpost: Rise of the Spetsnaz; Spool (short); Killzone: Mercenary (video game); Dead Drop (short; + scr.); Powerstar Golf (video game); 2014 Let Us Prey; The Virtual Network (short; + dir, pro, scr.); Outlander (TV); 2015 Doctors (TV); 2016 Shetland (TV); London Has Fallen; Quantum Break (video game); The Crews (TV); To Our Bright White Hearts; 2017 Rosamunde Pilcher (TV); Horizon: Zero Dawn (video game); Divinity: Original Sin II (video game); Chasing the Dragon; Elex (video game); Dead End (short; + pro, scr.); SpellForce 3 (video games); Dead Heading; 2018 I Am Vengeance; Vixen; 2019 Dead End II: A Justified Kill (short; + dir, pro, scr.); Blood & Truth (video game); 13 Graves; Angel Has Fallen; Pets United; 2020 Dead End: Dead Man Walking (short; + pro, scr.).
Filmography (as writer): 2011 Dead Ringer (short); 2013 Parkarama (short; + dir, pro.).