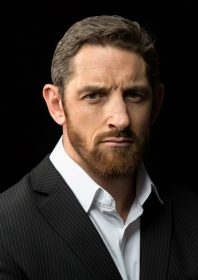 Date of birth: August 10, 1980 (Penwortham, Lancashire, UK)
Full name: Stuart Alexander Bennett
Other names: Wade Barrett, Bad News Barrett, King Barrett, Stu Sanders, Lawrence Knight.
Occupation: Wrestler, actor, TV presenter.
Biography: Stu Bennett is a semi-retired professional wrestler, a five-time WWE Intercontinental Champion and former King of the Ring, known by his ring name, Wade Barrett. Bennett lived in Preston, UK, until the age of six (he is still a fan of the local football team, Preston North End) until he relocated with his family to Wales. He watched wrestling as a child and was inspired by WWF stars including British Bulldog and Bret Hart. He studied marine biology at the University of Liverpool, and worked in a laboratory and as a recruitment consultant while training to be a wrestler.
At the age of 21, Bennett made the decision to become a professional wrestler, trained by Jon Ritchie and Al Snow. He made his debut in June 2004 under the ring name, Stu Sanders, as part of a battle royal held by National Wrestling Alliance (NWA) UK Hammerlock Wrestling. He also made his name at events in Wales and for Dropkixx Wrestling, where he became the Dropkixx IWC Heavyweight Champion in 2005.
Bennett started try-outs with the WWE in 2006, signing a developmental contract with them in 2007. He was assigned to Ohio Valley Wrestling – still under the name Stu Sanders – before being moved to Florida Championship Wrestling in 2008. In 2009, Bennett changed his ring name again to 'Lawrence Knight'. The same year he tore his Latissimus dorsi muscle which required surgery. Due to the injury, Bennett stepped into commentating. The same year, he changed his name to Wade Barrett, partially in honour of the England rugby union player, Wade Dooley.
He competed in the first season of WWE NXT in 2010. In 2011, he won the first of five WWE Intercontinental Championships as part of the TV shows SmackDown and Raw. In 2013, he changed his name to 'Bad News Barrett' and, in 2015, he was crowned King of the Ring, which prompted another name change to 'King Barrett'. The same year, WWE released Bennett early when he decided not to sign a new contract with the company.
His semi-retirement from wrestling sparked a move into the film industry, which started in 2013 with a small role in the crime thriller, Dead Man Down. In 2016, he played the villain in the WWE Studios film, Eliminators, starring Scott Adkins. In 2018, Barrett made his starring-role debut as the tough mercenary John Gold in the UK action film, I Am Vengeance (known as Vengeance in the UK). He reprised the role for the 2020 sequel, I Am Vengeance: Retaliation.
Bennett is still involved in wrestling. He has provided commentary for World of Sport Wrestling (WOS) in the UK, hosted Ultimate Beastmaster for Netflix, and he continues to commentate for the National Wrestling Alliance (NWA) for their pay-per-view events. Bennett received his US green card in 2014, entitling unconditional citizenship in the USA for 10 years. He lives in Los Angeles.
Speech! "I achieved a lot more than probably most people would have thought I would. I had a good time, made some money, and managed to spin it off into other cool things like film too, so I've got no complaints. If that's it, and I've had my last match, I would have no complaints." With Kung Fu Movie Guide Podcast, 2020.
Click here to listen to KFMG Podcast S05 Episode 56 with Stu Bennett.
Filmography: 2013 Dead Man Down; 2016 Eliminators; 2017 Fanged Up; 2018 I Am Vengeance; 2020 I Am Vengeance: Retaliation.