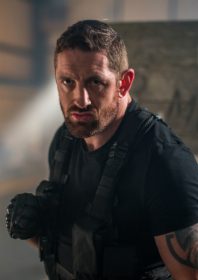 "I remember going to the pub and telling everyone, 'I'm going to be a professional wrestler in WWE', and they were just laughing at me like it was the most ridiculous thing ever. I was this skinny, shy, awkward kid at the time. Somehow, it managed to work out. Thankfully."
Stu Bennett's transformational story from a shy, skinny kid growing up in the north of England to five-time WWE Intercontinental Champion and 'King of the Ring' – known by his pro-wrestling name, Wade Barrett – seems like a dream come true. The story belies years of hard work and even harder knocks; a steady climb from the amateur circuit in the UK to securing a contract with the biggest wrestling organisation in the world, only to have his mind and body tested to the limit. By the time he quit professional wrestling in 2016 – refusing to sign another lucrative deal with the WWE – he was out for the count, both mentally and physically, and determined to turn his back on the sport which he had loved and admired so much as a kid. Like so many WWE stars before him – The Rock, Dave Bautista and John Cena among them – the movies beckoned; specially, work in the UK with filmmakers including James Nunn (for 2016's Eliminators) and Ross Boyask (for 2018's I Am Vengeance). It is his role as the tough mercenary John Gold in the I Am Vengeance films which sees Stu play a good guy for the very first time – a far cry from the boos he would receive as an antagonist throughout his wrestling career. It is a role he would like to see continue as he progresses in the film and television industry. His new movie, I Am Vengeance: Retaliation, sees him square up to fellow British hard man, Vinnie Jones; it is released today in the UK on digital courtesy of Evolutionary Films.
Keep up-to-date with all the latest Stu Bennett news via Twitter and Instagram. Here is a link to buy the book which inspired Stu to pursue a career in professional wrestling: Have a Nice Day: A Tale of Blood and Sweatsocks by Mick Foley. Watch I Am Vengeance: Retaliation on digital now in the UK via iTunes, Amazon, Google Play, Sky Store and Microsoft.