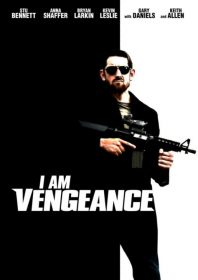 "There is an audience that you can identify to market to if you have a well-made action film, and actually you can't say that about a well-made drama… with action, generally speaking, most territories buy it and it's an evergreen product." John Adams
Today is an I Am Vengeance movie special. WWE star Stu Bennett (aka Wade Barrett) and martial arts movie legend Gary Daniels star in I Am Vengeance (aka Vengeance), which is out now in theatres and on digital download in the US. The film tells the story of ex-serviceman turned mercenary, John Gold, and his quest for revenge following the death of his former army buddy. The UK-made action film is the brainchild of writer and director Ross Boyask and producer John Adams, who both work at Evolutionary Films, an independent production house and distributor which specialises in genre films.
On this I Am Vengeance movie special, we discuss the challenges of running a film company in the digital age, and learn more about the making of the movie, and their plans to turn the John Gold story into a franchise. I also sit down with one of the film's stars, Bryan Larkin, whose psychotic henchman character is one of the highlights of the film. The Scottish actor and filmmaker discusses his life and career, from directing his own short films to appearing opposite Gerard Butler in London Has Fallen (2016), and working in Hong Kong with Donnie Yen and Andy Lau in the gangster thriller, Chasing the Dragon (2017).
Learn more about Evolutionary Films by visiting their website and following them on Twitter, Facebook and Instagram. Keep up-to-date with Bryan Larkin via Twitter, Facebook and Instagram.