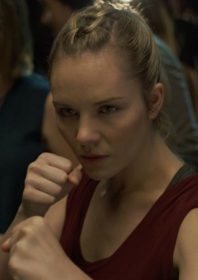 "I grew up watching Michelle Yeoh and she started it all for me." Amy Johnston
To celebrate the UK DVD and digital download release of Accident Man – a British action comedy based on a comic-strip by the creator of Judge Dredd – we have two of the world's biggest martial arts movie stars on the show. Listen to my in-depth conversation with one of the most popular female action stars on the planet right now, Amy Johnston, who has gone from being Scarlett Johannsson's stunt double to leading her own fight flicks with top performances in movies like Lady Bloodfight and Female Fight Squad. Make sure you subscribe to Amy's YouTube channel to never miss an episode of her new show, Hero Training. We discuss everything from early inspirations to female fighters, the #MeToo campaign and her excellent performance as the sword-wielding assassin Jane the Ripper in Accident Man.
Accident Man is co-written, produced by and stars the hardest working man in martial arts movies, Scott Adkins, and we were very fortune to be able to catch up with Scott ahead of the UK big-screen premiere of his dream project, which took place at the Fighting Spirit Film Festival in his home city of Birmingham in April 2018. During this short interview, I get to ask Scott some quick-fire questions. If you're looking for a more detailed chat with Scott Adkins, then I would suggest listening to Episode 18 of the show in which we discuss his life and career in more detail.
Accident Man is available now in the UK via Sony Pictures Home Entertainment. It is directed by Jesse V. Johnson and co-stars Ashley Greene, Ray Stevenson and David Paymer, as well as top martial arts stars Michael Jai White and Ray Park, with fight choreography by long-time Adkins collaborator and former podcast guest, Tim Man. Get your copy of Accident Man now from Amazon.