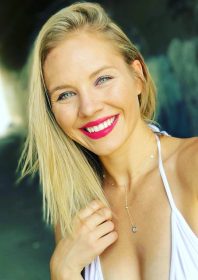 Date of birth: February 5, 1990 (Van Nuys, California, US)
Occupation: Actor, stunt performer, fight choreographer.
Style: Taekwondo, kung fu, kickboxing, Arnis, kenpo, wushu, Wing Chun, jiu-jitsu.
Biography: Amy Johnston was born in Van Nuys, California, in 1990. Her father is the former five-time WKA professional kickboxing champion, David Johnston. Her mother, Kate Johnston, is an acupuncturist. She also has a younger brother, Jesse Johnston, who also does martial arts. The family grew up in Gillette, Wyoming, where her father ran the Martial Arts Center of Gillette. Amy started training in the martial arts from the age of six with her father. She learned a mixture of styles, including taekwondo, kung fu, kickboxing, Kenpo karate, Arnis (also known as Eskrima), wushu, Wing Chun, and jiu-jitsu. She also trains in gymnastics and dance.
When Amy was 13 years old, she appeared in the instructional martial arts video, Karate Kids Workout (2005), presented by her father and directed by Emmy Award-winning director, Lee Stanley. The family travelled to California to film the video and this is where Amy developed a love for being on a film set.
Throughout her teenage years, Amy competed in tournaments across America, winning numerous first place and Grand Champion awards in forms and sparring. In 2007, she performed at the United States Martial Arts Hall of Fame Extravaganza for Kung Fu Magazine, following her father's induction. After graduating from Campbell County High School in 2008, Amy moved to Hollywood at the behest of Lee Stanley to get involved in the film industry.
Amy worked in a spa and concentrated on creating her own films. She was contacted to appear in a short film called Tag Match, and subsequently became a member of Thousand Pounds Action Company, the fight team behind the short. She developed her skills as a fight choreographer, working on the short films Kung Fu Femmes 4 (2010) and Angering the Gods (2011). She also starred in the company's first original TV project, Clandestine (2014).
A pre-visualisation fight scene for an unfinished project, called Amy vs. Many, was released online in 2014 and became a viral hit, being viewed by over two million people. As a result of her growing internet following, Amy started to gain more work in music videos, independent martial arts films and features.
In 2012, Amy had a small role in the Disney TV series, Pair of Kings. She continued to make short films, as well as appearing in a horror film, Dracula: Reborn (2012), and the action film, Raze (2013), a female-fronted fight film starring Hollywood stunt legend, Zoë Bell. Amy found further stunt work in major Hollywood productions, including Iron Man 3 (2013) and, in 2014, she was approached by the stunt choreographer James Young to double Scarlett Johansson in Captain America: The Winter Soldier (2014). In 2015, she portrayed Harley Quinn in an episode of the web series, Super Power Beat Down. She subsequently performed stunt work on the DC Comics adaptation, Suicide Squad (2016). She has also performed motion-capture work for the Marvel film, Deadpool (2016), and its sequel.
In 2015, Amy Johnston was approached by Voltage Pictures – makers of The Hurt Locker and Dallas Buyers Club – to audition for an all-female remake of the 1988 Jean-Claude Van Damme film, Bloodsport. She won the part, and started work on her first leading role in Lady Bloodfight (2016). The film was made in Hong Kong, with Amy being trained by Jet Li's stunt double, Han Yan-yan, for the role. In the same year, Amy Johnston starred in another female-led martial arts film, called Female Fight Squad (2016), produced by Lionsgate and featuring an extended cameo by Dolph Lundgren, who played her father.
In 2018, she reunited with the director Lee Stanley to star in the action drama, Paloma's Flight. In the same year, she played a supporting role as Jane the Ripper in the all-star UK martial arts film Accident Man, co-produced and co-written by Scott Adkins.
She is the author of the book, How to Stunt in Hollywood, released in 2018. She is engaged to Zac Morris and lives in Los Angeles.
Speech! "I'm still falling in love more and more with acting, and I'm always learning. Its the same with martial arts – I'm constantly learning. I explore new things every time I act and train. It's just a constant moving forward… and backwards, sometimes! But that's OK, it's all part of the game." Interview with Kung Fu Movie Guide Podcast, 2018.
Click here to listen to KFMG Podcast S03 Episode 27 with Amy Johnston.
Filmography (as actor): 2009 The Adventures of Señor Toro (TV); 2010 Kung Fu Femmes (TV); 2011 Angering the Gods (short); Living Reel: The Series (TV); 2012 Pair of Kings (TV); Rave: Party Scene (short); Dracula: Reborn; Mickey & the Fly (short); 2013 Raze; 2014 Clandestine (TV); 2015 K.C. Undercover (TV); Super Power Beat Down (TV short); Razor Sharp: Renegade (short); Unlucky Stars; 2016 RocketJump: The Show (TV); The 10 Deadliest Special Ops Tactics! (short); Street Fighter: Resurrection (TV); Transformers: Combiner Wars (TV short); Lady Bloodfight; Female Fight Squad; The Gate (short); Option Zero (TV); 2017 Dragon Ball Z: Light of Hope (TV); BorderClash 3: SoundClash (short); 2018 Accident Man; Alphabetism (short); Escape the Night (TV); 2019 Eleven Eleven; Breaking Barbi; 2020 Magnum P.I. (TV); 2021 Dying is Easy (short).