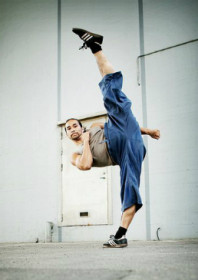 "I think I was a bit brainwashed as a kid. I thought I was living in a movie. I wanted to be like Jean-Claude Van Damme, kicking the tree."
Fresh from his award-winning fight choreography duties on a string of Scott Adkins hits – including Boyka: Undisputed, Eliminators, Ninja: Shadow of a Tear, and the upcoming Accident Man and Triple Threat – it was a great pleasure to spend time with the Swedish martial arts maestro, Tim Man. A former taekwondo champion, Tim Man learned the hard way by getting knocked around as a stuntman in Thailand. His credits include working with Tony Jaa on Ong-Bak: The Beginning (2008), Jeeja Yanin in Raging Phoenix (2009), and Gordon Liu and Joe Lewis in Kill 'em All (2013). Tim Man also worked on the TV series, Mortal Kombat: Legacy, and his incredible kicking and gymnastic skills have been used in motion capture for a string of hit video games. He first found fame through the website Bilang.com, where he would upload his incredible martial arts tricks, and he continues to do this today via his Instagram page. If you don't follow him yet, then you probably should: click here to check out his page.
Although he hates being interviewed, we still enjoy a wide-ranging chat about his life and career; from being an obsessed martial arts movie fan growing up in Malmö, Sweden, to his first leap into the action movie industry following the international success of Ong-Bak. We discuss why he continues to work with the British action star, Scott Adkins, and also his plans going forward in the movie business. This interview was recorded before Tim's success at the 2017 Shanghai International Film Festival, where he picked up the award for Best Fight Scene for his work in Boyka: Undisputed. Tim Man is a name to look out for and it was a pleasure talking to him for this episode of the podcast. For more information on Tim, visit his website: extremestunts.se.