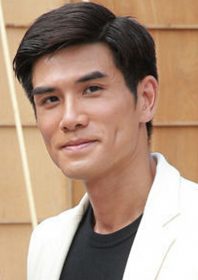 Date of birth: 16 September 1977 (Hong Kong)
Other names: Philip Ng, Philip Wan Lung Ng, Philip Wan-Lung Ng
Occupation: Actor, martial artist, action director, second unit director, stunt coordinator
Style: Wing Chun, Choy Li Fut, Hung Gar, Western Boxing, jujitsu, taekwondo, Eskrima.
Biography: Kung fu star Philip Ng was born in Hong Kong in 1977 into a martial arts family. His father, Sam Ng, is a master in the Choy Li Fut style, and his uncle, Alan Ang, is a master of Wing Chun. The Ng family – Philip, his mother Frances, father Sam, and his sister Laura – emigrated to Chicago, USA, in 1984 when Philip was seven years old. Philip went to Wheeling High School and studied at the University of Illinois Urbana-Champaign.
Philip's first martial arts styles were Hung Gar and Choy Li Fut taught to him by his father and uncle. At the age of 13, he learned Wing Chun from his uncle and taekwondo from Grandmaster Woon Sik Shim. Philip also traveled to Hong Kong to learn Wing Chun from one of Ip Man's senior instructors, Wong Shun-leung, who also trained the young Bruce Lee. It was Wong who would encourage Philip to become an instructor.
While studying for a bachelor's degree in graphic design and a master's in education, Philip founded the Illini Wing Chun Association at the University of Illinois Urbana-Champaign, spending five years as the head instructor and club president. During this time, Philip would also expand his martial arts knowledge and training to include Brazilian jiu-jitsu, boxing, Muay Thai kickboxing and Eskrima.
In 1997, when Philip was 20 years old, he helped to form the Ng Family Chinese Martial Arts Association in Chicago with his father. The school specialises in the teaching of Choy Li Fut and Wing Chun. He is also a founding member of the Pan-American Ving Tsun Association.
In the early 2000s, Philip made the decision to fulfil his dream of working in the Hong Kong film industry. He left his job in education and relocated to Hong Kong. He was introduced to stunt coordinator, Chin Kar-lok, who needed someone to train actors for Daniel Lee's 2003 fight film, Star Runner (aka The Kumite). While on set, Philip befriended the film's stars Andy On and the pop singer and dancer, Van Ness Wu. Philip worked again with Chin Kar-lok as his assistant action director on Daniel Lee's next project, Dragon Squad (2005), as well as having a small role in the film.
Philip started to take larger acting roles in mostly action films, working with some of the best Hong Kong directors of the time, including Benny Chan (2004's New Police Story, 2007's Invisible Target), Stephen Fung (2004's Enter the Phoenix, 2005's House of Fury), Gordon Chan and Dante Lam (2006's Undercover Hidden Dragon), Jingle Ma (2008's Playboy Cops), and Teddy Chan (2009's Bodyguards and Assassins). He is signed to the company owned by prolific Hong Kong filmmaker, Wong Jing, and has appeared in many of his projects.
Philip made his starring-role debut in the 2014 film, Once Upon a Time in Shanghai, a remake of the 1972 Shaw Brothers film, The Boxer from Shantung, with a script by Wong Jing. The film co-starred Andy On and Sammo Hung, and featured fight choreography by Yuen Woo-ping and his brother, Yuen Cheung-yan.
In 2016, Philip Ng played Bruce Lee in Birth of the Dragon (2016), a Hollywood biopic based on Lee's early life in San Francisco directed by George Nolfi, the director of The Adjustment Bureau (2011) and writer of The Bourne Ultimatum (2007). The film was written by Stephen J. Rivele and Christopher Wilkinson, writers of the biopics Nixon (1995), and Ali (2001). The film featured fight choreography by Corey Yuen and premiered at the 2016 Toronto Film Festival.
Philip has also worked on television including the TVB kung fu series A Fist within Four Walls. In 2010, he was a guest host on the documentary series, Kung Fu Quest, in which he met with fellow masters of the Hung Gar style.
He worked with Donnie Yen on the Wong Jing films, Chasing the Dragon (2017), and Enter the Fat Dragon (2020). In 2017, Philip starred alongside Simon Yam in the final part of Wong Jing's 'Colour' crime thriller trilogy, Colour of the Game (2017). In 2019, Philip and Andy On had another rematch for the action comedy, Undercover Punch and Gun (2019), co-staring Van Ness Wu, with Philip acting as stunt coordinator.
He lives in Hong Kong.
Speech! "When I'm in the scene, the most important thing is that I finish the scene, I do right by my acting partner, and I do right by everyone on set. I do my job, and that's it. I don't care about what anyone thinks or what they say or do. You can't. You are performing – you have to be in that space… it's a mentality you have to develop more than any specific skill-set in terms of acting, because acting is just honesty." In conversation with Kung Fu Movie Guide Podcast, 2021.
Click here to listen to KFMG Podcast S06 Episode 71 with Philip Ng.
Filmography (as actor): 2001 Born Wild; 2003 The Twins Effect; 2003 Star Runner (+ action dir.); 2004 Enter the Phoenix; New Police Story; 2005 House of Fury; Dragon Squad (+ action dir.); 2006 Marriage with a Fool; Undercover Hidden Dragon; 2007 Invisible Target; Irreversi; 2008 Playboy Cops; Happy Funeral; Tactical Unit – Human Nature; 2009 Somebody to Love (short); Bodyguards and Assassins; 2011 Treasure Inn; Beach Spike; The Invaluable Treasure; Big Blue Lake; 2012 Mr. & Mrs. Gambler; Naked Soldier; 2013 Young and Dangerous: Reloaded (+ action dir.); Princess and Seven Kung Fu Masters; 2014 Once Upon a Time in Shanghai; The Man from Macau; Sifu vs. Vampire (+ action dir.); Zombie Fight Club (+ action dir.); 2015 Wild City; 2016 A Fist Within Four Walls (TV); Birth of the Dragon; 2017 Colour of the Game; Chasing the Dragon; Queen of Triads; 2018 The Trough; 2019 Undercover Punch and Gun (+ action dir.); 2020 Enter the Fat Dragon.