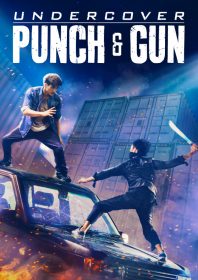 In some small way, it's quite reassuring to find that – in 2019 – Hong Kong hasn't lost its touch for producing disjointed, goofy action comedies. This chaotic film jumps from scenes of Van Ness Wu pretending to cook meth on a fake TV cookery show, to a stark sequence in which a sniper shoots dead a bunch of young, kidnapped girls. The tone is aiming for the type of mayhem-fuelled action films that Jackie Chan and John Woo made in the 1980s and 90s – and, similarly, it has much of the cast performing their own stunts, with a blooper reel over the end credits for further evidence. The fight scenes, in particular, are performed with great commitment by its athletic cast. Action director, co-producer and star Philip Ng takes a mostly stripped-back approach to the pugilism, producing in-camera thrills mostly free from wires and CGI. He plays a boyish undercover cop who takes over the criminal gang he is trying to infiltrate when the head honcho is killed in a botched drug deal. The dashing Andy On – Ng's co-star from Once Upon a Time in Shanghai, and many other films – plays a rogue operative who wants to muscle in on the gang's crystal meth scene, running his covert operations from a huge cargo ship in the high seas. Van Ness Wu, however, seems to be reading from a completely different script, clowning around in a bizarre supporting role as Ng's gangster buddy. There's no real attempt to contextualise his lunacy, so he becomes quite an unhinged presence in the film, before showing great gumption during his action scenes – required to leap onto moving cars and square-off against Singaporean star Aaron Aziz in a decent knife fight. Props also need to go to Shaolin-trained wushu ace and action star Jiang Luxia (Operation Red Sea), who gets to throw-down with Ng in the final melee. Hong Kong film fans will also enjoy cameos from the perennially cool Nicholas Tse as a police inspector, Cat III icon Carrie Ng as a ruthless crime madame, and former Shaw Brothers star Susan Shaw as a nutty meth cook and speed racer because, well, why not.
AKA: Undercover vs. Undercover.
Undercover Punch and Gun is available to stream on Hi-YAH! and buy on digital, Blu-ray and DVD from 8 June 2021 in North America courtesy of Well Go USA.