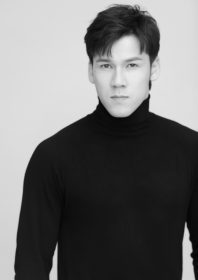 Date of birth: 22 September 1988 (Nuremberg, Germany)
Occupation: Actor, stunt coordinator, fight choreographer.
Style: Wushu.
Biography: Max Huang is a martial artist, stunt performer and actor. His mother is German – a vocal coach and actor – and his father is the Chinese Indonesian classical pianist and conductor, Noorman Widjaja. Max was instilled with a love of music from an early age, and he played the violin as a child. His brother, Lee Huang, is also a stunt coordinator, fight choreographer and stunt performer.
His father would show him videos of Bruce Lee and Jackie Chan growing up, which inspired him to learn kung fu. He first learned Wing Chun from the age of 11, and later wushu. When Max was 15, he trained for a brief period at a Shaolin school in China, and began to compete as a member of the German National Wushu team. In 2009, Max won gold at the German Wushu Nationals. He has also trained around the world, including in Shanghai with Wang Peng-cheng, a Shanghai wushu team member.
Growing up in Germany, Max developed a love of cinema and he started to create his own films. He met and worked with other likeminded martial artists, including the stunt performers Mike Möller and Andy Long. Max would learn fight choreography, stunt coordinating, stunt performing and acting in these early, homemade action shorts.
Max studied acting in London, graduating in 2010. His earliest experiences on a film set was as a stunt performer and bit actor, including roles in the German indie zombie film, Dead Survivors (2010), and an episode of the action series, Lasko – The Fist of God (2010).
In 2012, Max first worked with the Jackie Chan Stunt Team on the film, Chinese Zodiac, credited as a 'stunt department trainee' working alongside Andy Long. He has consistently worked with Jackie Chan as a stunt performer, stunt coordinator and assistant stunt coordinator on a number of the kung fu star's films, including Police Story 2013 (2013), Dragon Blade (2015), Skiptrace (2016), The Foreigner (2017), Bleeding Steel (2017), and the unreleased Project X-traction (aka Snafu), co-starring John Cena.
As well as his work with Jackie Chan, Max has also worked as a stunt performer on films including Kingsman: The Secret Service (2014), Hitman: Agent 47 (2015), and the Chinese action fantasy, Time Raiders (2016).
In 2019, Max wrote, directed, produced, starred in and edited his own short action film, No Way Out. The film would go on to win awards at the 2019 Fighting Spirit Film Festival in the UK, including Best Short Film, Best Short Film Action Choreography, and Best Short Film Actor – Max Huang.
In 2021, Max played the role of Kung Lao in a live-action reboot of the Mortal Kombat video game, co-produced by James Wan (Saw franchise). Max was the last character in the film to be cast after originally auditioning for the role of Liu Kang, which went to Ludi Lin. In April 2021, Max released his first single, 'Flawless Victory', composed and written by Huang working with the German music producer, Vincent Lee. Max also directed and starred in the song's music video.
Max speaks German, English, Mandarin and Cantonese. He lives in Germany.
Speech! "There are a lot of action movies out there that are good, and choreographed nicely, and it's exciting – but I feel with martial arts movies, the good ones, it's almost like a lesson when you're watching it. You learn something about life, or martial arts, and that's what I'm interested in. The fighting, the choreography, I see it more as a façade. It's the skin of it, but it's not the meat and flesh of it." In conversation with Kung Fu Movie Guide Podcast, 2021.
Click here to listen to KFMG Podcast S06 Episode 73 with Max Huang.
Filmography (as actor/stunt performer/assistant stunt coordinator): 2010 Dead Survivors; Burning Man (short); 2012 Shanghai Calling; Chinese Zodiac; The Ego (short); 2013 Tribal Ties (short); Sorry I Love You; Police Story 2013; 2014 Outcast; Kingsman: The Secret Service; 2015 Dragon Blade; Hitman: Agent 47; 2016 Skiptrace; Time Raiders; 2017 The Foreigner; Bleeding Steel; Sense8 (TV); 2019 No Way Out (short) (+ dir, pro, scr, action dir.); 2021 Mortal Kombat; Snafu.