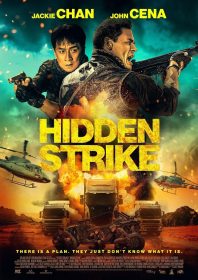 Despite being filmed in 2018 – originally a vehicle for Jackie Chan and Sylvester Stallone called Ex-Baghdad – and with a whopping $80m budget (huge for a Chinese film), this explosive action movie was destined for the big screen both in the east and the west, but was instead held in a post-production quagmire for years, going through numerous name changes (including Project X-Traction, Project X and, briefly, S.N.A.F.U.) and a global pandemic to emerge, quite unceremoniously, on Netflix without any marketing and with a completely different title. So what happened?
Chan's waning star in the west could be a factor – his last bombastic buddy romp was 2016's feeble Skiptrace with Johnny Knoxville – contrasting with Cena's ascent in Hollywood after stand-out roles in The Suicide Squad and the Fast franchise; not to mention growing political tensions between the USA and China. The film's quiet Netflix release suggests some nervousness as to whether its audience – in 2023 – might well have moved on. However, quite incredibly, the film is not half as bad as you might believe. In fact, for diehard Chan fans in particular, it's something of a return to form.
Aged 64 at the time of filming and sporting short hair and camo' gear, Chan is looking great and dodging bullets like a man half his age. He plays hard-nosed patriot Commander Luo – nickname 'Dragon' – sent to Iraq (its actually all filmed in China) to lead a rescue mission to escort around 400 workers from a Chinese-owned oil refinery, which is being raided by bitter American capitalist, Owen (Pilou Asbæk), looking to exploit its bounty to the highest bidder. Luo's estranged daughter is also on-site, leading to a mildly diverting sub-plot involving the two attempting to reconnect in shades of Chan's other 2023 release, the saccharin Ride On. He leads a convoy into the so-called 'Highway of Death' – a battle-scarred, abandoned, CGI wasteland full of obstacles, explosions, and sandstorms, which is when the convoy is attacked by mercenaries in a buggy car chase lifted straight out of Mad Max: Fury Road. One of the mercenaries is Chris (Cena). He's a 'white saviour' type who lives in a poor, unnamed Iraqi village where he sings songs to orphans while trying to save the people from draught. He also wears open shirts to show off his muscles and can speak Mandarin (for some reason). In summary, he's a nice guy, who inevitably ends up joining forces with Luo when Owen goes rogue and kills his brother.
The film shifts tone at this point to become a lighter, culture-clash comedy aligned to Chan's breakout western hit, Rush Hour. Only this time, with Jackie Chan in charge, many of the gags are aimed at Cena – with Chan correcting his bad Mandarin and squabbling over hand signals and seatbelts. Because Cena and Chan are undoubtedly two of action cinema's most likeable stars, the chemistry works, and as the film descends into outright silliness, their effortless charm carries it through – even when they're doing increasingly nutty things, like strapping a rocket to a truck in the desert, or having an insane dust-up with the wonderful fight coordinator Tim Man while being suspended in the air and covered in foam.
A different movie may have at least attempted to address the Iraqi response to two superpowers exploiting its finite natural resources, but then again that might be expecting too much from a movie directed by the guy who made Need for Speed. In fairness, Scott Waugh does well to capture such incredible set-pieces over the vast, expansive Mongolian desert; and despite its lofty ambitions when it started production back in 2018, Netflix does feel like the film's natural home – a place where bonkers, mass-market experiments can potentially find their true audience.
Watch on Netflix.