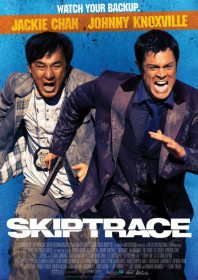 Given its mostly Hong Kong setting and his angry but proud cop persona, there are slight shades of Jackie Chan's action movie prime in this bloated buddy movie. He leaps and tumbles like a man half his age, motivated by revenge rather than national pride or a political agenda, unlike much of his recent Beijing work. It is interesting that it takes a former Hollywood-based director, Renny Harlin (Cliffhanger, Die Hard 2), to create a new Jackie Chan film which aspires to be so much like his older ones. Despite being 62, he's positively sprightly in his run-ins with former wrestler Eve Torres (the Russian doll gag is particularly good) and his many throw-downs with his stunt team.
Johnny Knoxville's idiotic gambling hick (a role originally assigned to Seann William Scott) plays the butt of the jokes. He is the only witness to a murder in a Macau casino who finds himself with evidence of the crime. But before the culprits can act, he is hauled up "somewhere in Russia" by brutish eastern European thugs for a previous misdemeanour. Chan is the hot-headed by-the-book cop desperate to nail a notorious criminal known as the Matador who he believes killed his cop partner and is responsible for the incident in Macau, so he springs Knoxville from his Russian predicament and the two try to get back to Hong Kong. The duo bond as they are pursued across Asia by the Matador's men and Russian thugs.
As the two old guys get themselves into all manner of contrived scrapes – switching transportation from cars to tuktuks to horseback – the journey starts to feel like one of those expensive episodes of Top Gear. Knoxville – who is no stranger to stunt work from his Jackass days – finds himself tied up, thrown in a bin and rolled around Siberia, before the duo get drunk in a Mongolian village, have a wrestle with the village folk, and sing a weird rendition of Adele's Rolling in the Deep (and, yes, it's as strange as it sounds). The border patrol in China get tough with them, but they escape and get to have their Butch Cassidy moment by jumping on a dodgy-looking green screen rip-wire through the mountains, before they both sleep naked in a cave. It's all very light and not remotely convincing, until the final act when the film springs back into life with the added bonus of some familiar Hong Kong cameos. As for Fan Bingbing, she is given a distinctly thankless role as Chan's kidnapped goddaughter.
As a sad side note, this would be the final film for the cinematographer Chan Kwok-hung who was killed in a boating accident during production.