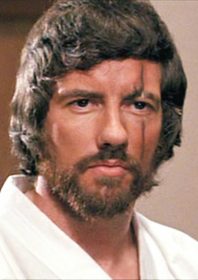 Date of birth: 22 August, 1939 (San Jose, California)
Date of death: 30 January, 2022 (aged 82), Los Angeles
Full name: Robert Alan Wall
Style: Karate, Tang Soo Do, Judo.
Biography: Martial artist, actor and businessman Bob Wall was a ninth degree black belt in the Korean martial art of Tang Soo Do who studied under Chuck Norris. He also trained in a number of different disciplines including Judo (under "Judo" Gene LeBell), Okinawan Shorin-Ryu (under Joe Lewis), and Brazilian Jiu-Jitsu (under the Machado brothers). In 1975, Bob Wall was inducted into the Professional Karate Association's Hall of Fame, and throughout his life, he taught martial arts to celebrities including Elvis and Priscilla Presley, Paul Newman, Jack Palance, Elke Sommers and Debbie Reynolds.
In 1959, he earned a black belt in Judo studying under national wrestling champion, Gene LeBell. It was Gene who first introduced Bob Wall to Bruce Lee after a martial arts demonstration in 1963. Over the next 10 years, the two would form a close friendship, along with many of the foremost martial artists of their generation.
In 1967, Bob Wall formed part of a nightclub act with the karate experts Mike Stone and Joe Lewis. By 1968, Bob Wall had become Chuck Norris' assistant instructor and business partner. Together they ran the Sherman Oaks Karate School with chief instructor, Pat Johnson, and they formed the first martial arts school finance company, called Martial Art Acceptance. In 1970, Bob Wall won the US Professional Karate Championship.
Chuck Norris convinced Bruce Lee to give Bob Wall a role in his directorial debut, The Way of the Dragon, which was being filmed in Rome in May 1972. Bruce, the Chinese film crew, Bob and Chuck spent 12 days in Rome gathering establishing shots for the film, and returned to Hong Kong to take part in a press conference, as well as appearing on television. On 19 May 1972, Bob, Chuck and Bruce appeared on the TV show Enjoy Yourself Tonight. They were interviewed and did a martial arts demonstration. Bob would often visit Bruce Lee's home in Kowloon Tong to train.
When Chuck Norris turned down the role of O'harra – Han's evil bodyguard – in Enter the Dragon, the role was offered to Bob Wall. It was offered to Bob as a way of convincing Chuck to take the role, however, he still refused, citing how he wanted to instead focus on hero roles.
During Bob Wall's fight scene with Bruce Lee in Enter the Dragon, Wall accidentally cut Bruce's hand with a broken bottle. The cut required 12 stitches, and the film lost two days of filming. In Robert Clouse's book, The Making of Enter the Dragon, Clouse claimed the incident sparked a 'fury' in Lee for 'loss of face' in front of the Chinese stunt team, with Lee vowing to take revenge. Bob has refuted the claim, stating that the two remained close friends. Wall was one of Lee's pallbearers at his funeral in Seattle.
Bob Wall was originally considered as part of the cast for Bruce Lee's original vision for Game of Death, although his scenes were not filmed before Lee's death in 1973. Wall was called back to appear in the re-imagined version of Game of Death, directed by Robert Clouse and released in 1978. For his fight scenes, Bob Wall worked with Sammo Hung as the fight choreographer, and Bruce Lee stand-ins which included Kim Tai-chung and Yuen Biao.
Bob Wall was subsequently offered a three-picture deal with Warner Bros., but turned it down as to not jeopardise his family life. However, he did appear in other films, including many with his friend Chuck Norris. These include uncredited roles in Code of Silence (1985), Invasion U.S.A. (1985), Firewalker (1986), Hero and the Terror (1988), and 14 episodes of Walker, Texas Ranger in the 1990s. He also had cameos in the Cynthia Rothrock film, Sci-Fighter (2004), and the Michael Jai White film, Blood and Bone (2009).
In 1975, Bob Wall wrote the book, Who's Who in the Martial Arts and Directory of Black Belts, which included information on over 5,000 martial art schools. It has been reprinted four times. He was the CEO of a martial arts organisation known as World Black Belt Inc., and was a successful real estate entrepreneur. In 1970, he formed Wall Street Properties with his wife, Lilian. In 1983 and 1984, he was listed in 'Who's Who' in California and, in 1998, he was listed in 'Who's Who' in Business and Finance.
Bob Wall married his wife, Lillian, in 1968, and together they had two daughters, Shana and Kara. Wall was also godfather to the actor, Freddie Prinze Jr. Bob Wall died on 30 January 2022 at the age of 82. His family did not reveal a cause of death.
Speech! "I don't live by anyone else's standards. I'm a Christian. I'm a foul-mouthed Irishman. I don't punch anybody anymore, because I hit harder than anyone on the planet bar none." In conversation with Kung Fu Movie Guide Podcast, 2018.
"I have a long history of having my ass kicked. Nobody gets great if they don't get their ass kicked." In conversation with Kung Fu Movie Guide Podcast, 2018.
"I think all styles are great. I think the difference is the teacher." In conversation with Kung Fu Movie Guide Podcast, 2018.
Click here to listen to KFMG Podcast S03 Episode 30 with Bob Wall.
Filmography (as actor): 1972 The Way of the Dragon; 1973 Enter the Dragon; 1974 Black Belt Jones; 1978 Game of Death; 1981 Enter the Ninja; 1985 Code of Silence; Invasion U.S.A.; 1986 Firewalker; 1988 Hero and the Terror; 2000 Walker, Texas Ranger (TV); 2004 Sci-Fighter; 2009 Blood and Bone; 2013 Speed Demon (short); 2015 The Search for Count Dante; 2018 Anatomy of An Antihero 3.