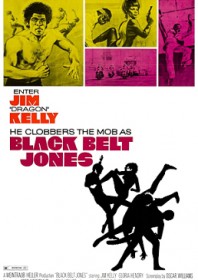 Those who question the cinematic influence of Bruce Lee need only refer to what Messrs Clouse, Weintraub and Heller did after the instant success of Enter the Dragon in 1973. The team turn to Bruce Lee's well-coiffed co-star Jim Kelly – a karate fighter of some merit – to helm this cheap blaxploitation effort, but the results are quite ghastly.
Kelly's film career is a particularly unfortunate story. Even here he displays enough commendable chopping and sassy sex appeal to make it as a leading man, but his subsequent films following Enter the Dragon are never more than moronic. And here he really gets off on the wrong foot.
Scatman Crothers is hopelessly miscast as the head of Pop Byrd's karate school, which he has clearly mistaken for a jazz café. Pop's dojo lies on a highly lucrative slice of Californian real estate, which soon leads to his death at the collaborative hands of both the Italian mafia and a local drug gang, and pretty soon its brother against brother.
Kelly is Black Belt Jones, a friend of Pop who is hired by detectives to take down the mob, recruiting a team of female trampoline acrobats in swimsuits and the karate kicks of Pop's estranged daughter (played by later Bond girl Gloria Hendry). The duo battle dubious racial stereotyping before culminating in an impromptu fight fest at a carwash.
No one comes out of this looking good. Apart from maybe guitarist Dennis Coffey, who wrote the film's damn funky theme tune.