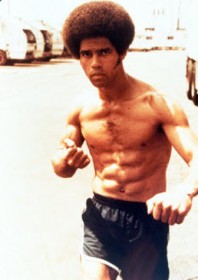 Date of birth: May 5, 1946 (Paris, Kentucky)
Date of death: June 29, 2013 (aged 67), San Diego
Full name: James Milton Kelly
Occupation: Actor, tennis coach, martial artist
Style: Shorin-ryu karate
Biography: Jim Kelly will always be fondly remembered for his breakthrough performance alongside Bruce Lee and John Saxon in the 1973 film Enter the Dragon – a role which was originally given to another actor – and his subsequent success as a prominent leading man in the blaxploitation sub-genre of the 1970s.
Born in Paris, Kentucky, Kelly's father ran a locker rental service for US Navy sailors. At high school, Kelly enjoyed success in a number of sports including athletics, football and basketball. He attended the University of Louisville on an American Football scholarship and could have turned professional if he had not left during his freshman year.
Kelly began his training in Shorin-ryu karate and Okinawa karate under the tutelage of Gordon Doversola, moving to Los Angeles in the 1960s where he would go on to train at the same dojo as karate contemporaries like Joe Lewis. Kelly opened his own school on Crenshaw Boulevard in Los Angeles and in 1971, he won the middleweight division title at the Long Beach International Karate Championships. Kelly was hired as a karate trainer for the actor Calvin Lockhart for the film Melinda (1972) in which he also managed to secure a small role as a martial arts instructor.
When actor Rockne Tarkington unexpectedly pulled out of the Warner Brothers production Enter the Dragon (1973) three days before the start of filming, producer Fred Weintraub promptly signed Jim Kelly after a chance visit to his karate school. As cocksure karate expert Williams, Kelly became an overnight success, earning some of the film's most memorable lines, coupled with street smart attitude, good looks and a trademark afro.
Kelly was signed to a three picture deal with Warner Brothers, which included the films Black Belt Jones (1974), Three the Hard Way (1974), and Hot Potato (1976). Throughout the 1970s, Kelly worked predominantly within the blaxploitation sub-genre, but by the 1980s, Kelly had seemingly stepped away from the movie industry. Despite small roles on television, Kelly all but retired as an actor.
He remained a keen athlete, becoming a professional tennis player on the USTA Senior Men's Circuit and the owner and director of a tennis club in the San Diego area. In 2013, Kelly died of cancer at his home in San Diego, California, aged 67.
Speech! To the LA Times, 2010: "I never left the movie business. It's just that after a certain point, I didn't get the type of projects that I wanted to do. I still get at least three scripts per year, but most of them don't put forth a positive image. There's nothing I really want to do, so I don't do it. If it happens, it happens, but if not, I'm happy with what I've accomplished."
Filmography (as actor): 1972 Melinda; 1973 Enter the Dragon; 1974 Black Belt Jones; Three the Hard Way; Golden Needles; 1975 Take a Hard Ride; 1976 Hot Potato; 1977 Black Samurai; 1978 The Tattoo Connection; Death Dimension; 1981 Mr. No Legs; 1982 One Down, Two to Go; 1985 Highway to Heaven (TV); 1994 Stranglehold; Ultimatum; 2004 Macked, Hammered, Slaughtered and Shafted; 2009 Afro Ninja