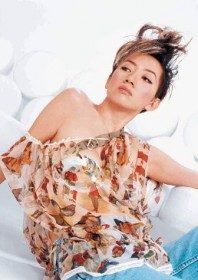 Date of birth: October 10, 1963 (Hong Kong)
Date of death: December 30, 2003 (aged 40), Hong Kong
Other names: Mei Yan Fang, Mui Je, Mui Yim Fong
Occupation: Singer, actor
Biography: Widely celebrated as the Queen of Cantopop, Anita Mui's incredible singing career spanned over two decades. She sold more than 10 million albums, played over 300 concerts and featured in more than 40 films.
Anita Mui was born the youngest of five children and raised in a predominantly single parent household having lost her father at the age of five. She performed Chinese Opera and sang pop songs in nightclubs and on the streets of Hong Kong with her sister, Ann Mui, from a very young age. At the age of 13, she dropped out of school to support her family. Nodules on her vocal chords meant Mui had to change her style to a lower register, which would ironically prove to be the catalyst to discovering her distinctive and unique singing voice.
In 1982 at the age of 18, Mui beat over 3000 contestants to win the first New Talent Singing Awards, and subsequently released her first album, Debt Heart, on the Capital Artists record label. Over the next 20 years, Mui would go on to release 50 albums. Her biggest selling album, Bad Girl (1985), sold over 400,000 copies. She won numerous awards in her native Hong Kong, and even achieved international success singing at the 1988 Summer Olympics in Seoul alongside Janet Jackson. She toured the UK in the 1980s, including a sold out show in Hammersmith where she was dubbed the 'Madonna of Asia'. Her pop concerts were noted for their outlandish costumes and dazzling visual effects. In 1991, she played 30 consecutive nights at the Hong Kong Coliseum – the city's largest venue. In the same year, she announced her retirement from singing, only to return to the stage four years later.
Mui was also a tireless advocate for many charities and causes. She helped activists fleeing China following the Tiananmen Square protests of 1989, and was active in campaigning against the controlling power of the triads in the Hong Kong film industry. She opened a nursing home in San Francisco, prompting the mayor to name April 18 as 'Anita Mui Day'. In 1993, she established the Anita Mui True Heart Charity Foundation, and in 2003, she organised a special concert to raise money for those affected by Hong Kong's Sars outbreak.
As an actor, Anita Mui was equally adept at traditional martial arts roles as well as comedy and drama. Her breakthrough film was Behind the Yellow Line (1984), for which she won Best Supporting Actress at the Hong Kong Film Awards. She had a diverse acting range and received great plaudits for her award-winning role as the ghost of a murdered prostitute in Rouge (1988), alongside close friend and fellow singer Leslie Cheung. As an action star, she played the enigmatic super-heroine Wonder Woman in The Heroic Trio (1993) and the sequel Executioners (1993), alongside Maggie Cheung and Michelle Yeoh. She worked with Jackie Chan on a number of his films, including roles as his stepmother in Drunken Master II (1994) and a harassed convenience store owner in Rumble in the Bronx (1995). She fought alongside Andy Lau in the fantasy film Saviour of the Soul (1991) and Jet Li in My Father is a Hero (1995).
Anita Mui won Best Supporting Actress at the Hong Kong Film Awards for her role in Ann Hui's melodrama Eighteen Springs (1997). In 2002, she won Best Actress at the Golden Deer Awards for another Ann Hui film, July Rhapsody, which would prove to be her final film appearance. She was scheduled to star in Zhang Yimou's House of Flying Daggers (2004) but had to decline due to ill health. The film was dedicated to her memory.
In her personal life, rumours of affairs were rife but she never married. In 2003, Mui announced she was undergoing chemotherapy for cervical cancer. Her final concerts were held at the Hong Kong Coliseum. The 'Anita Classic Moment Live Concert' ran for eight shows and were her last public performances before her death aged 40. In December 2013, the Anita Mui Memorial Concert was held at the Convention and Exhibition Centre in Hong Kong to commemorate the 10th anniversary of her death. The concert was attended by her close friends and colleagues including Jackie Chan, Andy Lau, Maggie Cheung and Tony Leung.
Speech! "Many people are afraid of me because I am Anita Mui. Men have so much pride. A man can love me very much. At the beginning we are happy. But later when people start to talk, men can't take it. They'll ask, 'why am I known as Anita's boyfriend? Why don't they call her my girlfriend?'" On Singapore TV
Filmography (as actor): 1983 The Sensational Pair; Mad Mad '83; Let's Make Laugh; 1984 Behind the Yellow Line; 1985 The Musical Singer; Lucky Diamond; Young Cops; 1986 Why, Tell Me Why?; Happy Din Don; Last Song in Paris; 100 Ways to Murder Your Wife; Mr. Boo VII: Chocolate Inspector; 1987 Scared Stiff; Happy Bigamist; Troubling Couples; 1988 Rouge; One Husband Too Many; The Greatest Lover; Three Wishes; 1989 Miracles: The Canton Godfather; A Better Tomorrow 3: Love and Death in Saigon; 1990 The Fortune Code; Yoshiko Kawashima; Shanghai Shanghai; 1991 The Top Bet; Au Revoir, Mon Amour; The Banquet; Saviour of the Soul; 1992 Justice, My Foot; Moon Warriors; 1993 Fight Back to School III; The Heroic Trio; The Mad Monk; The Magic Crane; Executioners; 1994 Drunken Master II; 1995 Rumble in the Bronx; My Father is a Hero; 1996 Twinkle Twinkle Lucky Stars 1996; Who's the Woman, Who's the Man?; 1997 Eighteen Springs; 2001 Wu Yen; Midnight Fly; Let's Sing Along; Dance of a Dream; 2002 July Rhapsody.