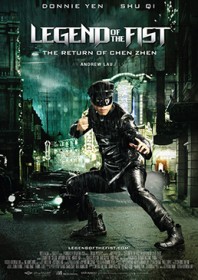 The immediate reference point for this glossy 'sequel' to the 1972 Bruce Lee classic Fist of Fury is Donnie Yen's 1995 TV series of the same name, in which he reprised Lee's Chen Zhen role in a more revisionist way for modern Chinese audiences, much in the same way Jet Li did in the fantastic Fist of Legend. Of course, there have been numerous Fist of Fury sequels and spin-offs in the past, starring everyone from Bruce Li to Jackie Chan, so despite the big budget pretensions of this film, we are hardly breaking new ground here.
But at least Donnie withholds from the more obvious Bruce Lee impressions until the very end, where a single-handed fight fest with fists and nunchakus takes charge in a reckless homage to the film's inspiration, transporting the movie directly into the realms of exploitation which it spends a long time trying to avoid.
Director Andrew Lau lends his paranoid Infernal Affairs style to Japanese-occupied Shanghai in the lead up to the second Sino-Japanese war, adding flavours of Hollywood film noir before involving a superhero subplot which turns his exquisite Shanghai set into a 1920s version of Gotham City, and the role of Chen Zhen into that of a Batman-like vigilante figure. Despite being killed by a firing squad at the end of the original 1972 film, Chen Zhen survived (somehow) and winds up as a Chinese labourer fighting alongside allied forces in France during the First World War.
Upon returning to Shanghai, he leads a team of underground Chinese nationalists eager to quash the steady encroachment of Japanese forces. He disguises himself as a Clark Gable-style pianist at a glitzy nightclub where he falls for the main attraction Kiki (Shu Qi) – a spy in cahoots with the Japanese – and becomes joint business owners with the entrepreneurial Liu (Anthony Wong).
Appeasement leads to intervention when Japanese oppression hits fever pitch and a list of outlawed Chinese names hits the press, forcing Chen Zhen to don a black suit and mask like Kato from The Green Hornet and use his kung fu chops in a futile last-ditch attempt to restore optimism in the face of overwhelming adversity. But with ineffective police taking bribes, Chinese loyalties tested, student uprisings and a psychotic Japanese general leading the charge, there is little hope.
Chen Zhen's satisfying pummeling of the Japanese school at the film's climax holds a fierce patriotic bent, with Yen screaming the infamous line regarding the Chinese being labelled as the sick men of Asia, but it is a hallow victory. China falls and the Japanese take Manchuria. The film's abrupt ending is tellingly inconclusive.
Bruce Lee's proud Hong Kong films were essentially propaganda pieces and, in that regard, this is certainly no exception, with Donnie already making waves as the state's authorised kung fu poster-boy in other revisionist films, like his Ip Man series. This feels more laboured, unsure whether to settle as a Bruce Lee romp, comic book adventure or historical epic. Thankfully, Yen's imaginative pugilism acts as an emollient throughout, helping to iron out the creases.
AKA: Legend of Chen Zhen