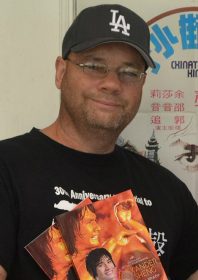 "Shaw Brothers had so many incredible talents, but Alex was someone that people loved very dearly."
Alexander Fu Sheng would have celebrated his 65th birthday on 20 October 2019. A poster-boy for Shaw Brothers' unique brand of high-octane martial arts action films throughout the 1970s and early 80s, Fu Sheng died tragically young at the age of 28 in a car crash on his way to a night-shoot. Like Bruce Lee before him, his young death immortalised him as another tragic martial arts film star, taken too young at the height of his powers. However, unlike Lee, Fu Sheng is largely unknown outside of his native Hong Kong, with many subsequence kung fu stars taking his place and becoming household names; people like Jackie Chan, Jet Li, Donnie Yen and so on. This is partly due to the limited international distribution of many of his films. However, through the excellent work of Chinese distributor, Celestial Pictures, Fu Sheng's movies can now be enjoyed in pristine quality through DVD and streaming services – particularly Netflix and Amazon Prime, where the glory of his many classic kung fu pictures can be enjoyed by a whole new generation of fans.
In this special commemorative episode, we talk to Fu Sheng's biographer, Terrence J. Brady, about the life and career of the much-loved film star. He made 43 complete films in only 11 years as a hard-working contract actor at the Shaw Brothers studio, quickly rising in the ranks to become one of its highest paid stars. We speak about his many iconic film roles, to working with Shaw Brothers legends like Chang Cheh and Lau Kar-leung, to his marriage to the superstar singer, Jenny Tseng, as well as detailing the events leading up to that fateful night on 7 July 1983. Terrence's book is the first English-language biography of Alexander Fu Sheng and a must-read for any Shaw Brothers movie fan. Learn more about the book and contact Terrence via the website, fushengbio.com, Facebook, and order the book now via Amazon.