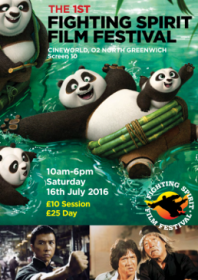 "The fan base for martial arts films is very loyal… my selfish thing is that I want to see more films, so I need to make sure people are making them and bringing them through." Soo Cole, co-founder and director of Fighting Spirit Film Festival
Here's something a little bit different from our usual podcast format, as I sit and talk to some of the best emerging talent on the UK martial arts movie scene, courtesy of the first Fighting Spirit Film Festival. The inaugural event took place on 16 July 2016 at The O2 Cineworld, London, and coincided with the SENI Combat and Strength Expo. As well as showing the popular films Kung Fu Panda 3 (2016), Drunken Master (1978), and Ip Man 3 (2015), the festival also screened a selection of UK martial arts shorts and documentaries highlighting some of the country's best up-and-coming talent. The short films having their official premiers included Matt Routledge's Fixer (2016) – starring Bangkok Adrenaline star Daniel O'Neill – Gregory Humphries' Operation: Fringe (2016), and Samuel Smith's Tengu – Birdmen of the Mountains (2016). The festival also screened a number of other UK shorts including Chris Chung's award-winning Handuken, Ross Boyask's Salvation, David Cheung and Yolanda Lynes' The Real Target, and David Newton's Wrath of God. The festival also showed a number of mini-documentaries from the 1000 Londoners series, produced by Chocolate Films. Here's one of them, featuring the London-based Shaolin kung fu master, Yan Zi.
On this podcast, you will hear from the co-founder of the Fighting Spirit Film Festival, Soo Cole, who discusses her passion for martial arts movies (which started after watching The Karate Kid) and also her motivation in launching the festival. I then have a few quick conversations with the following people: Handuken director Chris Chung; the stars of The Real Target, Yolanda Lynes and David Cheung; the director of Tengu – Birdmen of the Mountains, Samuel Smith; and the UK action star Daniel O'Neill. Daniel has just returned to the UK after working for 17 years in Hong Kong and Thailand, where he has worked with likes of Scott Adkins, Jackie Chan, Donnie Yen and Tony Jaa.
Many of these great filmmakers and actors will be working on feature-length projects over the coming months, so we will make sure to keep you posted on all of their progress. If you like what you hear, then be sure to go online and check out their work. Keep up to date with the Fighting Spirit Film Festival by following them on Facebook, Instagram and Twitter.