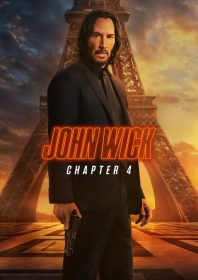 With the fourth film in the escalating, epic and extraordinary John Wick saga, director Chad Stahelski proves that bigger, sometimes, is better. For example, during the film's final act, he turns central Paris into his own playground, crashing cars around the Arc de Triomphe, firing guns along its floodlit streets, and throwing stunt performers down the steps of the Sacré-Cœur in a breathless and hilarious sequence – probably the best in a movie full of exquisite action set-pieces (although the impressive long-take shootout inside a Parisian chateaux is also a thing of astonishing, violent beauty). The film then culminates in a duel to the death at sunrise. It's at this point that you realise just how far the series has come from its humble, low-budget beginnings – and a slim but promising premise – to becoming the most influential action franchise of the 21st century. The series has undoubtedly benefitted from a roll-call of exemplary martial artists working across its four movies (from Silat legends Cecep Arif Rahman and Yayan Ruhian to stunt performers and action stars like Daniel Bernhardt, Mark Dacascos, Heidi Moneymaker, Jonathan Eusebio, Donnie Yen, Scott Adkins, Marko Zaror, Tiger Chen, Roger Yuan, Jon Valera, Hiroyuki Sanada, and many, many more), but its beating heart has always been the strange magnetism of its star, Keanu Reeves, in surely his most defining role. As his Matrix stunt double, Chad has innately played to the actors' strengths across the entire series, and Reeves has replied in kind – dedicating blood, sweat and tears to the cause, training relentlessly, defying the signs of aging and creating a new kind of resigned, world-weary assassin. Wick is a reluctant super-killer, driven by revenge but bound by the Bushido code, and operating in a beautifully rendered, alternate reality which is both familiar and alien, and always cinematic.
With the biggest budget of the four films (circa $100m, compared to the first film's $20m), the gains can be felt in Dan Laustsen's remarkable cinematography, which is mesmerising throughout; from the fluttering birds amid the Eiffel Tower to the neon buzz of an Osaka hotel, it is impossible to think of a more carefully crafted and beautiful-looking film, let alone an action film. The story has never been the franchise's strongest suit, and there is a clear sense, particularly in this fourth chapter, that the dialogue exist simply as breathing space between set-pieces. Having said that, this is where new supporting cast members can relish the opportunity to go broad, and play on the series' pantomime, campy qualities. Bill Skarsgård is tonally excellent, immaculate in every new costume change, delivering lines with an effete, condescending brilliance as the Marquis, a powerful member of the 'High Table' who destroys the New York Continental as a way of rooting out John. Now recovering and on the run after being shot off a rooftop at the end of the third film, John is now offered an ultimatum; a final challenge with the Marquis in exchange for his freedom – although, given how these films usually work out, nothing is ever that simple. As the price on John's head escalates, new challenges are thrown at him, and old friends become enemies. Caine (Donnie Yen, channelling Zatoichi), a blind swordsman and associate of Wick's, takes up the offer of trying to end John Wick in exchange for access to his estranged daughter, and in doing so, thwarts attempts from others trying to take his life. This includes The Tracker (Shamier Anderson, great comic timing), and a father and daughter assassin duo who run the Osaka Continental (Hiroyuki Sanada and the pop singer Raya Sawayma). There's also the rotund German leader of the High Table, Killa (Scott Adkins in a fat suit, a nod to Sammo Hung's kingpin from S.P.L.), and the Marquis' own guards, fronted by the towering presence of Chidi (Marko Zaror, on brutishly good form).
Given Chad's obvious affections for their work and distinguished careers, all of these performers are given ample screen time to not only deliver what fans expect, but also turn out memorable and outlandish new characters. Adkins is a scene-stealer, but it is Donnie Yen who is given the best Hollywood role of his career so far – nuanced, comedic, touching almost, and incredibly cool. Of course, given Chad's track record, there is a solid expectation that the action scenes will be first-class; where this film particularly excels is in providing the franchise with something it has so far been lacking – a genuine sense of pathos, and themes that border on the existential. To balance both so brilliantly demonstrates how Stahelski is now in a league of his own in Hollywood.