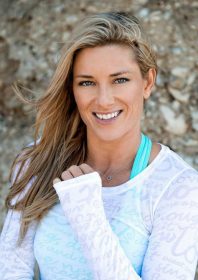 Date of birth: February 9, 1978 (Santa Rosa, California, USA)
Full name: Heidi Louise Moneymaker
Occupation: Stunt performer, stunt coordinator, actor, personal trainer, fight choreographer.
Biography: Heidi Moneymaker is the oldest of three children born to parents Dennis and Linda Moneymaker. She has a younger brother, Sean, and a younger sister, Renae, who followed her sister to become a competitive gymnast and work in the film industry. Heidi also has three other sisters: Denise, Liz and Sadie.
Heidi trained as a gymnast from the age of five. She received a scholarship to the University of California, Los Angeles (UCLA), where she studied history and received numerous accolades in the women's gymnastics programme. She competed nationally and internationally for the USA and UCLA until her retirement at the age of 22.
She was introduced to the film industry by her former teammates who had made the step into stunt performing. Her first work on camera was performing a bar routine in The Amanda Show in 1999. She took up the martial arts and trained in screen fighting, along with learning how to fall, perform on wires and ride a motorcycle.
Her first major stunt role was doubling for Drew Barrymore in Charlie's Angels: Full Throttle (2003). Her first fight scene was for the film, Iron Man 2 (2010), doubling for Scarlett Johansson as the superhero character, Black Widow; a spy known for her fighting abilities. She has continued to double for Johansson for the films The Avengers (2012), Captain America: The Winter Soldier (2014), Avengers: Age of Ultron (2015), Hail, Caesar! (2016), Captain America: Civil War (2016), Avengers: Infinity War (2018) and Avengers: Endgame (2019).
Heidi was the first female member of the Los Angeles-based 87eleven Action Design company, created in 1997 by the stunt performers-turned-filmmakers, Chad Stahelski and David Leitch. She has worked on films as part of the company's production arm, 87eleven Productions, including John Wick: Chapter 2 (2017), in which she had a small role as an assassin and doubled for Ruby Rose. She trained Halle Berry for her role in John Wick: Chapter 3 – Parabellum (2019). She has also worked on many huge Hollywood franchises, including The Hunger Games series and The Fast and the Furious films (doubling for Michelle Rodriguez). She has also worked in China, joining the stunt coordinator Sam Hargrave for the action sequel, Wolf Warrior II (2017), directed by and starring Wu Jing.
Heidi has produced and starred in her own short films, including co-starring with her sister Renae in Behind Every Great Man (2014), and the crowdsourced No Touching (2016) with Zoe Bell. Her first credited role as a stunt coordinator on a feature film was The Hunt (2019), starring Hilary Swank.
She lives in Los Angeles and co-runs the Fierce Lotus fitness programme with the personal trainer, Lisa Newman.
Speech! "You're going to start seeing actors really putting in the time and becoming action stars through and through, and you're starting to see more stunt people [moving into acting], because we are performers now. Stunts used to be: walk on set, punch punch kick, and then the stunt guy goes over the counter… Now, with free-running and probably because of The Matrix introducing an Asian martial arts trend, all of the fight scenes and things that we do are becoming more of a performance. You can't just be a stuntman or woman anymore, you have to be a performer." Interview with Kung Fu Movie Guide Podcast, 2019.
Filmography (as stunt performer/stunt coordinator/actor): 1999 Angel (TV); The Amanda Show; 2002 Greg the Bunny (TV); Frank McKlusky, C.I.; The Hot Chick; American's Most Wanted; 2003 Charlie's Angels: Full Throttle; The O.C. (TV); 2004 Bring It On: Again; Van Helsing; National Treasure; 2005 Mystery Woman: Snapshot; Constantine; xXx: State of the Union; Mr. & Mrs. Smith; War of the Worlds; Sky High; Serenity; Underclassman; Venom; Criminal Minds (TV); All That (TV); 2006 Date Movie; Mission: Impossible III; Poseidon; Beerfest; The Initiation of Sarah (TV); Damages; 2007 Spider-Man 3; Next; Ocean's Thirteen; The Invasion; Balls of Fury; NCIS (TV); My Name Is Earl (TV); 2008 CSI: NY (TV); Rambo; Hancock; 2009 Spring Breakdown; Street Fighter: The Legend of Chun-Li; Fast & Furious; Star Trek; Crank: High Voltage; Uncorked (TV); 2010 Make It or Break It (TV); Iron Man 2; The Expendables; No Ordinary Family (TV); 2011 Sucker Punch; Cowboys & Aliens; Abduction; In Time; 2012 The Avengers; Safe; 2013 Lovelace; The Host; After Earth; The Lone Ranger; Plush; The Hunger Games: Catching Fire; 2014 Captain America: The Winter Soldier; Love & Mercy; 2015 Jupiter Ascending; Furious 7; Avengers Grimm; Avengers: Age of Ultron; Ted 2; The Hunger Games: Mockingjay – Part 2; 2016 Hail, Caesar!; Captain America: Civil War; Jean-Claude Van Johnson (TV); 2017 John Wick: Chapter 2; Wolf Warrior II; 2018 Avengers: Infinity War; NCIS: Los Angeles (TV); Bird Box; 2019 Captain Marvel; Avengers: Endgame; 2020 Mulan; The Hunt; 2021 Don't Look Deeper (TV); Avatar 2.